Among the outstanding landmarks of Ghent is an original sculptural house with a complex name Vogelenzangpark 17bis, which was specially equipped for the opening of the TRACK: A Contemporary City Conversion festival. Located on a tree, the model of a small cottage is an exact copy of the building that is next to the tree. After the end of the art festival it has been decided to preserve it.
The author of the project of an unusual sculpture is an artist from Antwerp Benjamin Verdonck. Among the variety of urban buildings, he particularly liked the building of a retired club, which can be called a classic architectural monument of the mid-20th century. A beautiful historic building managed to survive to this day. In combination with an art monument, the old cottage looks very impressive. The only drawback of the house on a tree can be considered its modest size, it is too small to accommodate even one person in its walls.
The monument is no less popular. Every day curious tourists come here to take interesting photos. The impressive sculpture and the adjoining old building are surrounded by an incredibly beautiful park, through which you can stroll at any time of the year. Here grow majestic, old trees, in the shadow of which comfortable recreation zones have been equipped with benches, as well as other no less remarkable sculptures.
Next - Tree House for Humans
House Takashi Kobayashi, Japan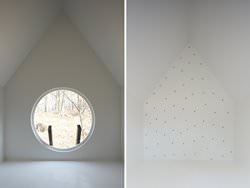 Tree House for Humans, Japan
Back to the start "Ubelievable Residential Houses Residing on Trees"
Useful staff nearby
ATM bankomat: 'ING Zeehaven' located in 0.73 km (
check the route on the map
).
Car rental office: 'Dockx Rental' is located in 0.66 km (
on the map
).
Fuel station: 'Texaco Belgium' in 0.45 km
Supermarket: 'ALDI' in 0.09 km
Parking: 'Parking Vrijdagmarkt' in 0.99 km
Apotheek: 'Apotheek Tolhuis BVBA' in 0.45 km
Police station: 'Hoofdcommissariaat Gent centrum' in 1.2 km
Cafe/restaurant: 'Pitta 't Smullerke' in 0.1 km
Railway station: 'NMBS Station Gent-Dampoort' in 1 km