Cuisine of Tirol for gourmets. Places for dinner - best restaurants
National food of this picturesque Austrian region illustrates its usual simple and harmonious way of life. All the popular dishes are very simple and hearty. Travelers looking for an authentic national food have to visit one of Alpine restaurants called Stube. It should be noted that these dining places has not only a rich menu of high quality food, but also a very interesting design in the traditional style.
Interesting culinary traditions represent a vast part of the local culture; Tirol never ceases to attract fans of gastronomic tourism. For many centuries, is has been producing a magnificent …
Open
It's easy to recognize a typical Alpine restaurant, as its room is always decorated with heavy wooden furniture, stuffed animals and other attributes typical of the region. Another nice feature of national Tyrolean restaurants is a huge serving, so hungry guests don't have to hurry and order multiple treats.
As we have noted above, Tyrolean dishes are very simple and hearty; much of the popular national treats are made of wheat flour and corn flour. Each restaurant will offer its guests delicious polenta and dumplings, real home-made pasta and a lot of amazing baking. Copyright www.orangesmile.com
Tirol has a great historical and cultural heritage. There are unique religious festivals, fortifications and incredibly beautiful monuments of different eras. There are also modern cultural …
Open
Dumplings are now prepared in many different countries, but Tyrolean ones feature an incredible size; usually they are not less than an apple. They are served as part of the first courses with rich broth, as the second with a side dish of sauerkraut and a as dessert with fruit fillings. Fans of Italian dishes are sure to be impressed with branded spatzle noodles served with cheese and onion sauce, and delicious Graukase cheese cooked following old peasant recipes.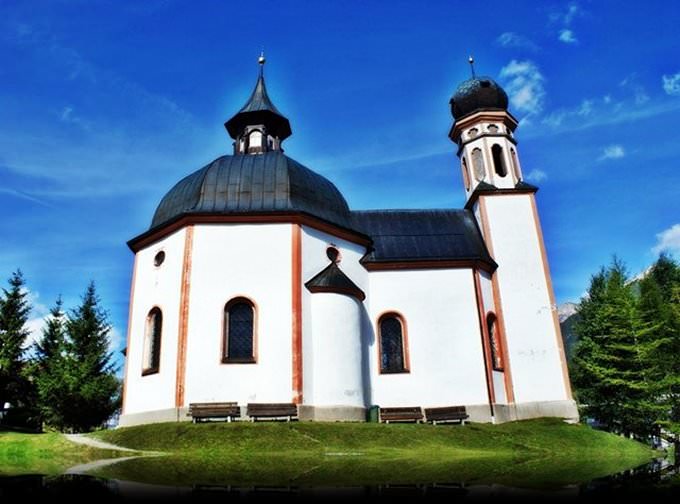 The local cuisine is fertile in excellent meat treats too. Classic schnitzels and game cooked following original recipe are very popular among locals and guests of Tirol. Often the meat is served with spicy berry jam, making food even more unique. Sweet lovers should definitely try strudels and cakes with fruit fillings; in big cities you can find very attractive pastry shops. Tirol won't disappoint fans of beer, as there is a decent selection of Austrian draft beer in local restaurants.
This guide to cuisine and restauraunt in Tirol is protected by the copyright law. You can re-publish this content with mandatory attribution: direct and active hyperlink to
www.orangesmile.com
.
City tours, excursions and tickets in Tirol and surroundings
Unique sights around Tirol
Alpspix
From the series
"The World's Highest Observation Decks"
Check on the map:
Distance from Tirol center - 46.4 km.
In clear weather beautiful views of the Zugspitze, the highest mountain in Germany, can be admired. Alpspix observation deck is available all year round. Thanks to its unique shape, you can see spectacular scenery, invisible from other places. Despite the fact that the observation deck is very popular among travelers, it has a number of opponents. After its opening, group of climbers, which has chosen this venue for the annual training, said that this massive construction only spoils the perfect mountain landscape. According to them, the only way to enjoy beauty of these places is to conquer one of the mountain peaks. …
Read further
Harakiri Ski Slope
From the series
"Top 13 Furious Ski Resorts and Pistes"
Check on the map:
Distance from Tirol center - 22 km.
Severe shocks, breaks and contortions - so only the most harmless consequences the inexperienced skiers can get after the impetuous and short descent. The world-famous sportsman Tobias Fankhauser was one of the first to take advantage of the 'black' course and to use it for regular training sessions. He held the successful descent to 'Harakiri' piste for the highest sports performance. Today, many coaches are working on the health resort, which prepare athletes and anyone interested in the descent on one of the most difficult ski runs. …
Read further
Car rental on OrangeSmile.com
Tirol in photo set
Searching where to eat - restaurants and cafe on Tirol map
Cuisine and restaurants in the neighbours of Tirol
Travel notes on best cuisine and restaurants of Tirol (Austria) on OrangeSmile.com. Famous recipes and traditional dishes and courses in Tirol restaurants. Where to eat - our recommendations on popular places in Tirol, where you can taste delicious meal and also spend a good time with your friends.