City break in Graz. Active leisure ideas for Graz - attractions, recreation and nightlife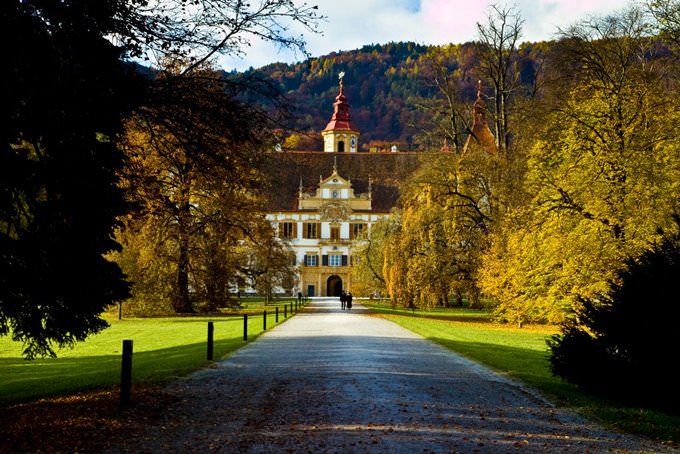 Fans of active pastime will surely appreciate a huge choice of entertainment venues in Graz. Schlossberg Park is a perfect destination for hiking and outdoor recreation. Here you can spend a whole day walking in shady avenues or enjoying picnic among old trees. Tourists, who want to admire exotic plants and rare flowers, are recommended to visit the local botanical garden, which is located just a short drive from the center of the city. Here you will find a rich collection of beautiful plants and flowers imported from all over the world. Fans of eco-tourism will certainly enjoy a walk in the Leech woodland. A fascinating excursion will certainly help you to appreciate the splendor of the local nature.
The largest shopping center in Graz is Shopping City Seiersberg, where you can find shops of world-popular brands. A huge choice of clothes is presented in Zara, Mango, Bershka, Vero Moda …
Open
Besides walks in beautiful natural locations, guests of Graz will surely find other interesting entertainment in the city. Fans of gambling will certainly enjoy their visit to Casineum Casino, which is located in the central area of the city. This is the place where you will find traditional gambling tables and modern slot machines, and even an attractive bar. Fledermaus is one of the most popular nightclubs of the city. This is a perfect place of rest for a large company. The club's hall is decorated in the original Gothic style. Fans of dancing will be delighted with the huge dance floor, and gourmet visitors are welcome to taste specialties and delicious snacks in the cozy bar.
Package club also attracts visitors by a rich choice of food and perfectly matched music program. In Package you can hear music of different directions, from modern compositions to classical melodies to the 80s. Fans of Latin music will simply fall in love with Cohibar Graz club, which often organizes performances of popular music bands. On Mondays the club provides its visitors with free dance lessons, so everyone is welcome to learn how to dance salsa. Copyright www.orangesmile.com
Graz is an ancient city and a capital of Styria region of Austria. In XII century Graz was an amazing residence of Habsburg dynasty that left to the city its historical district, the Old …
Open
Travellers will find a lot of attractive shops and trading centers in simply each district of Graz. Visitors of Frankowitsch trading complex will surely find a lot of interesting items there. Here customers will be offered brand clothes and perfumes, and high-end jewelry. Beautiful gifts and lots of other interesting products can be easily found in Kaiser-Josef-Platz Market. Tourists usually praise Bauernmarkt am Lendplatz Market. Murpark trading center will please its visitors not only by a rich choice of trendy boutiques and jewelry, but also by numerous cozy restaurants and cafes that will make your visit to this mall even more enjoyable.
This guide on active recreation and leisure in Graz is protected by the copyright law. You can re-publish this content with mandatory attribution: direct and active hyperlink to
www.orangesmile.com
.
Recommended places for active recreation and leisure in Graz
Aiola Island, Murinsel
Where: Mur 1, Graz;
Café Niú
Where: Harrachgasse 2, Graz;
M-1
Where: Färberplatz 1., Graz;
Poco Loco
Where: Halbärthgasse 14, Graz;
Graba 42
Where: Grazbachgasse 42., Graz;
Humboldtkeller
Where: Humboldtstrasse 3., Graz;
Maykäfer
Where: Maygasse 5., Graz;
Jazzcafé Stockwerk
Where: Jakominiplatz 18/1, Graz;
Pharmacy
Where: Leonhardstrasse 35, Graz;
Hello Josephine
Where: Franziskanergasse 4., Graz;
Theatercafé
Where: Mandellstrasse 11., Graz;
Stargayte
Where: Keesgasse 3, Graz;
Eckhaus
Where: Rechbauerstrasse 15, Graz;
Stern
Where: Sporgasse 38, Graz;
Kulturhauskeller
Where: Elisabethstrasse 30., Graz;
Three Monkeys
Where: Elisabethstrasse 31, Graz;
Miles
Where: Mariahilferstrasse 24, Graz;
Reference information
National and city parks around Graz
♥ Nature Park 'Almenland' , 25.3 km from the center.
On the map
Photo
♥ Nature Park 'Falkenstein' , 46.8 km from the center.
On the map
Photo
♥ Landscape Park 'Krajinski park Mariborsko jezero' , 56.6 km from the center.
On the map
Photo
♥ Landscape Park 'Krajinski park Jareninski dol' , 57 km from the center.
On the map
Photo
♥ Landscape Park 'Krajinski park Negova in Negovsko jezero' , 65.5 km from the center.
On the map
Photo
Amusement parks near Graz
♥ Amusement park 'Freizeitzentrum Stubenberg' Stubenberg, 34.3 km from the center.
On the map
Photo
♥ Amusement park 'Wild und Erlebnispark' Mautern in Steiermark, 59 km from the center.
On the map
Photo
♥ Amusement park 'Märchenpark Neusiedlersee' St. Margarethen, 122.9 km from the center.
On the map
Photo
♥ Amusement park 'Wiener Prater' Vienna, 147.3 km from the center.
On the map
Photo
♥ Amusement park 'Adventure Park Postojna' Postojna, 170.8 km from the center.
On the map
Photo
Water attractions around Graz
♥ Water park 'H20 Hotel-Therme' , 44.8 km from the center.
On the map
Photo
♥ Water park 'Sonnentherme Lutzmannsburg' , 102.6 km from the center.
On the map
Photo
City tours, excursions and tickets in Graz and surroundings
Sites around Graz from our surveys on extreme Earth places
Arnold Schwarzenegger Museum
From the series
"Houses of famous people and stars currently open to tourists"
Check on the map:
Distance from Graz center - 5.4 km.
The museum was opened in 2011. His director is Peter Urdl, Arnold's companion. According to the unofficial information, the school friend of the actor has come to found the museum devoted to Arnold. The actor took an active part in his education. For example, he has almost completely rebuilt the kitchen after the child's memories, as well as handed over the most important and memorable things to the museum. The old family photos, the first dumbbells of the big bodybuilder, the incredibly realistic wax figures and the cozy kitchen with an old metal stove - the house in which Schwarznegger spent his childhood is full of valuable and unique exhibits. …
Read further
Underwater Park Gruner See
From the series
"Top 16 most unusual and original parks and gardens"
Check on the map:
Distance from Graz center - 60.4 km.
In spring, mountain streams gradually fill the lake, so it's increased by several times and completely floods the park. Gruner See is a real treasure for divers. In warmer months, they can walk through the picturesque park down the water. During warmer months, the lake depth is 12 meters. Incredibly picturesque alpine meadows, paths, which are used by visitors, as well as trees and benches are hidden under a layer of water. It's incredibly amazing to watch the natural beauty of the park under the water, but divers should take into account that, even in the height of summer, the lake temperature is less than 5 degrees Celsius. …
Read further
Photogallery of picturesque Graz
Search for active leisure and attraction spots on Graz map
City break ideas for neighbours of Graz
Guide to your best city break in Graz - popular places for recreation and leisure. Things to do during the day in Graz - attractions, parks, beaches, aquaparks, racing tracks, biking trails or waterski. Recommendations (with addresses, phone numbers and links) where to spend your time in the evening (bars, discos, clubs, etc.). We share some good ideas and the question 'What to do in Graz?' disappears immediately.