Sightseeing in Golden Sands - what to see. Complete travel guide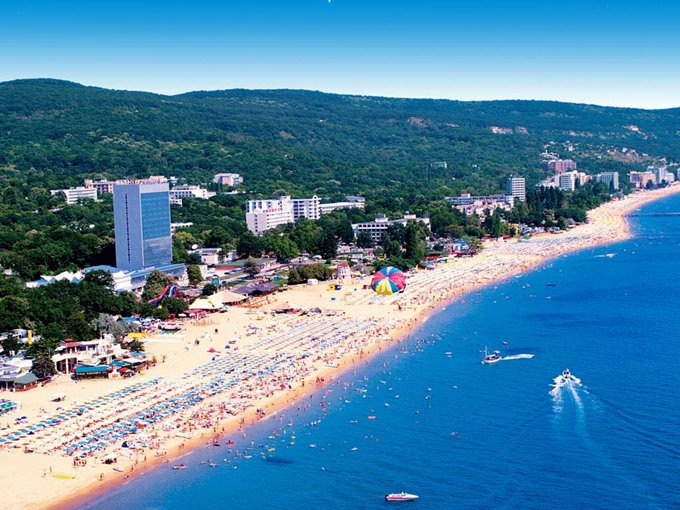 This is a popular and attractive beach resort that is located not far away from Varna. The resort has got its name from a nationally famous park "Golden Sands", on the territory of which are located beaches, hotel complexes and other entertaining centers of the town. The park occupies a huge territory each piece of which is a precious nature reserve. Here you will find forests, clean beaches and crystal water with amazing bottom, and national parks that are home to rare birds and animals.
Golden Sands is an internationally famous beach resort. In addition to a variety of entertainment this place offers tourists to enjoy exciting sightseeing to various historical sites. Holy …
Open
On the territory of Golden Sands are located 50 hotels and all of them are built not far away from the coast line. The resort is considered the ideal place of rest for tourists with kids. All hotels have entertainment centers where experienced teachers will look after your kids. There are also playing rooms for kids and beaches are equipped with attractions for kids.
The main peculiarity of the resort is the large number of high-quality swimming pools filled with mineral water. You will have an opportunity to try all kinds of entertainments – you can attend scuba diving school, fly on a hang glider, try parachute jumping or ride a water bicycle. When the rest on a hot beach becomes quite boring and you want to mix it with cultural events, it's high time to make a walk in the town and look at its sights. Copyright www.orangesmile.com
1. The resort is a perfect choice for both single travelers and tourists who prefer to spend their holidays as a family. Due to a rich choice of hotel complexes and entertainment …
Open
The western part of Golden Sands is the location of St. John the Baptist Chapel – an amazingly beautiful old church. Tourists, who are keen on archeology and history, will also enjoy walking here as they will see old rock paintings made nearby the monastery. In 2003 the first aqua park in the country was opened in Golden Sands. It has quickly gained popularity and is known as one of the most frequently visited places of the resort.
This guide to iconic landmarks and sights of Golden Sands is protected by the copyright law. You can re-publish this content with mandatory attribution: direct and active hyperlink to
www.orangesmile.com
.
Sightseeing in Bulgaria: things to see
Veliko Tarnovo is a prominent Bulgarian city that is home to three magnificent sanctuaries – Holy Forty Martyrs Church, the Church of Saints Peter and Paul and the Church of St Demetrius of Thessaloniki. There is an interesting fact connected with these buildings. Their architect, Nikolai Finchev, was a self-learning master, but in his works he managed to overcome many famous architects of his time. The Marine Park, which is located in Burgos, is also worth visiting as besides entertainment there are beautiful monuments and sculptures in the city. …
Open
Car rental on OrangeSmile.com
Search touristic sites on the map of Golden Sands
Sightseeing in regions nearby Golden Sands
All about Golden Sands, Bulgaria - sightseeings, attractions, touristic spots, architecture, history, culture and cuisine. Prepare your trip together with OrangeSmile.com - find out the 'must see' things in Golden Sands, which places to visit, which excursions to take, where the breathtaking views are waiting for you. Planning your trip with this travel guide will help your to get the most out of Golden Sands in few days.