Colors of Wroclaw - traditions, festivals, mentality and lifestyle
Wroclaw is a picturesque city with rich culture and a huge number of interesting peculiarities. The city is inhabited by people from many different European countries. There are really many Czechs and Germans among the local residents. Naturally, such a diversity of cultures is reflected in all spheres of life here, from cooking and various national holidays, to unique architecture and art. Despite the fact that Wroclaw is primarily known as a major industrial center, its territory is home to a huge number of attractions and unique architectural sites. Many of them may seem rather unusual and original to foreign tourists. For example, while walking in the city you may see small figures of gnomes in absolutely unexpected places.
Wroclaw will be a great place to spend a romantic vacation. For many years now, the apart-hotel Friends Apartments has gained popularity among couples. It has nine apartments with a romantic …
Open
Small bronze statues can be found in all districts of the city and they are all different. Gnomes can sit on benches in parks, look somewhere proudly or simply relax in the shade of trees. This idea of local architects is quite symbolic, because dwarf is considered the main symbol of the city. Many years ago Wroclaw was the capital of the province. Today searching for these bronze statues has become a real attraction for travelers. They specifically start searching for these cute gnomes in order to make a memorable photograph with them.
In this city every fairy tale character has its own name and history. Everyone can participate in exciting sightseeing tours, see all statues and learn an interesting history of each gnome. Unusual bronze statues have also become a real attraction for vandals, so the statues are occasionally broken or stolen. Despite the fact that keeping an eye on dozens of statues is very difficult, the city government replaces all broken and stolen statues very quickly. Copyright www.orangesmile.com
The largest shopping and entertainment center in Wroclaw is Magnolia Park. Its area is about 100000 sq. m. Magnolia Park includes 250 shops and a number of restaurants and cafes. There …
Open
Wroclaw is also famous for its music festivals that take place here literally all year round. February is the time for Festival of Contemporary Music, which attracts most famous Polish artists. In May the city attracts fans of jazz music as here takes place a large jazz festival. The festival lasts several weeks and is visited by performers from different European countries. In summer Wroclaw hosts the «Non Stop» festival, which is always accompanied by numerous interesting entertainment activities. This is the best time for rest, so travelers pleasantly combine their vacation with visiting musical and theatrical performances, fairs and various events.
Residents of Wroclaw can be called restrained people used to live a measured life. At the same time, you shouldn't be afraid to ask them for help - they are happy to help in any way they can. Locals rarely do reckless actions - they will think twice before any action, due to which many people may seem somewhat sluggish and phlegmatic. However, they are accustomed to be content with small things and do it like no one else. And this distinctive feature of local people - staying calm all the time - is reflected in almost everything. Perhaps this is what others should learn from them, especially those who cannot boast of the ability to cope with stress.
Wroclaw is a capital of Lower Silesia province located on the south-west of Poland. The city is located on the Oder River and is 310 kilometers away from Warsaw and 200 kilometers away from …
Open
As already noted, a kind of symbol of the city is the gnomes. Therefore it is not surprising that Wroclaw hosts the International Dwarf Festival, during which kids dressed up as gnomes walk through the main city streets with a friendly procession. Besides that, visitors who are lucky enough to attend the festival can enjoy workshops, theatrical performances, magic shows, dancing, competitions in the open air. The entire festival village is painted in the colors associated with the gnomes, which further immerses into the atmosphere of a fairy tale. The time of action is mid-September, the parade begins on the Market Square, going to the main venue of the festival, Staromiejski Garden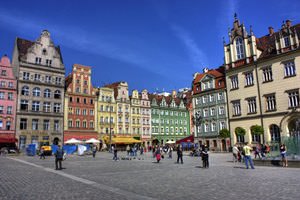 A significant event is held in the middle of June - namely, the City Day involving many festivals. These are Wrocławski Festiwal Dobrego Piwa at Stadion Wrocław where you can taste the most interesting and tasty beers (including craft drinks), as well as learn a lot of new information about its production, Quijoteando, a festival of Spanish culture on the square next to Zaułek Solny, and Kuźniki Festival, a craft fair on 10 Sarbinowska Street. The audience is offered no less interesting events like competitions, an art exhibition, musical and theatrical performances in various locations in the city center.
Wroclaw is one of the most popular cities in Poland for family vacation. Many unique attractions and entertainment centers are available to travelers with children here. The most visited …
Open
Fans of Industrial music are invited to the capital of Lower Silesia in early November when Wrocław Industrial Festival takes place in the city. Headliners of the festival are eminent and popular bands, which further encourages people to attend the festival. It usually takes place at such locations as Sala Gotycka, Dolnośląskie Centrum Filmowe, and Baszta. Here you can also listen to the music of related subgenres. Another musical event attracting a lot of people is scheduled for early May and is called Ethno Jazz Festival. The venue is Sala Gotycka W Starym Klasztorze. Among its headliners are talented and interesting jazz and blues performers.
The International Organ Music Festival Artem ad Astra starting in late September and ending in mid-October is another interesting event in the festival life of the City of Dwarfs. In addition to the music program, master classes and meet-and-greets with talented performers are organized to popularize this kind of music and acquaint the audience with culture. And since the festival has an international format, among its participants are talented and eminent musicians from all over the world.
Besides restaurants that serve national cuisine Wroclaw is a place where you can visit most diverse institutions. Simply each restaurant here has a lot of distinctive features and …
Open
Arriving in the capital of Lower Silesia in October, you can witness the Dialog Festival. This is a large-scale theatrical event that attracts hundreds of spectators from all over Europe. Each performance is devoted to a certain theme, while the festival's goal is to conduct a dialog between the audience and the stage director, as you can guess from the name of the festival. The event program presents the most interesting achievements of the world of theatrical art. The festival is held every two years, so before going on a trip, it is worth clarifying whether the event is planned for this year. The venues of the festival are various theaters in the city.
Late July is marked by such an event as the International Film Festival Nowe Horyzonty, within the framework of which another event takes place - MFF T-Mobile. The venue is Arsenał Club. The festival is dedicated to the cinema, viewers have a unique opportunity to get acquainted with the best European films that have received an excellent rating from critics. Another part of the festival is a music program - here you can listen to Industrial, Indie Rock, Metal, Avant-Garde music.

This guide to traditions and festivals in Wroclaw is protected by the copyright law. You can re-publish this content with mandatory attribution: direct and active hyperlink to
www.orangesmile.com
.
City tours, excursions and tickets in Wroclaw and surroundings
Reference information
Cathedrals and basilicas near Wroclaw
♥ Katedra św. Wincentego i św. Jakuba, Wrocław, 1.5 km from the center.
On the map
Photo
♥ Bazylika Archikatedralna św. Jana Chrzciciela, Wrocław, 1.8 km from the center.
On the map
Photo
♥ Bazylika św. Elżbiety, Wrocław, 1.9 km from the center.
On the map
Photo
♥ Bazylika św. Jadwigi Śląskiej, Trzebnica, 23.3 km from the center.
On the map
Photo
♥ Bazylika św. Jana Apostoła i Ewangelisty, Oleśnica Śląska, 27 km from the center.
On the map
Photo
♥ Bazylika Matki Bożej Wspomożenia Wiernych, Twardogóra, 42.2 km from the center.
On the map
Photo
♥ Katedra św. Stanisława i św. Wacława, Świdnica, 47.6 km from the center.
On the map
Photo
Survived castles around Wroclaw
♥ Castle 'Rydzyna Castle' , 80.5 km from the center.
On the map
Photo
Colors of Wroclaw in photos
Search for popular touristic sites on Wroclaw map
Traditions and festivals in cities around Wroclaw
Cityguide on traditions, mentality and lifestyle of people in Wroclaw. Learn the best periods to visit Wroclaw to discover its soul - authentic festivals, events and celebrations. We will also reveal the interesting habits, attitude towards the world and to tourists in Wroclaw.