Shopping in Taiwan - outlets, shopping streets and boutiques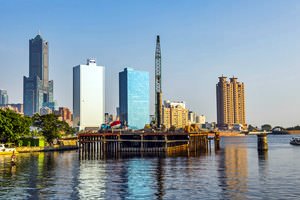 Taiwan is not only known for its beautiful nature and unique sights, but also offers a rich shopping experience. The island, whose culture of ancient eastern traditions is intertwined with high technologies, has created an unlimited opportunity for shoppers. Shopping in Taiwan is represented by modern shopping centers in skyscrapers, extensive shopping areas, and famous night markets. It is a shame to leave the island empty-handed. Numerous souvenir shops and street stalls offer a huge range of goods, from handicrafts to exclusive things. What is on offer are more like works of art than souvenirs.
These spots really worth the attention of a real traveler-researcher. …
Read further
From a trip to Taiwan you can bring beautiful jewelry made from aragonite or coral, jade crafts, Taiwanese enamel, hand embroidered clothing and accessories made from silk, painted paper fans, patterned ritual masks, ceramic dishes with ornaments gotten from Aboriginal islands, porcelain tea set , souvenirs from expensive species of wood, original lamps from decorative pumpkins, natural cosmetics and perfumes with essential oils, decorative items in the traditional style, unusual vases from solid stone, electronic gadgets with unique design, local varieties of tea – Oolong and Pu-erh, exotic snake tincture, among other things. It is best to buy souvenirs from any one of the night markets where shopping is also an opportunity of experiencing the Taiwanese flavor and national cuisine.
Shopping malls in Taiwan offer a wide selection of products for every taste. "Taipei City Mall" is a metropolitan commercial highway located underground and divided into four sectors: clothing and accessories, small goods, electronics, and food products. One of the advantages of the underground shopping area is the opportunity to shop in a relaxed mood with the accompaniment of pleasant music. In the city of Kaohsiung is located a must-visit shopping complex "Dream Mall", which unites more than two thousand shops and entertainment facilities under its roof. In Xinbei, there is a multilevel "Global Mall", popular among locals. It attracts buyers with variability in prices. There are many gift shops, and restaurants in the shopping center. Copyright www.orangesmile.com
A small island located between Japan, China and the Philippines, Taiwan is a modern megalopolis and a rapidly developing country. Many know Taiwan …
Read further
Taichung provides extensive shopping opportunities. In its many shops you can buy consumer goods and authentic souvenirs, from Chinese silks to medicinal herbs. The largest shopping complexes of the city are "Xiang Jiao Xin Le Yuan", "Taroko Mall", and "Sunshine Plaza Outlet". Those who want to refresh themselves after shopping should go to the main shopping street of Taichung –Ming Qing, where besides boutiques and shops, there are many diverse bars, cafes, and restaurants. One of the interesting shopping destinations is the city of Tainan with its huge department stores. The best place for shopping is considered to be the shopping areas Baiman and Minzu, where there are two large department stores – "Far Eastern" and "Shin Kong Mitsukoshi". The shopping centers "Costco" and "TS Mall" are also equally popular.
A distinctive feature of shopping in Taiwan is the night markets, which are the focus of the island's life after sunset. In every major city, there is at least one night bazaar that allows you to; buy food products or souvenirs in the atmosphere of Taiwanese exotics, enjoy local cuisine, or try out all kinds of entertainment. Night markets open late in the evenings and work until the last customer is attended to. The largest night market in Taiwan is that of the Capital called Shilin. It is a long colorful street filled with stalls and tents. In addition to traditional shopping, you can try fried snakes in the market. Another popular place is the night bazaar Liu-He in Kaohsiung. On its shelves are sold fresh vegetables and fruits, local seafood, clothing, handmade knives, figurines, bracelets, and other souvenir trinkets. In the market you can use the services of a trishaw.
Taiwan is a small island whose cuisine was formed at the intersection of the culinary traditions of China and Thailand. Being developed in isolation …
Read further
In the center of Taoyuan, at the intersection of Jingjiang and Baipu streets, is situated the Taoyuan night market. Its clothing section has industrial products for sale. In the bazaar, there are a large number of inexpensive cafes of national cuisine, hawkers stand with herbal soups, pelmeni, and tea. Food peddlers can also be seen selling delicious noodles. One of Taiwan's attractions is the Luodong night market in Yilan. It is worth coming here on one of the weekdays, when the attendance of this popular place is not so high. The market is characterized by a mixed assortment of goods at affordable prices. Its popularity is also attributed to its food section, where you can buy different kinds of Chinese noodles, and numerous exotic products.

This article about shopping in Taiwan is protected by the copyright law. You can re-use the content, but only under the condition of placement of an active link to
www.orangesmile.com
.
Fantastic City Tours and Excursions in Taiwan
Reference information
Shopping streets in Taiwan
♥ Shopping area ' Cianjhen' Kaohsiung.
On the map
Photos
♥ Shopping area ' Da an' Taipei.
On the map
Photos
♥ Shopping area ' Tianmu' Taipei.
On the map
Photos
♥ Shopping area ' Xinyi' Taipei.
On the map
Photos
Sightseeings of Taiwan in photostream