National traditions of Malaysia. Habits, mentality and the way of living
The people of Malaysia inhabit the Malay Peninsula, the southern coast of Burma, the island of Singapore, West Kalimantan, as well as smaller islands located between these places. The majority of the Chinese population in Malaysia is descendants of various groups of Chinese. They came to the country in search of a better life between the XV and the middle of the XX century. There are four main groups of Chinese dialects in the region. There are also many other language groups here. Each of them comes from different parts of China. There is also a group of Malays of Indian origin. Many are descendants of those who emigrated from India during the British colonization. They make up the third largest ethnic group today.
Malaysia offers a variety of leisure activities for fans of active holidays. This is rafting, waterfall descent, hiking in the rainforest, cycling on …
Read further
The oldest inhabitants of the Malay Peninsula are its indigenous peoples. They make up a small part of the total population. But they represent the majority in the Malaysian States of Sarawak and Sabah. The Portuguese were the first European colonizers to settle in the country. Nevertheless, it was the British who eventually secured their hegemony throughout Malaysia, after initially establishing bases in Jesselton, Kuching, Penang, and Singapore.
All Malaysians are equal. But some of them have more rights than responsibilities. Malaysia is ethnically diverse. Belonging to a particular ethnic group has advantages and disadvantages. For example, freedom of religion is proclaimed in the country. But ethnic Malays do not have this freedom. Almost a third of the land in the country has the status of a reserve. These lands can only belong to indigenous people. Other ethnic groups that want to live in these areas must rent housing. This is due to the fact that they cannot own houses on the right of private property. Copyright www.orangesmile.com
1. Traveling in a rented car is a safe, convenient, and inexpensive way to get acquainted with the country. World-famous car rental companies are …
Read further
Tamils make up the largest group of people of Indian origin in the state. They have both Indian and Lankan roots. They practice Hinduism. It includes both the main Hindu and Tamil Pantheon of deities. Sri Lankan Tamil Hindus are usually Shaivites. Tamils-Telugu mostly belong to the Vaishnava branch of Hinduism. It is worth noting that a minority of them profess Christianity and Islam. Most Indian Christians are Catholic, Anglican, Methodist, Lutheran or Evangelical in Malaysia. The Chinese are predominantly Buddhist in the region. But they turn to Confucianism and Taoism sometimes.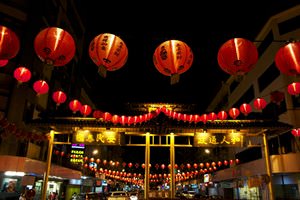 The authorities are trying to preserve the local heritage, as well as create better conditions for different nationalities to live on the territory of the state. Health care is available to almost everyone thanks to a chain of public hospitals and small cozy clinics. The exotic multinational state also has world-class private hospitals. High-level dentistry is available at a very reasonable price. Therefore, foreign tourists often seek to visit dentists here. Even foreign celebrities use the services of local dentists.
Malaysia is a beautiful country with tasty food and amazing people. This is not only a great place for newlyweds and nightlife fans but also a country …
Read further
Primary school education is divided into linguistic areas. Citizens can attend schools in Malay, Chinese or Tamil. They represent the ancient dialects spoken by the country's dominant ethnic groups. Theoretically, anyone can attend any school. But in practice, those citizens who are not ethnic Indians very rarely attend a Tamil school. Middle-class locals are increasingly sending their children to Chinese language or math schools. However, most people are usually taught in the language of their ethnicity.
Malaysians are very proud of their culinary heritage. They love to talk about the local cuisine. Each ethnic group has its own characteristics and interesting delicacies. However, their recipes also affect each other. There are street food stalls and food courts everywhere. You can eat delicious and budget food there. The habit of eating a lot is detrimental to the health of the population. More than 45% of citizens are obese. This is why the country is a leader in the number of overweight people in Southeast Asia.
Malaysia is a real paradise for shopping fans. The most popular international brands have their own stores in numerous shopping centers of the …
Read further
Malaysia is a paradise for nature fans. The country's ecosystem is one of the most diverse on the planet. Tropical forests and coral reefs are the most diverse, in particular. Many rare species live here, including tapirs, lizards, orangutans, tigers, and rhinos, which are unfortunately endangered. Dozens of species disappear every year due to deforestation on palm oil plantations or illegal trade in wild animals.

This article about national traditions in Malaysia is protected by the copyright law. You can re-use the content, but only under the condition of placement of an active link to
www.orangesmile.com
.
Fantastic City Tours and Excursions in Malaysia
Reference information
Cathedrals and basilicas in Malaysia
♥ Cathedral of the Sacred Heart of Jesus, Johor Bahru.
On the map
Photos
♥ St Joseph's Cathedral, Kuching.
On the map
Photos
♥ Church of St. Peter, Melaka.
On the map
Photos
♥ Sacred Heart Cathedral, Sibu.
On the map
Photos
♥ Cathedral of St. John, Kuala Lumpur.
On the map
Photos
♥ St. Joseph's Cathedral, Miri.
On the map
Photos
♥ St. Francis Xavier's Cathedral, Keningau.
On the map
Photos
Famous sites of Malaysia in pictures
Unique traditions in cities of Malaysia
Map of Malaysia regions with authentic traditions