Detailed hi-res maps of Killarney for download or print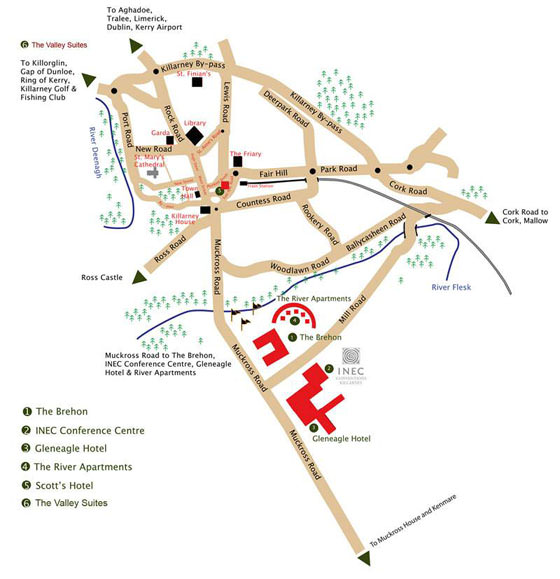 The actual dimensions of the Killarney map are 800 X 827 pixels, file size (in bytes) - 66443. You can open this downloadable and printable map of Killarney by clicking on the map itself or via this link:
Open the map
.
City tours, excursions and tickets in Killarney and surroundings
Moving around in Ireland - transportation

Taxis also function perfectly in Ireland regardless of the locality or city. The only thing that can stop a tourist from using this means of transportation is the high cost of travel tickets, although the quality of service are in line with this. Therefore, this is the best option for emergency trips. If you do not want to spend much money on a taxi or rental car, but at the same cannot refuse personal transport, then it is possible to rent a motorcycle. A great alternative would also be a bicycle. Bicycle excursions are very popular in the country as there are enough specially equipped bicycle trails and paths in Ireland. However, more often than not, both locals and tourists prefer to travel on foot. Although in picturesque villages and suburbs, everyone can rent a luxurious horse. …
Open

Economy roadmap of Ireland
The Industrial sector in Ireland began to develop only from the middle of the last century. Recent survey shows that more than forty percent of the working population is employed in this sphere. The most actively developing area in the country is the high-tech science-intensive industry. It is represented by a huge number of directions. Computer products, their components, and semiconductors are produced in Ireland. Active development of various diverse software including highly specialized ones, is also being carried out. Also experiencing great development are the pharmaceutical, electronics, energy, chemical and glass industry, as well as sewing and textile industry. About 95 percent of the total energy consumed by the country is produced at local combined heat and power plants. It is worth noting that it is in Ireland that the world's largest power plants that use droppings as their fuel operate. The others utilize coal, gas and other petroleum products. Hydroelectric power stations in the country are not many, and they account for less than four percent of the total electricity generated. There are no nuclear power stations in the country and their construction as of now is not in the plans. …
Open

Car rental on OrangeSmile.com

The First Luxury Resort Opens on the World Islands in Dubai
The new Dubai hotel is built to meet the needs of the most discerning customers. It's a luxury lifestyle resort on Clarence Island where guests can remain in harmony with nature. Seven Tides is very excited about the opening and hopes that World Islands will become one of the most popular leisure destinations in the Middle East with decent recognition around the world. The Anantara resort on World Islands in Dubai is a unique place where travelers can experience true tranquility and enjoy proximity to major shopping centers, fine restaurants, golf courses, and incredible Dubai nightlife.
Read this
17.01.2022
Search for services, infrastructure and sights on map of Killarney
Photogallery of Killarney sightseeing
Our guide chapters over Killarney
Detailed maps of neighbouring cities to Killarney