Culture of Killarney. Places to visit - old town, temples, theaters, museums and palaces
Ross Castle located in an extensive nature sanctuary is an iconic landmark of Killarney. This beautiful medieval castle is a typical example of the family nest; it was built in the second half of the 15th century and belonged to the O'Donoghue Ross clan. The mighty fortress served not only as home, but also as a defensive object. In extant towers of the castle some loopholes can be discerned; the steps leading to the top of the tower were made of different heights because of special reason.
1. It is recommended to exchange currency in banks, as private exchange offices offer a less favorable rate. Next to banks there are always ATMs working around the clock, where you can …
Open
After a walk through the old fortress, visitors would be invited to see the surrounding region and go down to the shore of Lough Leane - these places are striking in their splendor. Trips to the Innisfallen Island located in the middle of the lake are very popular. On the island there are also a number of important historical sites, including the ruins of the Muckross Friary Abbey. This building was also constructed in the 15th century, but only a small part of the construction has remained until these days.
The Church of St. Mary, which was founded in 1855, makes out a striking religious attraction. The church fascinates visitors not only with its architectural style, but also with an abundance of artifacts stored within its walls; anyone can see those priceless relics. Walk through Killarney National Park, which begins near the center of the town, also gives an unforgettable experience. The park is a beautiful 19th century mansion, which has been completely restored and converted into a museum. Its collection includes antique furniture, works of art and historical artifacts. Copyright www.orangesmile.com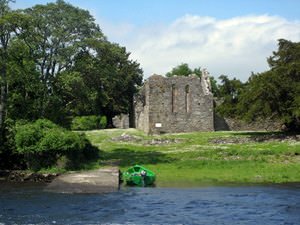 Hotel Dunloe Castle Gardens is interesting for its architecture - however, it is here that those wishing to enjoy the pastoral atmosphere to its fullest and admire the beautiful views prefer to stay. The fact is that the hotel was built on the site of Dunloe Castle, a traditional Irish castle the first mention of which dates back to 1215. Nearby is the Dunloe Ogham Stones - a kind of open-air museum telling the history of the Celtic tribes that once lived here. The stones were carved in the 5th-6th centuries AD to be used as burial markers. They were discovered in 1838 and immediately drew the attention of the public since scientists wanted to unravel the mysteries enveloping the landmark.
In Killarney, travelers should definitely pay attention to stores selling locally made clothes. A fine selection of knitwear and other pieces of clothing made of natural fabric is available …
Open
No less interesting is Ballymalis Castle built in the vicinity of Killarney at the beginning of the 16th century on the site of an older castle that once stood here. In places like this one can get the feeling of touching the history, which means that history buffs will certainly enjoy the atmosphere. Besides that, while in the castle, you should definitely walk along its gardens enjoying picturesque Irish open spaces. It is worth noting that a walk through St. John's Cemetery promises to be no less fascinating. Silence, comfort, peace, and tranquility - all these epithets come to mind during a walk here. And it's absolutely deserved - many tourists and locals find the cemetery the most spacious place in town, being not inferior to parks in this respect - and all thanks to its atmosphere and picturesque views.
The Franciscan Friary built in 1448, closed in 1860, and later opened again in 1879 stands out among other religious sites. Today, from monks, the inhabitants of the monastery, you can learn a lot of interesting information about the history of the Franciscans in Ireland. Of equal interest is Killarney Methodist Church, and not only for its beautiful architecture but also because it is the only non-Catholic temple in town. The church was built in 1968 and has never needed to be restored since then. Besides Killarney National Park, remarkable natural attractions include Tomies Wood, a walk through which brings only the most pleasant impressions.
This town is located on the territory of the National Park. The air here is fresh and clean, while the nature is picturesque and peaceful. While walking on the streets of Killarney you can …
Open
While in Killarney, be sure to attend one of the performances of traditional Irish Ceili dances. Try to follow this kind of events online to be aware of interesting upcoming shows. Killarney House is another interesting attraction. This mansion of regional importance once hosted Queen Victoria who stayed here during her visit to County Kerry. Today it houses a museum with panoramic exhibits depicting amazing views of Southern Ireland. A significant historic landmark is the Old Weir Bridge, a stone bridge built in the 16th century, which is a place of pilgrimage for many tourists wishing to see interesting places and spend active time enjoying kayaking

In the section below, you can get one of our excursion, activities or city discovery tours over Killarney and surroundings. Our website offers 10-30% lower ticket prices, when compared to the offline purchase on the spot.
City tours, excursions and tickets in Killarney and surroundings
This guide to cultural sights Killarney is protected by the copyright law. You can re-publish this content with mandatory attribution: direct and active hyperlink to
www.orangesmile.com
.
What to visit during two-day excursion in Killarney
Killarney National Park

Muckross House And Traditional Farm
Where: Muckross House, Killarney National Park, Killarney; Telephone: +353 (0)64 6670144;
Aghadoe
Where: Aghadoe, Beaufort-Killorglin Road R562, Killarney;
Torc Waterfall
Where: Muckross Demesne, Killarney National Park, Killarney;
Saint Mary's Cathedral
Where: Cathedral Pl. Killarney, Killarney; Telephone: +353 (0)64 31014;
Innisfallen
Telephone: +353 (0)64 35851;
The Gap Of Dunloe
Where: off the R562 road to Killorglin Killarney National Park Killarney, Killarney; Telephone: www.gapofdunloetours.com For details of tours;
Reference information
Cathedrals and basilicas near Killarney
♥ Cathedral of St. Fachtna, Rosscarbery, 62.8 km from the center.
On the map
Photo
Iconic cultural sights of Ireland

Ireland is one of the most popular countries for sightseeing tours. There is an unimaginable number of historical sights in the country. Its capital, Dublin, is one of the oldest cities in the world. Almost all counties of Ireland have preserved ancient castles. These are Klothen, Bunratty, Donsoghlai, Carrickfergus, Clonony, Blarney, and the rock castle of Cashel. Some of them turned into high-class hotels, which are very popular among tourists. Seats and castles of the Vikings are even more ancient. One of the cities built by the Vikings in the 10th century is Waterford. It is located in the south-eastern part of Ireland. …
Open

Photogallery of cultural heritage of Killarney
Landmarks of culture on Killarney map: art-galleries, monuments, palaces, etc
Excursions over cultural sights of neighbours of Killarney
Culture guide to Killarney. Which fascinating sights to visit once you are in Killarney: temples, churches, museums, theaters and castles. Recommendations (with addresses, phone numbers and links) on the places 'must visit' in Killarney. Plan your own city excursion by using this page info!