Cuisine of Killarney for gourmets. Places for dinner - best restaurants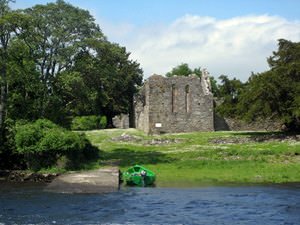 Travelers associate Killarney with numerous cozy pubs and bars, but town's gastronomic points of interest are more diverse. One of the most popular restaurants in the town is Pay As You Please. Despite the high status of the restaurant, it provides a tranquil and relaxed atmosphere, as well as quite reasonable prices for treats. The basis of the Pay As You Please menu consists of local dishes; chef often delights visitors with original author treats.
Killarney is popular with tourists who like to relax far away from big noisy cities. Travelers with children like this picturesque city. There are many beautiful parks and nature reserves, …
Open
Chapter Forty Restaurant specializes on the continental cuisine. Its spacious hall can accommodate up to a hundred visitors. The restaurant serves its guests until late in the evening and provides an interesting entertainment program few times a week.
Among extravagant and exotic places it is worth to mention Rozzers Indian restaurant. Space there is decorated in best traditions of Indian culture; the specialty of restaurant is curry. Despite the fact that prices are quite high, visitors like Rozzers very much, so it's better to book a table for dinner in advance. European Bricin Restaurant will suit well for the family dinner. Young visitors will appreciate the large variety of desserts as specialty sweets are the main feature of Bricin Restaurant. Copyright www.orangesmile.com
Killarney is home of world famous festivals. Colorful national holidays with their unlimited wealth of cultural traditions attract a lot of travelers today. Killarney Summerfest takes part …
Open
Thai cuisine fans will like Genting Thai restaurant. Its visitors can enjoy traditional Thai dishes and savory delicacies that will satisfy any gourmet. Extensive wine list will provide a drink for each dish. There are also attractive restaurants specializing in Mexican cuisine in the town. Among them Casita Mexicana is pointed out. You would enjoy eating there, if you like something hot in your plate.
Hannigan's Bar is suitable for those who want to relax in a quiet and secluded atmosphere. It is an Irish cuisine restaurant. Its hall is divided into two parts, one of which has a cozy bar, and the other is designed for tables. Here you can have the best sorts of Irish beer and enjoy favorite treats of local people. The East Avenue Cafe and Wine Bar also has a great bar with a wide selection of both European wines and treats. This popular restaurant offers original seafood dishes.
Ross Castle located in an extensive nature sanctuary is an iconic landmark of Killarney. This beautiful medieval castle is a typical example of the family nest; it was built in the second …
Open
In Killarney, gourmets will have the opportunity to taste the most popular Irish specialties. In every local restaurant, guests will be offered traditional bacon with cabbage and black pudding, which locals usually eat for breakfast. A very popular everyday dish is "Boxty" potato pancakes, which may be served with a variety of sauces and sliced fresh vegetables.
Seafood is quite widespread in the local cuisine. It is simply fried or used for the preparation of interesting soups. Beer remains the most popular drink among Killarney residents. In restaurants and pubs, one can try "Guinness", which is now popular in different countries of the world, as well as no less worthy ale "Kilkenny".
Without a doubt, a favorite place of tourists and locals is Killarney National Park. The park will be a great place for walking, cycling, for families with children and picnics. There is a …
Open
In budget restaurants, guests will be offered battered fish slices with fried potatoes - such a simple dish is the most popular beer snack here. Gourmets should order original "Dulse champ" which is prepared from a special type of red algae. It resembles classic mashed potatoes with the addition of algae giving the dish a unique taste.
Fans of meat dishes will definitely love Killarney restaurants. They will have a chance to order mutton stew - only selected meat is used to prepare this dish. Another interesting dish is "Crubeens" - crunchy pig trotters. Before cooking, the meat is salted, then boiled and served to the table with a portion of broth and fresh bread. In local restaurants, all meat dishes are always generous and very satisfying.
1. It is recommended to exchange currency in banks, as private exchange offices offer a less favorable rate. Next to banks there are always ATMs working around the clock, where you can …
Open
The regional menu has many interesting casseroles, including both meat and vegetable ones. A great example of a vegetable dish is "Colcannon" made from mashed potatoes with onions, cabbage, and various seasonings. Typically, it is served as a garnish to meat dishes, but you can still order it as the main course.
Desserts in Killarney restaurants are striking in their simplicity and unique taste. Here they prepare interesting sweet pastries, a common version of which is "Barm Brack" fruit bread. It has a variety of fruit options, bread slices are smeared with butter and served with fragrant hot tea.

This guide to cuisine and restauraunt in Killarney is protected by the copyright law. You can re-publish this content with mandatory attribution: direct and active hyperlink to
www.orangesmile.com
.
City tours, excursions and tickets in Killarney and surroundings
Where to go for dinner in Killarney: recommended cafe and restaurants
Gaby's Seafood Restaurant
Where: 27 High Street, Killarney; Telephone: +353 (0)64 32519;
Menton's At The Plaza
Where: Killarney Plaza Hotel, Kenmare Place, Killarney; Telephone: +353 (0)64 21150;
Bricin
Where: 26 High Street, Killarney; Telephone: +353 (0)64 34902;
Blue Door Bistro
Where: 57 High Street, Killarney; Telephone: +353 (0)64 33755;
Treyvaud's Restaurant
Where: 62 High Street, Killarney; Telephone: +353 (0)64 33062;
Busy B's
Where: 15 New Street, Killarney; Telephone: +353 (0)64 31972;
Reference information
Michelin-starred restaurants in Killarney
♥ Restaurant 'Park' Killarney. Type - Traditional cuisine. 0.3 km from the center.
On the map
Photo
♥ Restaurant 'Lake Room' Killarney. Type - Regional cuisine. 2.1 km from the center.
On the map
Photo
♥ Restaurant 'Panorama' Killarney. Type - Modern cuisine. 5.3 km from the center.
On the map
Photo
♥ Restaurant 'Giovannelli' Killorglin. Type - Italian. 19.4 km from the center.
On the map
Photo
♥ Restaurant 'Sol y Sombra' Killorglin. Type - Spanish. 19.5 km from the center.
On the map
Photo
♥ Restaurant 'Park' Kenmare. Type - Classic cuisine. 20.3 km from the center.
On the map
Photo
♥ Restaurant 'Lime Tree' Kenmare. Type - Classic cuisine. 20.5 km from the center.
On the map
Photo
♥ Restaurant 'Packie's' Kenmare. Type - Traditional cuisine. 20.5 km from the center.
On the map
Photo
♥ Restaurant 'Mulcahys' Kenmare. Type - Modern cuisine. 20.6 km from the center.
On the map
Photo
♥ Restaurant 'Boathouse Bistro' Kenmare. Type - Seafood. 22.7 km from the center.
On the map
Photo
National cuisine of Ireland

The cuisine of Ireland can't be called sophisticated and refined. Local chefs pay the most attention to the satiety of dishes. Meat and seafood dishes are very popular in the country. The most common vegetable is potato; that's the most popular side dish to many meat treats. Initially potato was considered a food for the poor. However, it quickly entered the menu of most Irish houses and deserved the right to become one of the symbols of the national cuisine. A variety of soups, pies and sweet pastries is typical for Ireland. Butter is another national product; it is of high quality and unique taste. Pike, mussel, perch, cod, and eel are the most popular seafood. The classic alcoholic beverage of Ireland is dark Guinness beer. …
Open

Killarney in photo set
Searching where to eat - restaurants and cafe on Killarney map
Cuisine and restaurants in the neighbours of Killarney
Travel notes on best cuisine and restaurants of Killarney (Ireland) on OrangeSmile.com. Famous recipes and traditional dishes and courses in Killarney restaurants. Where to eat - our recommendations on popular places in Killarney, where you can taste delicious meal and also spend a good time with your friends.