Maps of cities and regions of Ireland
Additional maps of Ireland
Unique points of interest in Ireland
Newgrange
From the series
"The Oldest Surviving Monuments on Earth"
The unique Newgrange crypt, located in Ireland, is one of the oldest monuments in the world. It was built not later than 2,500 years BC. The ancient corridor is located not far from Dublin, its height is 13.5 meters. The diameter of the mound is also quite impressive and reaches 85 meters.
The remarkable architecture surprises not only with the impressive figure, but also with the unique interior structure. The length of the corridor, which leads into the burial chamber, is 19 meters, composed of huge stone monoliths weighing 40 tons. The archaeologists discovered the ancient burial accessories in the excavation research. On some monoliths one can still see today the preserved cut-out patterns.
The detailed research of the cemetery showed that its tunnel is directed to the exact …
Read all
All unique sightseeing Ireland

Fantastic City Tours and Excursions in Ireland
Country maps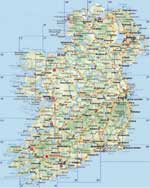 More Destinations in Thailand to be Available Starting from October
Phuket Sandbox was the pilot destination of the new travel initiative, and so no wonder why hotels in Phuket enjoyed the biggest number of foreign guests. Starting from the launch on 1 July and until 31 August, as many as 26,400 visitors used the program. They generated 1,634 million Baht in revenues. Out of these 1,634 million Baht, 565 million Baht were spent on accommodation, shopping and tours generated 376 million Baht, food and beverage – 350 million Baht, medical and health services – 229 million Baht, and other expenditures accumulated 114 million Baht. In July-August, tourists spent on average 61,894 Baht during their stay in Phuket.
Read this
16.10.2021
Interactive maps of hiking and biking routes in Ireland
1. You can zoom in/out using your mouse wheel, as well as move the map of Ireland with your mouse.
2. This interactive map presents two modes: 'Biking Routes' and 'Hiking Routes'. Use the '+' button on the map to switch between them.
Railway and landscape maps of Ireland
This Ireland map has two modes: 'Railway Network' and 'Landscape & Rural Map'. Use the '+' button on the map to navigate.
Maps of cities and regions of Ireland