Culture of Zermatt. Places to visit - old town, temples, theaters, museums and palaces
Modern sports infrastructure remains the main value of the resort. It's a fabulous place where visitors can have fun and enjoy their favorite sports literally all year round. Zermatt doesn't have a rich variety of historical landmarks and cultural centers. However, it offers quite an interesting tour program for its guests. In the heart of the village, visitors will see one of its main symbols – an ice tower that is a real masterpiece of architectural art. The construction is completely made of ice and strikes with its impressive size.
In addition to various winter sports and hiking, guests of Zermatt are welcome to devote some time to various entertainments. There are excellent sports centers, unusual shops, and trendy …
Open
A no less interesting "ice" attraction is located on the mountainside of Klein Matterhorn
. The unique "Hall of ice" was carved in one of the glaciers – it is not possible to find a similar hall anywhere else in the world. It resembles a huge cave that is completely covered with sparkling ice. The hall looks absolutely mesmerizing from the inside. The Ski Matterhorn Museum remains the most visited cultural center of the resort. Its collection is devoted to the history of mountaineering and skiing. The museum exhibits an interesting collection of old mountaineering equipment and photographs, as well as many other valuable items. Moreover, Zermatt has several unusual art galleries that regularly hold exhibitions and thematic events dedicated to the modern culture.
Tourists, who want to see the main historical symbols of the resort, should take a walk in its well-preserved medieval district. Marvelous buildings with the century-old history border with modern buildings, creating an incredibly harmonious atmosphere. Many luxurious hotels also have the remains of protective constructions in their territories. Over a century ago, these facilities defended the Alpine settlement from uninvited guests. Copyright www.orangesmile.com
Zermatt is famous for its luxury hotels. There are more than 300 attractive hotels in different categories. Mont Cervin Palace, which has started accepting guests since 1851, is a true …
Open
At the gorgeous resort, tourists have an opportunity to explore unique natural attractions regardless of the time of the year. As a rule, vacationers enjoy visiting Monte Rosa and Klein Matterhorn glaciers. It is possible to reach these landmarks by cable car. During warm months of the year, holidaymakers are welcome to join numerous hiking excursions to the most picturesque mountain areas. Zermatt has everything needed for curious travelers who cannot imagine a vacation without fascinating excursions.

In the section below, you can get one of our excursion, activities or city discovery tours over Zermatt and surroundings. Our website offers 10-30% lower ticket prices, when compared to the offline purchase on the spot.
City tours, excursions and tickets in Zermatt and surroundings
This guide to cultural sights Zermatt is protected by the copyright law. You can re-publish this content with mandatory attribution: direct and active hyperlink to
www.orangesmile.com
.
Reference information
Cathedrals and basilicas near Zermatt
♥ Basilica di S. Maria delle Grazie (Sacro Monte di Varallo Sesia), Varallo Sesia, 44.8 km from the center.
On the map
Photo
♥ Cattedrale di S. Maria Assunta e S. Giovanni Battista, Aosta, 45.6 km from the center.
On the map
Photo
♥ Santuario-Basilica della Madonna Nera di Oropa, Sacro Monte di Oropa, 46.8 km from the center.
On the map
Photo
♥ Cattedrale di S. Stefano, Biella, 55.4 km from the center.
On the map
Photo
♥ Basilica di S. Giulio, Isola di S. Giulio, 55.9 km from the center.
On the map
Photo
♥ Cattedrale di S. Maria Assunta, Ivrea, 61.8 km from the center.
On the map
Photo
♥ Santuario Basilica del SS. Crocifisso, Boca, 61.8 km from the center.
On the map
Photo
Unique spots in Zermatt and near
Swimming pool at Cambrian Hotel
From the series
"Most Scary Swiiming Pools"
Check on the map:
Distance from Zermatt center - 55 km.
Another pool is equipped for those who like to relax in a more comfortable and safe environment at the Cambrian Hotel. It is indoor. The famous resort welcomes guests all year round. Summer Alpine landscapes are no less impressive than in winter in these places. The surrounding area is decorated with a variety of live plants. Wonderful recreation areas with upholstered furniture and hammocks are always equipped on it in the summer. …
Read further

Lotschberg
From the series
"The Greatest Tunnels in the World"
Check on the map:
Distance from Zermatt center - 45 km.
The total cost of the investments involved was more than 3 billion Swiss francs. Nowadays the project entered a second implementation phase. It has been decided to build a 60-km-long tunnel which is parallel to Lötschberg to reduce the travel time from Zurich to Milan. Despite the huge investments, the tunnel under the Alps fully confirms its existence, as more than 120 passenger and commercial trains use it daily. …
Read further

Tortin Ski Slope
From the series
"Top 13 Furious Ski Resorts and Pistes"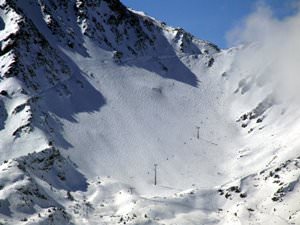 Check on the map:
Distance from Zermatt center - 41.2 km.
For this reason, the extreme sports fans prefer to visit the health resort in the spring when the snow begins to melt or in autumn, when it has not yet hidden all the special features of the 'black' slopes. The health resort Verbier also offers many opportunities for freeriding. However Verbier was known worldwide precisely because of the 'Torin' runway. …
Read further

Photogallery of cultural heritage of Zermatt
Landmarks of culture on Zermatt map: art-galleries, monuments, palaces, etc
Excursions over cultural sights of neighbours of Zermatt
Culture guide to Zermatt. Which fascinating sights to visit once you are in Zermatt: temples, churches, museums, theaters and castles. Recommendations (with addresses, phone numbers and links) on the places 'must visit' in Zermatt. Plan your own city excursion by using this page info!