Winter vacation in Zermatt. Skiing and snowboarding: lifts, pistes and ski-passes
City tours, excursions and tickets in Zermatt and surroundings
Original sights around Zermatt
Cleuson-Dixence
From the series
"The Greatest Dams in the World"
Check on the map:
Distance from Zermatt center - 27.6 km.
It should be noted that Cleuson-Dixence Dam is one of the country's most popular tourist attractions. In the middle of the 20th century the small house was built for the construction workers, which was later converted into the hotel. The experienced travelers recommend visiting this area in the second half of September. In this period, the water basin has the maximum water level, its depth can reach 284 meters. …
Read further

Niouc Bridge
From the series
"Thrilling Points for Bungee Jumping"
Check on the map:
Distance from Zermatt center - 31.3 km.
In the same year, the space for Bunjee jumping, as well as a lot of the other breathtaking attractions were equipped. Today, the bridge is in the middle of the great adventure park, where you can prove the bravery in different ways. Under the bridge the swings were suspended. Next to it are the training places for mountaineers and the trampolines for those guests who are not afraid of jumping next to the abyss. Niouc bridge is incredibly narrow, so the path to the Benjee jumping platform is also an unforgettable adventure. …
Read further

Tortin Ski Slope
From the series
"Top 13 Furious Ski Resorts and Pistes"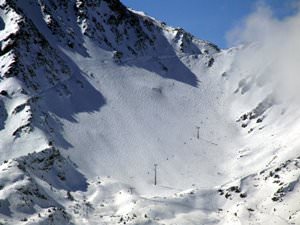 Check on the map:
Distance from Zermatt center - 41.2 km.
The big sharp stones, the cracks and the icy stretches on which you can slip through - even some professionals can not overcome this difficult path. The general length of the slopes, which are available to guests Verbier, is about 200 km. More than a quarter of the slopes are black. In many respects, the complexity of certain routes depends on the season. In the Hochwinter some difficult ski slopes completely hidden under the thick snowcrests and therefore fit even for the middle level athletes. …
Read further

Photogallery of mountain panoramas of Zermatt
Lifts and useful services on interactive map of Zermatt
Winter recreation, skiing and snowboarding in resorts near Zermatt
Guide to the infrastructure of the ski resorts around Zermatt: rental services, pistes, ski passes, accommodation, restaurants and prices. We help you to organize your winter vacation in best possible way - where to rent the skiing and snowboarding equipment in Zermatt, which slopes and pistes to take, and, most importantly, how to relax after intensive skiing day. A week of recreation in a sunny winter, what can be better? Zermatt is waiting for you!