Colors of Solden - traditions, festivals, mentality and lifestyle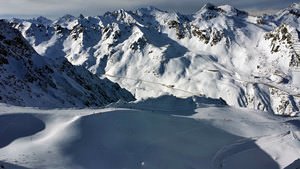 Once in Solden, be ready for the fact that it will be very difficult to understand the locals, despite the fact that they speak German. The fact is that many nations influenced the formation of the language due to the mixing of ethnic groups in Austria. Therefore, only those people who work in the tourism sector or just communicate a lot with foreigners speak more or less "classic" German here. If you speak English, you will most likely be able to talk to the hotel staff, ski school instructors or restaurant waiters but no more. Few of the townspeople speak English well.
Acquaintance with many historic and natural sights of Sölden gives a lot of impressions, as each of them is unique and has its own history. A water mill is one of the oldest buildings that …
Open
You should not compare the locals with the Germans. Moreover, you should not call any Austrian lands or inventions German. Relations are strained with neighbors here because of the complex history of wars, dynastic marriages, and the seizure of certain territories. However, citizens are sensitive to their past. They often remember famous compatriots with pleasure such as Mozart, Strauss or Arnold Schwarzenegger. However, it is not accepted to be too proud of the nationality here. The events of the Second World War are the reason for this.
You will be surprised when you realize how many citizens ski in any free time. It's kind of a national sport here. Children are sent for training from 4-5 years. Young skiers participate in competitions at the age of 7. Local residents generally love to play sports and take care of their own health. You will rarely see fat people on the streets of Solden. However, the daily schedule is not conducive to overeating. A self-respecting citizen spends almost all of his time at work. Copyright www.orangesmile.com
Solden is a ski resort. Of course, you can also come to the town in the summer. However, only hikers will enjoy it at this time. More than ten routes of various complexities are laid around …
Open
The people of Solden quite calm about overworking. Citizens can even be called real workaholics. You can always be sure that a local resident will fulfill his duties. It's a matter of honor here. The townspeople are quite conservative. They are not inclined to make acquaintances with foreigners. It is not customary to impose your society here. The peculiar Austrian humor often only emphasizes the difference in mentalities. However, local residents may well maintain communication with someone who seems to them quite a decent and interesting person. They can even move on to a more informal conversation. The initiative for rapprochement should come from an older person.
The locals are not adherents of the ideal order but rather the opposite, especially against the background of their German neighbors. Impulsiveness or great emotionality is not characteristic of the inhabitants of Solden. Life is pretty slow here. A typical local's day consists of going to work, having a cup of good coffee at lunchtime, and relaxing with the family. They go to the highway in the mountains or to the country site on weekends. Town streets are almost empty after 20:00. Young people or tourists are usually out of the house at this time. Austrians appreciate evenings filled with leisurely conversations with family with wine and delicacies, reading books, or listening to music.
Sölden offers its foreign guests more than three hundred different inns and hotels for a comfortable stay in the city. Das Central – Alpine. Luxury. Life is considered a resort's …
Open
The attitude of local people to marriage is quite interesting. Numerous young people register their relationships after the age of 30. A few years of regular dating and even having children is not a reason for immediate marriage here. Couples who live together for years without registering a marriage are called "life partners". Children often turn to their parents by their first names but not "mom" or "dad" in such families. It's interesting that the locals love to mention all the possible titles. It is considered good form to address the interlocutor "Mr. Professor" or "Mrs. Doctor". The second appeal does not mean that the interviewee received a doctorate. Maybe she's just married to a scientist.
The people of Solden are religious. The churches are crowded in the days of the Catholic holidays. Stores are closed for a few days after Christmas. Everyone is relaxing and spending time with the family. However, there are interesting events not only for Easter or the Annunciation here. For example, a major electronic music festival is held in Solden in early April. Alpine skiing and freeride competitions are also accompanied by major concerts. They take place several times during the season here. The World Cup stage is the largest one. The Oktoberfest beer festival takes place during its opening days.
A large part of Sölden's ski slopes available for tourists is aimed at middle-level skiers. There are also excellent skiing zones for beginners, as well as fantastic slopes for …
Open
Skiers, paragliders, and skydivers from all over the world take part in the Hannibal Show on the Rettenbach glacier in mid–April. The Harley Davidson show with free ski tests and rock band performances takes place here in early April. The pre-Christmas parade looks extremely unusual. Citizens wear costumes of various evil spirits during it. Night skiing with a show of instructors is held every Wednesday during the ski season. They are accompanied by festivities to folk music with fireworks at the end.

This guide to traditions and festivals in Solden is protected by the copyright law. You can re-publish this content with mandatory attribution: direct and active hyperlink to
www.orangesmile.com
.
City tours, excursions and tickets in Solden and surroundings
Reference information
Cathedrals and basilicas near Solden
♥ Dom Sankt Jakob, Innsbruck, 45 km from the center.
On the map
Photo
♥ Herz-Jesu-Basilika, Hall in Tirol, 52 km from the center.
On the map
Photo
♥ Basilika St. Michael, Absam, 52.6 km from the center.
On the map
Photo
♥ Abtei Neustift, Varna (Vahrn), 55.2 km from the center.
On the map
Photo
♥ Benediktinerkloster St. Johann, Müstair, 56.3 km from the center.
On the map
Photo
♥ Kathedrale Mariä Himmelfahrt und St. Kassian, Bressanone (Brixen), 57.3 km from the center.
On the map
Photo
♥ Cattedrale di S. Maria Assunta, Bolzano (Bozen), 58.7 km from the center.
On the map
Photo
Survived castles around Solden
♥ Castle 'Castle Tyrol' Merano, 32.2 km from the center.
On the map
Photo
♥ Castle 'Burg Bideneck' , 32.5 km from the center.
On the map
Photo
♥ Castle 'Schloss Brunnenburg' Merano, 32.6 km from the center.
On the map
Photo
♥ Castle 'Reifenstein Castle' Freienfeld, 35.2 km from the center.
On the map
Photo
♥ Castle 'Trauttmansdorff Castle' Merano, 36.9 km from the center.
On the map
Photo
♥ Castle 'Monteleone Castle' Roncofreddo, 38 km from the center.
On the map
Photo
♥ Castle 'Schloss Naudersberg' , 38.7 km from the center.
On the map
Photo
Car rental on OrangeSmile.com

Thailand Relaxes Its COVID-19 Policy
New Year events in Thailand are likely to bring more people this year because everyone is tired of lockdowns and craving normal life. Many tourists, who book hotels in Pattaya, Krabi, or Phuket for the holiday season, also want to participate. As champagne has become an essential drink for New Year celebrations, the question regarding alcohol consumption comes to mind. The government allowed serving alcoholic drinks during the New Year countdown but only open-air cafes and restaurants with good ventilation will be permitted to do this until 1 am on 1 January 2022. This rule is nationwide.
Read this
04.06.2023
Colors of Solden in photos
Search for popular touristic sites on Solden map
Traditions and festivals in cities around Solden
Cityguide on traditions, mentality and lifestyle of people in Solden. Learn the best periods to visit Solden to discover its soul - authentic festivals, events and celebrations. We will also reveal the interesting habits, attitude towards the world and to tourists in Solden.