City break in Solden. Active leisure ideas for Solden - attractions, recreation and nightlife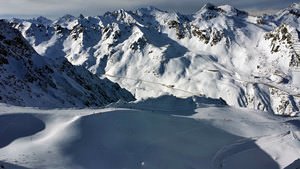 Solden is a ski resort. Of course, you can also come to the town in the summer. However, only hikers will enjoy it at this time. More than ten routes of various complexities are laid around the town. Beginners without good physical training will be able to overcome some of them. There are also those routes that only experienced tourists will be able to pass here. If you want, you can go to the nearby village of Obergurgl. You will be able to walk in the surrounding forests and climb the Rotkegl Mountain here. The path to the top of the mountain begins on the outskirts of the settlement.
A large part of Sölden's ski slopes available for tourists is aimed at middle-level skiers. There are also excellent skiing zones for beginners, as well as fantastic slopes for …
Open
The Freizeit Arena sports complex is available at any time. Everyone can swim in the pool, play tennis or bowling here. You will also have the opportunity to improve your fitness in the gym or relax after a workout in the sauna. Several ice rinks also operate in the town for almost the entire year. If the weather is not conducive to skating on open ice, you can always go to the indoor skating rink. If you are not in the mood for any active leisure at all, you can go to the local cinema.
Solden is a real paradise for athletes. You can come here even at the beginning or end of the season and not be afraid that there will be no snow. There are two large glaciers here. These are Tiefenbach and Rettenbach. Snow lies from October to May here thanks to them. The height difference is quite large here. It reaches 1680 meters. So everyone can find a suitable route here. Solden is suited for those who have already mastered the skills of skiing and are confident enough to stay on skis. However, you also have the opportunity to go to any of the ski schools here. You can learn the basics of skiing or improve your technique there. Skiaktiv, Vacancia Total, Freeride Center Solden – these are just a few institutions that are ready to accept both an adult and a child for training. There are no problems with the equipment here. Good weather conditions and the presence of several simple blue trails will allow you to consolidate in practice all the skills obtained in training. Local instructors are experienced people. Many of them took part in national competitions and in the World Cup stage, which was held on the tracks of Solden. Copyright www.orangesmile.com
Solden is a popular tourist destination. You can easily find many traditional Austrian souvenirs and the best world's ski equipment here. Unfortunately, fans of hours of shopping and …
Open
However, you should not think that this resort is designed exclusively for novice athletes. There are also extremely interesting black trails and good opportunities for freeriding here, especially after heavy snowfall. There are queues at the lifts at the height of the season. However, it is usually less crowded on Giggijoch. In addition, an interesting snow park with a half-pipe and a border-cross track is located in this area. Another similar park is arranged on Rettenbach every year. In general, all the surrounding areas of the town are connected by ski slopes. So you can arrange a real ski safari. There are a total of 150 prepared trails here. The length of the longest route is almost 13 kilometers. It is also interesting that several routes lead directly to Solden.
Gaislachkogel Mountain reaches 3056 meters in height. You will find many long red trails with a diverse and interesting profile here. The 27-meter-high Gigiyoh massif has large fields with huge opportunities for free off-piste descent. You can find nice trails of average steepness in the Rettenbachtal valley. They will suit not too experienced skiers.
Sölden is a world-famous ski resort and a permanent venue for holding world-class competitions. The picturesque town is situated in the Ötztal alpine valley and is its largest settlement. …
Open
If you get bored with the town's surroundings, you can go to the Ötztal and Vent districts. They are located nearby. There are good tracks there. If you get tired of skiing, you can go for a walk in the vicinity of Solden in a real sleigh drawn by horses. There is also no problem to relax after skiing here. Life does not stop at nightfall in Solden, unlike many Alpine towns. You can drink, sing, and dance without taking off your ski boots in Almstube, Felsenstuberl, Gruner's Kuhstall, Top Ok or Liebe Sonne. Vacationers go to discos like Bierhimml at night. They have fun until dawn there. You can also go to Eugen's Obstlerhütte. If you want a relaxing holiday, then you should go to the nearby village of Längenfeld. The Aqua Dome thermal complex is located there. It includes several baths, saunas, and pools with healing water, located both indoors and outdoors.

This guide on active recreation and leisure in Solden is protected by the copyright law. You can re-publish this content with mandatory attribution: direct and active hyperlink to
www.orangesmile.com
.
City tours, excursions and tickets in Solden and surroundings
Sites around Solden from our surveys on extreme Earth places
Swimming pool at Hotel Hubertus
From the series
"Most Scary Swiiming Pools"
Check on the map:
Distance from Solden center - 48.3 km.
A wonderful recreation area with tables and spacious terraces is equipped for guests on the roof next to the pool. You can sunbathe there. Guests of the upscale hotel can use the pool even in winter. It is equipped with a powerful water heating system. Specially raised edges were equipped in the pool instead of standard sides so as not to block the picturesque scenery for vacationers. They merge with the horizon and make the boundaries of the pool literally intangible. This adds even more thrills. …
Read further

Dolomiti
From the series
"16 Most Fascinating Objects of Unesco in Italy"
Check on the map:
Distance from Solden center - 58.2 km.
Many people choose Dolomiti for a winter vacation. There are a lot of various placed of interest and good ski routes. Ski resort Arabba is one of the most extreme in the world. There you can find the most complex routes. The beginners in skiing or families can go to Tre Valli. It has a lot of entertainment and rich nature. …
Read further

Sankt Anton Resort
From the series
"Top 13 Furious Ski Resorts and Pistes"
Check on the map:
Distance from Solden center - 58.4 km.
After more than a century its sports and entertainment infrastructure became perfect. Today, there are 82 ski lifts on the health resort, and the general length of its slopes is 280 km. St. Anton is considered to be the best health resort in Austria for snowboarders, as well as for cross-country skiing enthusiasts. The first-class sports center is open all year round in the health resort, which offers to the clients, in addition to the traditional training room and swimming pool, the excellent salt cave with the waterfall, the massage parlor and the wellness center. …
Read further

Car rental on OrangeSmile.com

Saudi Arabia to Open 38 Hotels in Diriyah
Diriyah is one of the first mega projects in Saudi Arabia. Hotels and other infrastructure will start opening next year, and all works are expected to end in 2026. The first 18 restaurants in Bujairi Terrace will start operating already in early 2022.
Read this
02.04.2023
Photogallery of picturesque Solden
Search for active leisure and attraction spots on Solden map
City break ideas for neighbours of Solden
Guide to your best city break in Solden - popular places for recreation and leisure. Things to do during the day in Solden - attractions, parks, beaches, aquaparks, racing tracks, biking trails or waterski. Recommendations (with addresses, phone numbers and links) where to spend your time in the evening (bars, discos, clubs, etc.). We share some good ideas and the question 'What to do in Solden?' disappears immediately.