Shopping in Solden - authentic goods, best outlets, malls and boutiques
Solden is a popular tourist destination. You can easily find many traditional Austrian souvenirs and the best world's ski equipment here. Unfortunately, fans of hours of shopping and searching for the best prices for branded clothing or shoes can be advised to go to Vienna for a couple of days. The choice of branded items is small in Solden. It is better to plan shopping during the day. Many stores close at 18:00-19:00. However, you can find shops that are open until 21:00-22:00 on Friday and Saturday in places with the largest concentration of tourists.
A light breakfast Frühstück is served in the morning in many hotels in Solden. Most often it is bread with butter or jam and coffee or milk. However, local residents often start their day …
Open
Solden is the best place for sports equipment dealers, just like any ski resort. You can easily find skis, snowboards, and protective gear suitable for any age, size, and budget. If you want to save money, you should come to Solden during the winter sale. It takes place in January here and coincides with the European discount season. You have a chance to purchase the board for 30% of its original price at this time. There is a good selection of equipment in stores in the town center, as well as near rental points.
If you want an inexpensive and truly Austrian souvenir, then pay attention to a statuette or soft toy in the form of a horse. White horse Lipizzaner breed is a true symbol of Austria. The history of the breed goes back almost five centuries. You can find magnets, t-shirts, wooden toys, mugs, and even fans with images of horses from Lipic. The cowbell is another interesting local souvenir. Local residents don't use it for its intended purpose. This has been prohibited by law since 2012 due to noise. However, it is quite colorful and symbolic thing. However, you definitely should not give such a gift to women without a sense of humor. Note that real Austrian cowbells are flat. Some local musical instruments consist of several such bells of different sizes. You can buy one as a gift to a music fan friend. If you have a friend who is a smoker, you should give him a beautiful pipe from the famous Austrian master Peter Matzhold. Please note that the original tube costs no less than a thousand euros. You can buy one of Freywille jewelry as a gift to the girl. They are covered with special enamel painted by hand. These products are very colorful. Copyright www.orangesmile.com
Once in Solden, be ready for the fact that it will be very difficult to understand the locals, despite the fact that they speak German. The fact is that many nations influenced the formation …
Open
Locals love the beer. They also love interesting beer mugs. You can buy such a mug made of ceramic and metal. The largest mug can hold two liters of beer. You can see two armorial eagles of Austria on the mugs – with one or two heads. The double-headed eagle was the coat of arms of the Austro-Hungarian Empire in the past. Ceramic products can become an inexpensive and practical souvenir. It's not hard to find them in Solden. Their assortment will amaze your imagination. You can find tiny piggy banks and large dishes.
Chocolate liqueur "Mozart" will be an original gift. It is sold in a beautifully designed bottle. The price of liquor is not too high. So you can buy original liquor for friends and colleagues. "Mozart" is sold in three variations – black, white, and gold. White and gold are chocolate-cream liqueurs. Only black liquor is made exclusively from chocolate according to the original recipe.
Acquaintance with many historic and natural sights of Sölden gives a lot of impressions, as each of them is unique and has its own history. A water mill is one of the oldest buildings that …
Open
You should also pay attention to local beer. It is sold in numerous variations. However, the most careful attention should be paid to the varieties of Stiegl, Gösser, Hirter, and Zipfer. Schnapps is a stronger and more specific drink. It is prepared on the basis of fruit, most often from apples. However, you can find schnapps made from pears, plums, and cherries. The Marillenschnaps recipe from apricots is the oldest.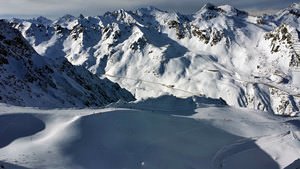 You should definitely buy Mozartkugel candies. They're balls of marzipan inside and chocolate outside. You can give wooden painted characters from Grimm's fairy tales to the child. A mix of seasonings will be a universal souvenir. It will suit a relative, friend, and boss. You can also purchase a knitted vest or gloves. Handmade lace and embroidered handkerchief or tablecloth will be an interesting purchase.

This guide to shopping in Solden is protected by the copyright law. You can re-publish this content with mandatory attribution: direct and active hyperlink to
www.orangesmile.com
.
City tours, excursions and tickets in Solden and surroundings
Reference information
Designer outlets in Solden and nearby
♥ Outlet 'Designer Outlet Brennero' St.-Valentin-Strasse, Brenner, 39041, Italy, 29.5 km from Solden.
On the map
♥ Outlet 'Franciacorta Outlet Village' Piazza Cascina Moie 1/2, Rodengo Saiano, 25050, Italy, 168.7 km from Solden.
On the map
♥ Outlet 'DESIGNER OUTLET SALZBURG' Kasernenstrasse 1, Wals-Himmelreich, 5073, Austria, 175.7 km from Solden.
On the map
♥ Outlet 'NOVENTA DI PIAVE DESIGNER OUTLET' Via Marco Polo 1, Noventa di Piave (VE), 30020, Italy, 186.1 km from Solden.
On the map
♥ Outlet 'Ingolstadt Village' Otto-Hahn-Stra Ingolstadt 85055 Germany, 205.3 km from Solden.
On the map
♥ Outlet 'Metzingen Outlet City' Reutlinger Strasse 53, Metzingen, 72555, Germany, 216.7 km from Solden.
On the map
Car rental on OrangeSmile.com

Expo 2020 in Dubai Was Visited by More Than 7 Million Visitors
If you haven't visited this event yet, there is still time to book a hotel in Dubai because Expo 2020 Dubai runs until 31 March 2022. People who are unable to visit the emirate can make a virtual tour on the Expo 2020 website. By the way, the virtual visitation has already reached 31.6 million by the end of December.
Read this
31.01.2023
Photogallery of Solden best places
Search for shopping areas, streets, boutiques and supermarkeets on Solden map
Shopping advices for the whole region around Solden
Shopping advices for Solden. The best spots for buying designer clothes and local delicacies from Austria - shops, galleries, boutiques and outlets. We provide you with the shopping streets map, so you can plan your efficient shopping routes, while hunting for authentic souvenirs, goods, drinks, shoes and clothes in Solden.