Shopping in Shanghai - authentic goods, best outlets, malls and boutiques
Shanghai is great for shopping. There are many shopping centers here. You can find everything you need in them: from European brand clothing to Eastern traditional medicine. If you are looking for European brands' clothes and accessories, it is recommended to go to the Bund waterfront or to the shops on Longhua Street. If you are satisfied with copies of branded things, then you will be able to find many places in Shanghai where pretty high-quality fakes are sold.
In Shanghai, hundreds of amazing hotels are available for travellers. There are many original and exclusive institutions among them. On the bund Waitan there is a legendary historic hotel …
Open
Tourists are usually taken to the main shopping streets – Huanghai, Beisichuan, and Nanjing. However, it is recommended to try to find places for shopping on your own. Prices are usually much higher on tourist routes but the quality of products is low here. New World City, Raffles City Shanghai, Shanghai Fashion Store, and Super Brand Mall are worth visiting from major shopping centers. These are the most popular centers. If shopping for you is just part of the entertainment program but not the main goal, it is better to pay attention to the shops and malls located near your hotel.
You can bargain not only in markets but also in boutiques here. However, keep in mind that the Chinese are very touchy. Therefore, you should only bargain if you really plan to buy an item. The state stores are open from 9.30. They close at 20:00-20:30. Shopping centers are open until 22:00. There is also a feature in writing price tags for products. You will see a peculiar fraction on the price tags for things with discounts. The full price is written at the top. The discount amount is indicated at the bottom. Copyright www.orangesmile.com
Discovering the architecture of Shanghai from bird's eye view! Oriental Pearl Tower, Shanghai Exhibition Center, Shanghai Tower, Shanghai World Financial Center, Shanghai Grand Theatre, all those monuments are defining the image of Shanghai …
Open
Sales take place on certain dates. Therefore, you can plan your shopping tour in advance. The largest sales take place on New Year's Eve (both European and Chinese) and in mid-autumn days. You can also make successful purchases at sales in honor of May 1, as well as October 1. It is a day of the founding of the PRC. There are also seasonal sales. They usually take place in March, September, and around Midsummer. Usually, prices are reduced by 70%. Discounts reach 90% in some stores. Therefore, you will have a good opportunity to save a large amount of money.
There are many markets in the city. They have their own specialization. For example, you will find jewelry made of precious metals and pearls at the Sunshine Bazaar and the First Asian Jewelry market. Various gadgets and phones are sold on the Cybermart market. You should go to Tien Shan for tea. You will find antiques and rare items at Dongtai Lu Antique Market. It is recommended to buy fake clothes and shoes. Branded items are expensive here. However, good quality copies will be cheap. Fakes are really good here. Only a specialist can distinguish many of them from the originals.
Shanghai Museum, Jin Mao Tower, Science and Technology Museum, China Pavilion, as well as many others, they all become the world's cultural heritage objects and remain as iconic monuments for Shanghai …
Open
Of course, you need to buy things made of real Chinese silk at least one. Tourists often bring silk bed linen or bathrobes from Shanghai. Real natural silk is quite expensive here. If you plan to buy many silk products, it is recommended to go to the Shanghai Silk Commercial Building mall or to the South Bund Fabric Market. There are always many buyers here. However, there is strict quality control here. The sellers speak English well. Of course, you can find very cheap things. You will certainly be able to buy silk clothing at very low prices in the markets. However, its quality will be poor.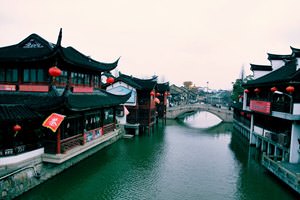 It is interesting to get acquainted with the assortment of shops with Chinese folk medicines. You will find jars with powders, bundles of dried plants, and baskets with dried parts of various animals here. You should buy folk medicinal drinks and infusions. For example, an infusion of ginseng or antler root deserves attention. Everything else is more likely to be a souvenir than a medicine for a European who is not particularly versed in folk medicine. You should go to the Yuyuan market for shopping.
Regarded as the 'Oriental Pearl', Shanghai is known for its intriguing blend of Chinese and Western cultures. This charming old-aged city is not only China's center of economy, finance, …
Open
Chinese cosmetics are also worthy of attention. It is most often made from natural ingredients. Local cosmetics have quite a decent quality. There are inexpensive brands here. It is recommended to purchase something from the Bioaqua line. If you have enough money, then choose more expensive cosmetics Herborist. This is an expensive but very effective series. It is especially effective in the fight against age-related skin changes.
If you plan to buy appliances, choose Chinese brands. Of course, you can find an iPhone here. However, you should not expect it to work for a long time. Models with defects, drowned or passed major repairs are sold on the market as a rule. Please note that it is necessary to check any product, even in a brand store. There are a lot of fakes not only in the market. Chinese porcelain is highly valued all over the world. Products made of real porcelain are expensive. It's hand-painted. However, you can find quite affordable prices in shopping centers. You can buy a vase or tea pair to remember the trip here. Very cheap porcelain dishes are sold on the market. However, it is usually of poor quality.
Shanghai is a great place for a family holiday. There are many activities for children here. First of all, it is recommended to go to the zoo. Many visitors come here to see pandas. Funny, …
Open
Tea is usually bought from Shanghai products. There are dozens of its types here. It is green, red, white, with various additives and an amazing flavor. If you don't want to go shopping at the market, then look for a Tenfu store nearby. Prices are fixed here. It is not customary to bargain here. You can buy a bottle of local strong alcohol with a snake as a souvenir. However, such bottles are offered in almost all Asian countries today. So you are unlikely to surprise someone with such a gift. It will be better to bring tea or real Chinese noodles for your friends.

This guide to shopping in Shanghai is protected by the copyright law. You can re-publish this content with mandatory attribution: direct and active hyperlink to
www.orangesmile.com
.
City tours, excursions and tickets in Shanghai and surroundings
Photogallery of Shanghai best places
Search for shopping areas, streets, boutiques and supermarkeets on Shanghai map
Shopping advices for the whole region around Shanghai
Shopping advices for Shanghai. The best spots for buying designer clothes and local delicacies from China - shops, galleries, boutiques and outlets. We provide you with the shopping streets map, so you can plan your efficient shopping routes, while hunting for authentic souvenirs, goods, drinks, shoes and clothes in Shanghai.