Sightseeing in San Jose - what to see. Complete travel guide
San Jose is the capital of Costa Rica. The city, which was founded in 1737, is famous for its pleasant mild climate. The style of decoration of the local houses is a combination of a variety of styles from traditional Spanish architecture to the ultra-modernist trends. The main city square, Plaza de la Cultura, is located in the center of San Jose. The square is surrounded by a national theater, museum and ICT information center gold.
San Jose is the city of centuries-old history carefully keeping landmarks and artifacts of the past and being extremely proud of its culture. To learn the history and culture of the country …
Open
Not far away from the central square you will find another one named Plaza de la Democracia. The former barracks of Bellavista are located here. Nowadays these barracks have been turned into a national museum, an amazing museum of jade, several administrative agencies and Parc de la Ekspreson that has become a home place to the exhibition of works of the talented local artists.
For those, who like to travel, San Jose offers the opportunity to visit the nearby neighborhood of the city - Poas Volcano, ancient Spanish fortress Fortin, El Bosque-Encantado children's entertainment complex, the local zoo, the museum and the institute coffee, La Guácimo butterflies breeding farm, and various neighboring cities. Copyright www.orangesmile.com
The city of San Jose will be of great interest for active leisure fans and hiking enthusiasts as it features plenty of inimitable nature attractions and sites. A visit to the National Park …
Open
Cerro San Jose cliff is a significant natural symbol of the capital. Many travelers know it as The Mountain of Death. It's the highest point of Costa Rica. It is incredibly difficult to climb the mountain, many professional climbers have lost their lives while conquering the cliff. Once the Pan-American Highway is completed, it became possible to conquer the peak. There are guided walks on the mountains. Here, you can see a special species of tiny bamboo and rare species of fern, as well as large glades with blueberries and wild gooseberry. The main inhabitants of this region are birds.
The most interesting cultural object is the Museum of Numismatics and Pre-Columbian Gold. In fact, it represents two unique museums located in the same building. Its main values are items made of precious metals related to pre-Columbian times. During the colonial era, many valuables taken from the indigenous populations were melted down into gold bars. However, some of them survived. Nowadays, golden statues of the gods, jewellery and ritual things, that previously belonged to the indigenous tribes are available to visitors.
1. One of the fastest ways to get from an airport to the center of city is by bus. In this case the trip will take not more than 15 minutes and will cost less than a dollar. The same trip by …
Open
Lovers of natural attractions are invited to visit Orosi valley. It is not by accident considered one of the most beautiful places in Costa Rica. The valley is known for a unique cool climate that supports rare plants and flowers. Special climatic conditions made these places ideal for growing coffee. Some plantations are open to visitors. Several coffee processing plants operate here. There are also national restaurants and specialized shops.
Braulio Carrillo Natural Reserve is in the immediate vicinity of San José. It was founded in 1978 and covers an area of more than 40000 hectares. This natural park astonishes with striking contrasts. Mountains in luxuriant tropical vegetation, volcanic landscapes, and all kinds of other natural sights can be seen there. The entire territory is covered by a network of cable cars. Tourists are always welcomed to admire the natural beauty from above.

This guide to iconic landmarks and sights of San Jose is protected by the copyright law. You can re-publish this content with mandatory attribution: direct and active hyperlink to
www.orangesmile.com
.
City tours, excursions and tickets in San Jose and surroundings
Reference information
Shopping streets in San Jose
♥ Shopping area ' Avenida Central' San José, 1.3 km from the center.
On the map
Photo
♥ Shopping area ' Rohrmoser' San José, 3.5 km from the center.
On the map
Photo
♥ Shopping area ' and Avenida Escazu' Escazú, 6.5 km from the center.
On the map
Photo
♥ Shopping area ' Multiplaza Escazu' Escazú, 7.4 km from the center.
On the map
Photo
♥ Shopping area ' Guachipelín' Escazú, 8.8 km from the center.
On the map
Photo
National and city parks around San Jose
♥ National Park 'Volcán Irazú' , 26.2 km from the center.
On the map
Photo
♥ National Park 'Braulio Carrillo' , 27.9 km from the center.
On the map
Photo
♥ National Park 'Volcán Poás' , 33.5 km from the center.
On the map
Photo
♥ National Park 'Volcán Turrialba' , 36.1 km from the center.
On the map
Photo
♥ National Park 'La Cangreja' , 42.9 km from the center.
On the map
Photo
Sights around San Jose from our guide 'Extreme places on Earth'
Manuel Antonio National Park
From the series
"Largest Nature Reserves on Earth"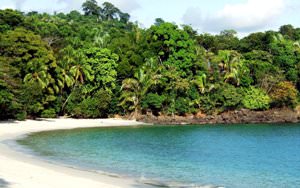 Check on the map:
Distance from San Jose center - 60.5 km.
Some areas are equipped with suspension bridges, not everyone has the courage to take a walk on them. You may take exquisite shots from the bridges since they are located in the most beautiful areas of the reserve, near the waterfalls above the wild rivers. Courageous tourists are fond of Mangrove tours in wetlands, they have an opportunity to see crocodiles and other reptiles there as well as study Damas caves. Romantics can take a walk along the gorgeous white-sand coast and watch the birds, some protected beaches of Manuel Antonio are accessible to leisure. …
Read further

Pacuare River
From the series
"The Most Dangerous River Rapids for Rafting"
Check on the map:
Distance from San Jose center - 60.1 km.
It must be noted that the great swirls form during the heavy rain on the river, so one should not distract the surrounding landscapes for long. Pacuare has been one of the ten best rivers for rafting on Earth for several years. Partially it is due to the wonderful surrounding landscapes. Tourists who like active recreation with the children should take into account that rafting on Pacuare is not recommended for children under 14 years. …
Read further

Sightseeing in Costa Rica: things to see
Barra Honda Caverns are a true miracle of nature, so there's no wonder why this place is so popular with tourists. The complex consists of 19 caves, with the biggest one being 240m deep. Walls and floors of the caves are decorated with beautiful minerals that make these caves look more like shiny treasuries. …
Open

Car rental on OrangeSmile.com

Iceland Wants to Open Its Doors for Vaccinated Tourists
Have you ever dreamt of enjoying an unforgettable holiday in Iceland? If yes, an anti-COVID-19 vaccine is your ticket to this northern country. The country's government decided to allow fully vaccinated tourists to enter without any need for quarantine or testing. The new rules have become valid starting from March 18. This means that everyone with proof of certified vaccination is welcome in Iceland. No PCR testing or self-isolation is mandatory for such tourists.
Read this
07.05.2021
Search touristic sites on the map of San Jose
Sightseeing in regions nearby San Jose
All about San Jose, Costa Rica - sightseeings, attractions, touristic spots, architecture, history, culture and cuisine. Prepare your trip together with OrangeSmile.com - find out the 'must see' things in San Jose, which places to visit, which excursions to take, where the breathtaking views are waiting for you. Planning your trip with this travel guide will help your to get the most out of San Jose in few days.