Preparing your trip to Manama: advices & hints - things to do and to obey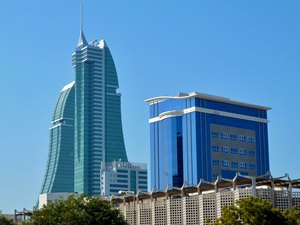 1.
Despite the fact that one can easily purchase alcohol in Bahrain, it must be drunk in specially designated areas only. Note that it is restricted to walk in the streets of the country with unpackaged bottles of alcohol.
2. Food and alcohol prices are quite high. Those, who want to save money on food, are recommended to move their feet to food markets. The rates in supermarkets and large shopping complexes are usually the highest.
3. All government offices and vast majority of shopping centers are closed on Fridays. Saturday is usually a working day.
4. A significant part of the local beaches are shallow, so fans of snorkeling are recommended to go to one of the local diving clubs that organize trips to the most beautiful reefs.
5.
Before you take a picture of a local or use a camcorder, you should definitely ask that person for permission. Making photos and videos is also prohibited in many religious attractions. Copyright www.orangesmile.com
6. When you plan to make a walk, it is necessary to choose the most neutral outfit. Walking through the streets wearing sports or bathing suit will be definitely considered a sign of bad manners. Tourists wearing revealing outfits may simply not be allowed to enter the territory of state agencies and tour facilities.
7. The amount of tips is usually included in the total bill in the majority of the local restaurants. As a rule, the size of tips estimates 10% of the total. You are free to leave a small additional fee to a waiter and this will be always accepted with gratitude.
Despite the fact that Bahrain is considered quite a modern and a rapidly developing country, the locals do not cease to follow the cherished customs of their ancestors. They respectfully …
Open
8.
The travellers, who plan to use a taxi a lot, are recommended to negotiate the price of a ride in advance. As a rule, the taxi rates go up a bit in the evening.
9. In most hotels and inns the power voltage supply is 230 V, but in some accommodations and hotel complexes it can be 110V, so travellers are recommended to take a power adapter if necessary.
10. The period from October to March is the best time to make a vacation to Bahrain. However, the resort is suitable for beach rest all year round. In the hot months of a year the temperature can reach 45 degrees by Celsius, so fans of sightseeing and walking are better to refrain from travelling during summer.
11.
Bahrain is considered to be a fairly quiet country, so the level of crime is quite low. Nevertheless, you should not forget to keep an eye on your own belongings in public places. There may me pickpockets in markets and shopping centers.

Preparing your trip to Manama: advices & hints - things to do and to obey You can re-publish this content with mandatory attribution: direct and active hyperlink to
www.orangesmile.com
.
What to visit being in Manama - unique sights
United Tower
From the series
"Twisted Spiral Buildings and Towers That Are Real"
Check on the map:
Distance from Manama center - 1.5 km.
Besides the luxury hotel, which occupies 14 floors of the skyscraper, within the walls of the building there are offices of various companies. For travellers, one of the best ways to assess the features of a skyscraper from the inside will be accommodation in one of the elegant rooms of the Wyndham Hotel Group. All its rooms are equipped with panoramic windows, with a chic city view. On the last floors of the hotel there are attractive restaurants and bars, which will also be a great place to relax and admire the surrounding landscapes. …
Read further

City tours, excursions and tickets in Manama and surroundings
Bahrain : travelling advices
11. You can speak English in Bahrain. The locals speak it well, despite the fact that Arabic is their native language. You can also hear how some residents communicate in Farsi and Urdu.
12. The city of Manama is the capital of Bahrain. It differs significantly from all other cities in its British atmosphere and slightly different culture. But only a knowledgeable person can notice all this.
13. The main religion in Bahrain is Islam. More than 80% of local residents adhere to this religion. The rest of the country's residents are adherents of various faiths, including Christianity.
14. Tourists should adhere to the dress code despite the fact that Bahrain is a very liberal country. Of course, the locals do not expect a foreign woman to wear a niqab or burqa. But bare legs and shoulders will not be perceived adequately. You don't have to cover your head. But the headscarf will be received more favorably than the uncovered head. A headscarf is required for visiting the mosque. Men should not wear shorts and bare hands. Loose, spacious clothing made of light fabrics will be appropriate. …
Open

Car rental on OrangeSmile.com

Saudi Arabia to Open 38 Hotels in Diriyah
Diriyah is one of the first mega projects in Saudi Arabia. Hotels and other infrastructure will start opening next year, and all works are expected to end in 2026. The first 18 restaurants in Bujairi Terrace will start operating already in early 2022.
Read this
30.09.2023
Photos of Manama
Services search (pharmacy, police, parking, banks) on Manama map
Tips for the cities around Manama
Travelling to Manama - advices and tips. What should be provisioned in advance, the rules you might want to follow, and the things you better avoid doing in Manama. We help you to make your trip smooth and easy, with no unexpected surprises.