Preparing your trip to Jumeirah: advices & hints - things to do and to obey
1. Tap water is not dangerous for health, but it is still recommended to drink bottled water. It is possible to find it in virtually any grocery shop and supermarket.
2. Taxi remains the most popular means of transport in the city. Despite the fact that almost all cars have meters, it is still better to negotiate the price in advance. Taxis parked near hotels usually have higher fares, so it will be cheaper to catch a taxi on the street or to walk to a special taxi stop.
3. Large hotels can have their own buses that take guests to the most famous landmarks and entertainment centers.
4. Many restaurants include the service fee in the total. As a rule, tips do not exceed 10%. If there is no service fee in the restaurant bill, travelers are encouraged to add a tip themselves.
5. It is also recommended to give tips to hotel maids, porters, hairdressers, and a guide. The amount of 5 – 10 dirhams is enough. Copyright www.orangesmile.com
6. Tourists should not forget that it is better not to take pictures of local people. If they want to take some photographs, they need to ask locals first. A failure to do that will be considered a sign of disrespect. Many local people are not allowed to take pictures of themselves due to religious restrictions. Cameras can also be prohibited in some religious and cultural landmarks.
7. Tourists can rent a car in one of the numerous car rental offices. To be able to do that, they will need an international driving license and a credit card with the specified collateral on the account. It will cost approximately US$20 – 30 a day to rent a car.
Numerous restaurants and cafes in Jumeirah are always ready to welcome their guests. Many popular dining establishments are open in large shopping centers and hotels. For example, The Alamo …
Open
8. When giving money to a seller, use your right hand only. This is a local tradition. Do not forget to pass plates with food and take them also with the right hand only.
9. It is important to take your shoes off before entering a mosque or someone's house. When visiting public places, tourists can take off their shoes, put them in a plastic bag and enter. Travelers who plan to visit religious landmarks should also keep in mind that it is allowed to go round playing people only behind their backs.
10. During the holy month of Ramadan, vacationers are forbidden to smoke on the streets and eat food in public places. Even a mere chewing gum can result in a large fine. During this period, some restaurants may ban all alcoholic drinks, and some restaurants are even closed for Ramadan.

Preparing your trip to Jumeirah: advices & hints - things to do and to obey You can re-publish this content with mandatory attribution: direct and active hyperlink to
www.orangesmile.com
.
What to visit being in Jumeirah - unique sights
Dubai Opera House
From the series
"Famous buildings of Postmodern architecture"
Check on the map:
Distance from Jumeirah center - 2.7 km.
The famous Dubai Fountain is located near the theater. The world-famous Burj Khalifa skyscraper is also located nearby. The theater is distinguished not only by its outstanding architectural features but also by its unique technical equipment. Its hall can be easily transformed for events of various specifics through the built-in technical elements. The lobby with panoramic windows is considered the main feature of the interior design of the theater. It surrounds the auditorium with a stage. It is convenient to enjoy the nearby attractions from the lobby. …
Read further

Rose Rayhaan by Rotana
From the series
"The World's Tallest Hotels"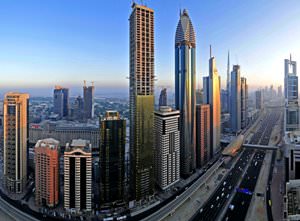 Check on the map:
Distance from Jumeirah center - 2.9 km.
The most requested are Classic suites located from the 54th to the 60th floor, 75sqm in size with panoramic views of Burj Khalifa Tower, Dubai metro station and Sheikh Zayed Road. The hotel has two restaurants and is among the first alcohol-free in Dubai. …
Read further

Burj Khalifa
From the series
"The Highest Buildings in the World"
Check on the map:
Distance from Jumeirah center - 3 km.
Several floors of a skyscraper serve for the luxury hotel Armani being a center of attraction for fans of upscale rest. The skyscraper is full of amazing features providing an unforgettable adventure for guests. The building has a special air purification system with flavoring option; the facade of the skyscraper is lined with special glass panels, which stop dust and sunlight. The neighborhood is also incredibly interesting; there is an amazing musical fountain next to the skyscraper. …
Read further

City tours, excursions and tickets in Jumeirah and surroundings
Car rental on OrangeSmile.com

Expo 2020 in Dubai Was Visited by More Than 7 Million Visitors
If you haven't visited this event yet, there is still time to book a hotel in Dubai because Expo 2020 Dubai runs until 31 March 2022. People who are unable to visit the emirate can make a virtual tour on the Expo 2020 website. By the way, the virtual visitation has already reached 31.6 million by the end of December.
Read this
01.06.2023
Photos of Jumeirah
Services search (pharmacy, police, parking, banks) on Jumeirah map
Tips for the cities around Jumeirah
Travelling to Jumeirah - advices and tips. What should be provisioned in advance, the rules you might want to follow, and the things you better avoid doing in Jumeirah. We help you to make your trip smooth and easy, with no unexpected surprises.