City break in Manama. Active leisure ideas for Manama - attractions, recreation and nightlife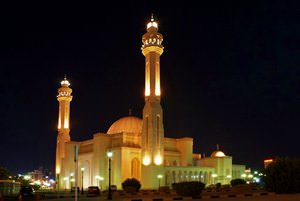 When it comes to describing the entertainments, which are offered in Bahrain, the first thing, which is definitely worth mentioning, is numerous colorful markets and shops. Bab Al Bahrain market in Manama is considered the largest one. This is the place where you can buy absolutely any product - clothing, interesting jewelry, cosmetics and perfumes, handicrafts and souvenirs as well as original oriental spices that have the weight of gold for chefs around the world. If gold jewelry is your primarily target, you can also go to Gold Souq Market, and Yatama Souq is the best destination for shopping high quality pottery at competitive rates. This market is located in the town of Hamad.
Travellers usually have lots of positive memories from an excursion to Camel Farm, the main inhabitants of which are camels. In this farm live more than four hundred animals, who stay in spacious outdoor enclosures. Anyone can feed camels and take a picture of them. Courageous visitors are even welcome to ride a camel in the territory of the farm. Fans of sports usually associate Bahrain with breathtaking car racing – this place is the location of the international racing route Bahrain International Circuit. Fans of golf will be definitely pleased to visit Club Riffa Golf, the field of which will be surely appreciated even by professional golf players. The club is equipped with a special field, on which you can play even at night. Copyright www.orangesmile.com
Some hotels in Manama are unique, so they are known not only outside of the city, but also in other countries. The Westin Bahrain City Centre situated in the same building with the largest …
Open
Bahrain constantly attracts fans of diving and beach rest. During an underwater trip divers can see approximately 30 species of coral and 200 species of fish. The reefs, which are located on the north side of the island, are considered the most beautiful and popular destinations for scuba diving. Many divers intentionally make long distance dives in order to find pearls, and some divers are attracted by sunken ships and planes. The local beaches are well equipped for various sports entertainments. You will certainly find sports equipment rental offices and special gaming clubs for children on each of them.
As for beach entertainment, tourists are also offered sup-boarding (Beach Culture company), cruises to the nearby islands (Aqua by Scubalife); and those who are on first name terms with adrenaline are recommended the Extreme Sportz Beaucraft or Into The Blue Dive Center where they can try out water skiing. Such leisure activities are equally popular among both local residents and travelers who have just arrived in the capital of Bahrain. For soaking up the sun or swimming in the crystal-clear water, people choose a beach of the island of AL Dar, while within the city limits, only Coral Bay Resort Bahrain is used for such purposes.
Manama is famous for its large selection of stylish modern hotels, among which a special place is occupied by The K Hotel. Its interior is inimitable, as it incorporates the best national …
Open
However, your vacation should not be limited to this type of entertainment. Those who admire graceful horses should not hesitate to use services of Ghazwan Equestrian Centre inviting to ride the majestic animals. The city has many theme parks, which is sure to please all small tourists. Adhari Park, Pirate Land and Kids Kingdom are some of the most outstanding ones. Water parks share the same purpose. In Manama, such facilities are represented by Lost Paradise of Dilmun Water Park and "Wahooo!". And after a visit to Dolphin Resort, there will be no disaffected even among pessimists.
Interesting entertainment is offered by Gravity Indoor Skydiving where you can experience a diving cruise. Everyone will be satisfied - from babies to adults. Visitors to Funland Centre will definitely not stand idle - entertainment for every taste can be found here, including bowling, skating, and a small restaurant serving delicious food. Locals and tourists wishing to watch some cool movies buy tickets to Cineco20offering an impressive choice of films. And those wishing to swim go to Faran Swimming Pool.
Manama is proud of its luxury hotels, each of which has its own unique features. Gulf Hotel is in demand among fans of upscale resorts. This lodge is surrounded by a gorgeous tropical …
Open
People who constantly care about their perfect bodies should think about visiting sports such complexes as Al-Najmah Club and Al Hala Club. People who cannot imagine their vacations without sports will definitely like Khalifa Sports City, and those who are crazy about football would probably prefer Camp Nou Play-Ground. Country Club offers a plenty of campsites. It is also worth noting that not only adults but also children who are provided with special grounds get unforgettable impressions here. Another popular activity is escape quests. In Manama, it is represented by such facilities as The Great Escape Challenge, Challenge Chambers, and Escape Code.
Bahrain National Museum stands out among local museums. We should not even discuss visiting it, as this is one of the best ways to get to know the local culture. Those who want to learn more about religious traditions of the East should not ignore the so-called "Museum Of One Book" - Beit Al Qur'an. Another place immersing visitors into the atmosphere of the past centuries is the Khalaf House. Those enthusiastic about art usually go to Al Hussaini Society for Arts, and fans of music - to Mohammed Bin Faris House of Sout Music. Bait Shaikh Salman and Bahrain Pearling Trail is one more excellent place for exploring the history and culture of the Kingdom.
The walls of many modern hotels in Manama hide very nice interior in historical style. A perfect example of aforesaid is Bahrain Wellness Resort. Its compelling interior is based on antique …
Open
Parks located it the capital of Bahrain are perfectly suited for hiding from the world outside. And since perfectionism is among distinctive qualities of local residents, here you can admire some of the world's finest parks. Such parks as Budaya Beach, Water Garden, Marina Garden, Prince Khalifa Bin Salman, and Andalus Garden should be highlighted in a special way. It's not easy to distinguish the best one since each park has its own flavor. Bahrain is also famous for its excellent spas. The best establishments of this kind are Al Areen Spa, Mommmy Wellness Day Spa, Coral Spa And C Hotel, and Dessange.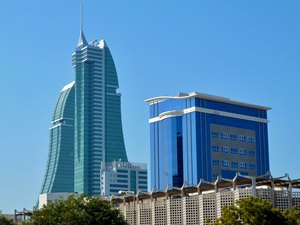 Nightlife is widely represented in the capital of Bahrain, so everyone can pick up a facility to his/her liking. Thus, those wishing "everything at once" - an excellent selection of drinks, an original interior, a quality service - should make a visit to Bushido Lounge. Fans of luxury recreation gather at Elements Pool & Lounge InterContinental Regency Bahrain, and those who prefer listening to live music over a glass of strong drink will definitely be happy to discover Ibrida. Fans of fine cocktails can be met in Cigar Lounge, while Wrangler and Club XS are among remarkable places where you can dance till you drop all night long.

This guide on active recreation and leisure in Manama is protected by the copyright law. You can re-publish this content with mandatory attribution: direct and active hyperlink to
www.orangesmile.com
.
City tours, excursions and tickets in Manama and surroundings
Reference information
Amusement parks near Manama
♥ Amusement park 'Water Garden Salmaniya' , 2.3 km from the center.
On the map
Photo
♥ Amusement park 'Chakazoolu Indoor Theme Park' Sanabis, 3.1 km from the center.
On the map
Photo
♥ Amusement park 'Ain Adhari National Park' , 5.6 km from the center.
On the map
Photo
♥ Amusement park 'Lost Paradise of Dilmun' Sakhir, 25.8 km from the center.
On the map
Photo
♥ Amusement park 'Saudi Amusement Centers' Dammam, 48.7 km from the center.
On the map
Photo
Attractions and entertainment in Bahrain
Hiking and trekking are very peculiar in Bahrain. The islands are almost flat. The highest point is only 122 meters above sea level. However, the coastline is 160 kilometers long. Therefore, trekking consists of hikes along the coastline. There are also routes in the north, near Al Qurayyah. They are of varying degrees of complexity. You can also find routes near Madīnat Isa. There are no real mountains or hills in the Kingdom. But mountain biking is still popular. You can take a day trip on a mountain bike around Manama. You can rent equipment in the capital. …
Open

Photogallery of picturesque Manama
Search for active leisure and attraction spots on Manama map
City break ideas for neighbours of Manama
Guide to your best city break in Manama - popular places for recreation and leisure. Things to do during the day in Manama - attractions, parks, beaches, aquaparks, racing tracks, biking trails or waterski. Recommendations (with addresses, phone numbers and links) where to spend your time in the evening (bars, discos, clubs, etc.). We share some good ideas and the question 'What to do in Manama?' disappears immediately.