Cuisine of La Paz for gourmets. Places for dinner - best restaurants
La Paz is a very popular destination among gastronomic tourists. The city has many restaurants and cafes of various levels, while some of the most popular local dishes can be enjoyed at ordinary street food stalls. Such stalls sell delicious pastries "Salteñas". They are filled with potatoes and various types of meat, and necessary served with hot sauce.
1. Not far from La Paz there is a large international airport, which receives regular flights from Peru, Chile, Argentina, and Brazil. The airport is about 10 km away from the city. 2. In …
Open
Another popular type of pastry that can be tasted during a walk through the city streets is "empanadas" with cheese, as well as Cuñapé breads also stuffed with cheese. The regional cuisine is considered one of the most unusual and distinctive in the world. For the preparation of most dishes, locals use only products produced directly in the region. Cooking methods are pretty simple and unpretentious.
The basis of local cooking is meat dishes, and pork is used for cooking most often. Beef and chicken dishes are also widespread here, the latter are distinguished by affordable prices. Corn, rice, potatoes, beans, and dairy products have always been important components of local cooking. The most common meat dish is Anticucho - grilled meat slices on wooden skewers. They prepare the dish from literally any type of meat and often use various by-products. Before frying, the meat is always kept in a marinade with spices, so the taste is very tender and saturated. Copyright www.orangesmile.com
Taste typical everyday meals in cozy Vida Cafe, which has long won the recognition of tourists thanks to its affordable price level. It serves very simple but hearty dishes, guests can always order fresh boiled corn, vegetable purees, hearty meat dishes, and original desserts. The cafe is located in the heart of the city so its hall is often full of visitors.
La Paz is able to surprise even the most experienced shoppers. A unique attraction is its street market Mercado de las Brujas. On this market they sell unique magical accessories, here you …
Open
Popular Cocina Boliviana specializing in modern Latin American food is another restaurant attracting guests with reasonable prices. Here you can always try interesting seafood dishes and vegetable salads, as well as interesting regional-style potato dishes. This unusual restaurant features a spectacular design that will surely appeal to those who like dining in original places.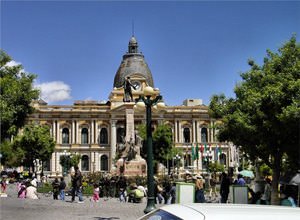 The city can offer very attractive Italian restaurants like Berlusca. Its chefs masterfully prepare more than ten types of pasta. To prepare Italian pasta, they use the best local cheese, so the taste of the dishes turns out to be really unusual. The restaurant's menu also includes popular international dishes.
La Paz is a city in Bolivia. This is the virtual capital of the republic located in the center of the South America continent. The official capital of Bolivia is Sucre. La Paz is located in …
Open
Kalakitas Mexican Food n 'Drinks is a popular Mexican restaurant and a real local attraction at the same time. Modern designers and artists worked on the design of its hall, the restaurant is decorated with handmade wooden furniture. An interesting collection of artworks and designer jewelry is collected within its walls, the restaurant looks more like an art museum. Its menu contains the most popular dishes of Mexican cuisine, here you can try the best tequila in town.
The elegant restaurant Vinapho will appeal to travelers who are not indifferent to Asian cuisine. Its chefs prepare wonderful dishes in Thai and Vietnamese style. Here you can taste rare seafood dishes and enjoy original dishes from chicken and noodles. The restaurant is very popular with adherents of healthy food since most of its dishes are steamed or baked. La Paz also has attractive Austrian restaurants like Vienna. It was decorated using beautiful antique furniture and works of art, this elegant restaurant is often chosen for organizing romantic dinners.

This guide to cuisine and restauraunt in La Paz is protected by the copyright law. You can re-publish this content with mandatory attribution: direct and active hyperlink to
www.orangesmile.com
.
City tours, excursions and tickets in La Paz and surroundings
National cuisine of Bolivia
Preference is given to tea mate from drinks. It is brewed with the addition of chamomile flowers and anise. Sometimes Coca leaves are added to tea. The people of Bolivia also drink coffee. But they brew it in a very peculiar way: at the rate of 1:10. So it turns out slightly colored water. This is very unusual for fans of strong flavorful coffee. Residents of the country are experiencing oxygen starvation due to their location in the highlands. Of course, they have adapted to such an existence over many generations. But even today it is considered quite acceptable to chew Coca leaves after a hearty meal to increase the body's tone. …
Open

La Paz in photo set
Searching where to eat - restaurants and cafe on La Paz map
Cuisine and restaurants in the neighbours of La Paz
Travel notes on best cuisine and restaurants of La Paz (Bolivia) on OrangeSmile.com. Famous recipes and traditional dishes and courses in La Paz restaurants. Where to eat - our recommendations on popular places in La Paz, where you can taste delicious meal and also spend a good time with your friends.