Family trip to La Paz with children. Ideas on where to go with your child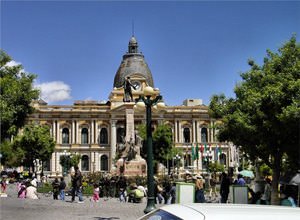 La Paz is considered an ideal resort for fans of active recreation. Travelers with children will also not be bored here. They should definitely visit the Zoologico Municipal Vesty Pacos de La Paz, which is considered one of the best in the country. It houses a collection of all the major representatives of the animal kingdom of South America. Visitors are allowed to feed some inhabitants of the zoo. The guests of this unique zoological center will have the opportunity to diversify their leisure with a lot of interesting entertainments. For instance, they will be able to ride along the zoo on horseback, and also visit an interesting aquarium. It is also worth noting that the park often hosts interesting themed events dedicated to national culture and traditions.
La Paz is a city in Bolivia. This is the virtual capital of the republic located in the center of the South America continent. The official capital of Bolivia is Sucre. La Paz is located in …
Open
Fans of extreme entertainment cannot ignore the center Urban Rush Bolivia. This entertainment center is suitable for tourists with teenagers. A rather unusual entertainment - descent from tall buildings, is organized for clients. Here everyone can feel like an alpinist, even those who have never been obsessed with this sport. The descent is carried out only in special equipments and after a detailed briefing. Adults and children will be able to have fun in this center.
In La Paz, ideal conditions have been fashioned for outdoor recreation. With children, you should definitely visit the picturesque "lunar valley", Valle de la Luna. Its distinguishing feature is the unique rock formations that created in this place, true lunar landscapes. In this valley, there is very little vegetation, but many beautiful stone formations, against which you can make excellent photographs. Copyright www.orangesmile.com
La Paz is a very popular destination among gastronomic tourists. The city has many restaurants and cafes of various levels, while some of the most popular local dishes can be enjoyed at …
Open
Those who do not want to go far beyond the city limits should visit Parque Urbano Central. It is located in one of the busiest central regions. This park is characterized by a variety of beautiful landscaping and exotic plants. There are several sports grounds and running tracks here, comfortable recreation areas with benches and playgrounds for children. The park has several excellent summer cafes, popular not only among tourists, but also among locals.
Vacationers with older children will be able to diversify their leisure time with bicycle tours. One of the most interesting bike tours is organized by the company Space Biking. Guests will have an opportunity to choose the most interesting tour of exotic forests, during which they can see the wonderful waterfalls, admire the birds, and see the rarest plants with their own eyes.
La Paz is not by chance considered the cultural center of Bolivia. The city is characterized by many interesting traditions and customs. La Paz is called a city of contrasts following modern …
Open
La Paz is famous for its first-class ski slopes. Mountain resorts will also be interesting to visit with children. One of the best resort areas is Snow Rush Bolivia. It has a ski school and sports equipment rental outlets. You can ride along the high-quality trails not only on skis, as they are also perfect for snowboarding. Walks through snow-covered mountainous areas are also popular among tourists. A pleasant addition to this rest will be the presence of ​​cozy restaurants and cafes in the resort area.
Among the museums of La Paz especially attractive for recreation with children, is the National Archeology Museum. In this archaeological museum is an interesting collection of artifacts discovered by archaeologists during the study of the areas closest to the city. This museum houses a large collection of ancient sculptures and figurines, crafts from stone and tools, unique fossils and natural science exhibits. It will be difficult to find a more interesting place for cultural rest with the whole family.

This guide to family holidays in La Paz is protected by the copyright law. You can re-publish this content with mandatory attribution: direct and active hyperlink to
www.orangesmile.com
.
City tours, excursions and tickets in La Paz and surroundings
Things to visit with your kids in Bolivia
The unique Dinosaur Wall is located in the city of Sucre. It is an archaeological site. Its height reaches 70 meters. The Wall is about 68 million years old. It stretches for a length of 1.2 kilometers. The Wall is a tectonic plate that was the bottom of the reservoir in ancient times. There are traces of almost 300 different dinosaurs on it. The museum is located next to the famous landmark today. Models of giants who left their traces on the famous Wall are included in the museum's exhibitions. A visit to these places is a delight for both children and adults. It is very exciting to study the ancient history of our planet being close to the evidence of the presence of its long-time inhabitants. …
Open

Photogallery of best places of La Paz
Children attractions (aquaparks, zoos, amusement parks) on the map of La Paz
Interesting places to visit with children around La Paz
Guide to sightseeing and entertainment for children in La Paz - parks, attractions, museums, zoos, water-parks. All fascinating and educational sites of La Paz, which are must visit and see for your child. Find out the best discovery routes and places for kids (local theaters, exhibitions and museums), where you can spend quality time together. La Paz for families with children.