How to spend top weekend in La Paz - ideas on extraordinary attractions and sites
Take a Funicular Ride
There is the Teleferico Funicular in La Paz. It is open from 5:30 to 22:30 since the end of spring 2014. You will pay 3 bolivianos for the ticket. You will sit in its booth at the lower station. It is located next to the Taypi Uta central station. You will ride over the city to the one-story houses of El Alto. You can enjoy the view of La Paz and the snow-capped mountains during your trip.
One of the main entertainments for visitors to La Paz is exploring the region's amazing natural attractions. Of special interest are excursions to Poop Lake, one of the highest-attitude salt …
Open
Tour of the San Pedro Prison
You will have the opportunity to take a tour of the San Pedro Prison during your vacation in La Paz. It is colony-settlement. Favorable conditions for serving the sentence are created for prisoners there. They live together with their families, have the right to use the Internet, and keep a video diary on YouTube. They can also do business with the permission of the administration. They can sew clothes, repair shoes, cook fast food, or open a casino. Therefore, one of the prisoners will act as a guide. He will take you through all the rooms of the prison. This will give him a chance to get out of prison early.
You will pay about 700 bolivianos for extreme entertainment. This money will be spent on the improvement of this state-owned house. If you pay extra you will be allowed to spend the night in one of the solitary cells. You can invite another person there. Copyright www.orangesmile.com
1. Not far from La Paz there is a large international airport, which receives regular flights from Peru, Chile, Argentina, and Brazil. The airport is about 10 km away from the city. 2. In …
Open
Journey along the "Road of Death" on a Bicycle
Road of Death is located 40 miles from La Paz. It is 62 kilometers long and 3 meters wide. It passes over a precipice. One part of it is paved, and the other is still unpaved. Accidents often happen here. Therefore, it has this sad name. However, you can contact one of the local travel agencies. A tour by a small car will be arranged for you there.
The driver will perform dangerous maneuvers to amplify your thrills. You will pay 300 bolivianos for the ride. You can also go on an extreme route by bike. You will see beautiful mountains, forests, rivers, and waterfalls and take photos as a memento of your adventure no matter what option you prefer to travel along the Road of Death.
La Paz is able to surprise even the most experienced shoppers. A unique attraction is its street market Mercado de las Brujas. On this market they sell unique magical accessories, here you …
Open
Try Coca Leaves
The Coca Museum has been operating in the city center since 1996. It is located in a single-story building. You can get here in a rented car. You will see various exhibits here. There are photographs and newspaper clippings to trace the history of Coca leaf use among them. The Injuns chewed them to get rid of fatigue, thirst, hunger, and improve their mood. You can also try the plant for free and feel its influence on your body. You can go to the cafe, which is located next to the museum. You will taste dishes and drinks made from these leaves.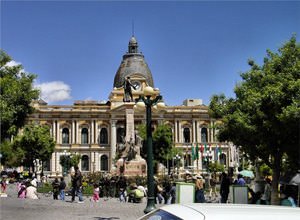 Climbing a Mountain Illampu
If you are interested in mountaineering you can try to climb the Illampu mountain peak during your holiday in La Paz between May and September. It's covered in snow. The mountain reaches 6485 meters above sea level in height. It is quite difficult to climb the mountain. Therefore, you should hire a guide with a mule to organize the ascent. You will go to the mountaineering camp. It is located at an altitude of 5600 meters. You will start climbing the peak from here.
La Paz is a city in Bolivia. This is the virtual capital of the republic located in the center of the South America continent. The official capital of Bolivia is Sucre. La Paz is located in …
Open
Visit the Tunupa Volcano
There is a large Uyuni salt desert near La Paz. The extinct Tunupa volcano is located in its southern part. It has a height of 5432 meters. You will take up trekking on its slopes during a desert tour. Observation platforms are located at different heights here. You will reach the village of Coquesa at the time of travel. Stone mazes surround it. You can also go into small caves. You will see dried-up mummies there. You will also visit the top of the volcano. You will have a wonderful view of Uyuni from here.

This article about ideas on extraordinary weekend in La Paz is protected by the copyright law. You can re-publish this content with mandatory attribution: direct and active hyperlink to
www.orangesmile.com
.
City tours, excursions and tickets in La Paz and surroundings
Notable celebrations and festivals in Bolivia
The Chiquitos music festival is the largest regional cultural festival in the country. It is held in early May every two years. Residents of Chiquitos Province are considered the poorest in the country. They were converted to Catholicism through training in crafts and music during the Spanish colonization. The Catholic missions and churches under them had magnificent orchestras made up of local residents who were surprisingly musical. Introduced and the national arts have been harmoniously combined. The result is a perfect example of the interpenetration of cultures. The world got a great classical music festival. It is considered one of the most famous in the world. Many performers are proud to participate in it. …
Open

La Paz by photo artists
Search for interesting places on La Paz map
Walk through hidden local streets, sneak to a small cafe, breathe and enjoy La Paz from inside. Stay out from the beaten track during your city weekend, discover the soul of La Paz as a real travel gourment. Follow our guide, take one of the exclusive services and spend your time in La Paz unforgettably and with a full passion!