National cuisine of Bolivia for gourmets. Authentic recipes, delicacies and specialties
The state of Bolivia is located in the central part of South America. Most of it is located in the highlands of the Andes. The complex geographical terrain of the country has predetermined the uniqueness of its culinary traditions. The fact is that the water boils already at + 85 degrees at a high altitude. This means that the food will take much longer to cook. Injuns are the predominant ethnic group in Bolivia. They have preserved the traditional list of products consumed and the recipe for dishes from antiquity. Of course, the Spanish influence is felt throughout. But it is least noticeable in Bolivia.
Bolivians are very careful about their history and religion. The conquest of this country by Spain had a great impact. But it did not destroy the …
Read further
A large amount of meat consumed (mainly pork) is a distinctive feature of Bolivian cuisine. It is served in all types and is present in all dishes, even in the form of meat gravy. Pies with meat or potatoes are also popular in the country. The peculiarities of each region of the country affect the culinary preferences of residents. But the main products are present everywhere. These are potatoes, corn, beans, rice, spices, and unique local cheeses. Preference is given to coarse flour. Bread and various cakes are baked from it.
Corn plays a dominant role in the cuisine of Bolivia. Porridge and soups are prepared from it. Tortillas and pancakes are baked from corn flour. A lot of rice is consumed in all areas, except in the highlands (it is simply impossible to cook it here). Historical origins have the following dishes: thick soup "lacusa" of meat, various seasonings, and vegetables; "Picante de Pollo" – fried chicken with potatoes; "charque" – dried roasted alpaca meat; "chuco" – dried potato chips; "Masako" – alpaca meat with mashed bananas or Yucca; "Lomo Montado" – steak with fried bananas, eggs, and rice; "trucha" and "puku" – fried river fish; "Llajua" – a hot sauce made of tomatoes and peppers; "seltenya" – everyone's favorite pies with meat, potatoes or any fillings. There are many delicacies with unusual names, recipes, and taste in Bolivia. Copyright www.orangesmile.com
Bolivia is a country located in the center of South America. This is the highest country in the world. The country can be divided into three zones, …
Read further
The most common dishes of Bolivia fully reflect the peculiarities of life in this ancient country. Meat is mostly grilled or fried. It is impossible to cook it because of the low boiling point of the water. You can often see guinea pig grilled with sour sauce in restaurants and cafes in the highlands of the country. These are not small pigs familiar to Europeans but rather large animals called "cuy". They are bred exclusively for the sake of delicious meat. "Plato paceño" will be offered to tourists everywhere. This is a piece of fried meat, cooked corn, beans, and potatoes. This is a traditional dish throughout Bolivia. "Huminta" served in all Latin American countries. The dish differs only in variations. Onions, tomatoes, and peppers are cut, rolled in sweet corn flour and wrapped in corn cob leaves, tied with a thread and cooked. It is eaten after removing the leaves. Surprisingly juicy "saltenas" is cooked only in Bolivia. A very thick soup of meat, potatoes or peas, eggs, and carrots with the addition of gelatin is prepared here. This soup is put in a cold place to thicken. It is used as a filling for pies. It is eaten preferably for an afternoon snack. It is always served with a large amount of sauce (spicy or very spicy) and very carefully – the soup melts inside when cooking.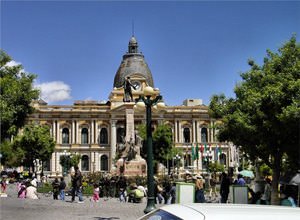 Bolivia does not have access to the sea. However, the country is richly endowed with water resources. 16 large and small rivers flow through the territory of the country. There is also an amazing Lake Titicaca here. So residents are happy to supplement their diet with various fish. You can always find a variety of seafood and fish dishes in all restaurants in the country. They are fried or grilled.
These spots really worth the attention of a real traveler-researcher. …
Read further
Preference is given to tea mate from drinks. It is brewed with the addition of chamomile flowers and anise. Sometimes Coca leaves are added to tea. The people of Bolivia also drink coffee. But they brew it in a very peculiar way: at the rate of 1:10. So it turns out slightly colored water. This is very unusual for fans of strong flavorful coffee. Residents of the country are experiencing oxygen starvation due to their location in the highlands. Of course, they have adapted to such an existence over many generations. But even today it is considered quite acceptable to chew Coca leaves after a hearty meal to increase the body's tone.
Local residents also drink alcohol. Beer made from corn "chicha cochambambina" is popular here. Locals claim that this drink is prepared according to the recipes of their ancestors. Moonshine from the grain "chicha" is also loved here. The "Psena" and "Uari" beers produced in the country are famous throughout South America. Magnificent grapes are grown in the south of the country. Fine wine is made from it. It is available throughout the country. Mineral water of exceptionally high quality is available here. It is loved by all residents. Bottled drinks from fruits and berries are produced on its basis. They are often drunk mixed with white brandy "singani".
During its centuries old history, Bolivia has become home to many places of interest and historic landmarks that are known far beyond the borders of …
Read further
There are few traditional restaurants in the European sense of the word in the country. Small private restaurants and cafes with home cooking prevail here. The atmosphere is quite free in such establishments. You can often see pets roaming between the tables. However, this does not affect the quality of the kitchen. All dishes are exceptionally hearty and delicious. It is customary to leave a tip of up to 10% of the bill. If you are invited to visit, then be sincere when praising the housewife for a delicious dinner. The descendants of the Incas are sensitive to any falseness. Therefore, if you are pretending, you may be left without a fascinating story about ancient times and the exploits of the ancestors.

This article about national cuisine of Bolivia is protected by the copyright law. You can re-use the content, but only under the condition of placement of an active link to
www.orangesmile.com
.
Fantastic City Tours and Excursions in Bolivia
Sights of Bolivia - photostream
Cuisine and restaurants in popular cities of Bolivia
Map of Bolivia cities with popular restaurants