Cuisine of Chengdu for gourmets. Places for dinner - best restaurants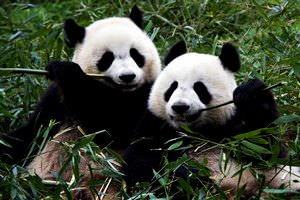 Sichuan cuisine is one of the most popular in all of China. There are eight most famous culinary traditions in the country. You can meet the dishes of every direction in Chengdu today. In addition, it is possible to order dishes of Italian, English, French, German and other cuisines of the world. If you do not want to join the local culinary traditions or look for an institution with a familiar menu, you can pay your attention to the restaurants of famous corporations like McDonald's. There are many of them in the city.
Chengdu will appeal to active children who are accustomed to entertainment on all kinds of attractions. Also, the city will appeal to children who prefer to admire the natural beauty or get …
Open
It is worth noting that pepper is popular almost as well as rice in traditional Chengdu cuisine. So if you do not like too spicy dishes, it is necessary to specify the amount of spices when ordering. Fortunately, not all local dishes are very spicy. In addition, sour, sweet, and salty dishes have gained considerable popularity. But it is worth noting that, it is spicy seasonings that better reveal the taste of the most popular Chengdu dishes. Be sure to taste the local hot pot. It is better to order it in Shizuo Hot Pot or in Huangcheng Laoma. However, this dish is popular. So, you can find it in many local institutions.
Initially, hot pot was a very simple dish. It was cooked the most often by refugees to keep warm in cold weather. Today, a steaming pot is in the middle of the table. All participants of the meal add their favorite foods to it. This dish has become an everyday treat. In addition, lamb, fish, many vegetables, and mushrooms can be added in hot-pot. So this dish will definitely appeal to everyone. Be sure to taste bean curd with minced meat and chili oil. It is also called Mapo Doufu. This is a very popular Chinese dish. It originated in Chengdu. Mapo Doufu is served hot and very soft. It is poured with spicy hot sauce with pepper and usually mixed with minced meat. Copyright www.orangesmile.com
Many cultural events take place every year in Chengdu. These are all kinds of concerts, industrial exhibitions and bright traditional holidays in the national Chinese style. Numerous very …
Open
If you like dishes at the same time sweet and sour, it is worth tasting Gong Bao Ji Ding. Spicy, diced chicken with peanuts is popular all over the world today. An interesting fact is that the original recipe remained unchanged in Chengdu. Diced chicken is the basis of the dish. It is stewed with herbs and peanuts. It is also worth tasting spicy pork Hui Guo Rou Pian. This dish is often rightly called "twice-cooked". First, pork ribs with meat are cooked in hot water with ginger pieces and salt. Then it is cut into smaller pieces and fried in a pan with a special convex bottom. Vegetables, most often it is finely chopped cabbage and pepper are added to the meat then.
It is worth tasting such exotic as braised beef lungs. An interesting fact is that the name of the dish in translation sounds like "lungs pairs". But the lungs of the animal are generally not used when cooking. Other internal organs are part of the dish. First, the entrails are stewed in soy sauce. The dish is served with hot sauce, pepper, sesame seeds, and peanuts. It is w to taste Walton soup. This is a fairly light broth with traditional local dumplings.
The major historical symbol of Chengdu is Wuhou Memorial Temple. This unique temple complex is distinguished by its impressive size and covers an area of almost 37 000 m2. It is located in …
Open
If you are already tired of hot pot, then be sure to taste Malatang. This dish is also called "numb tongue soup" or Chuan Chuan Xiong. It is raw meat cut into small pieces along with the cow or pig entrails and vegetables. They are strung on special bamboo sticks and lowered into a pot with boiling spicy broth. The pot is put on a special burner in restaurants. Like hot pot, Malatang is a company dish. You can hardly eat it alone. Ji si Liang Mian cold noodles are also interesting. Boiled noodles are cooled and mixed with sauce, bean sprouts and pieces of chicken, pig or just ham.
Local desserts are not desserts in fact. There is no special time for sweet dishes in Chinese cuisine. Meals are served and eaten in the order of preparation here. It is worth tasting Tong Sui from red beans, sweet potatoes or water chestnut. It's a warm, sweet jelly soup. Herbal jelly is tasty and healthy. However, it is not too sweet. That is why the dish is often served with sweet syrup. Both candied fruits and candied chrysanthemums are very popular. The petals, by the way, are very similar to candied fruits.
Travelers who prefer spending much time in the open air and hiking will definitely like Chengdu. The Vantszyanlou Park located on the bank of Jingjiang river will suit perfectly for admiring …
Open
It is worth to participate at least once in the Chinese tea ceremony. It is not inferior in complexity to the Japanese. Varieties of green tea are traditionally more popular in Chengdu. The Chinese call black tea red because of the color of the drink. It is drunk less often and mostly by national minorities. There are many tea shops in the city. So it will be easy to find a variety that you like. Wine is a collective term in Chengdu. It includes many different kinds of drinks. They are made from rice or herbs even more often than from grapes. Local vodka differs from wine by increased strength. It is worth tasting a drink infused with wheat according to ancient recipes.

This guide to cuisine and restauraunt in Chengdu is protected by the copyright law. You can re-publish this content with mandatory attribution: direct and active hyperlink to
www.orangesmile.com
.
City tours, excursions and tickets in Chengdu and surroundings
Car rental on OrangeSmile.com

Thailand Relaxes Its COVID-19 Policy
New Year events in Thailand are likely to bring more people this year because everyone is tired of lockdowns and craving normal life. Many tourists, who book hotels in Pattaya, Krabi, or Phuket for the holiday season, also want to participate. As champagne has become an essential drink for New Year celebrations, the question regarding alcohol consumption comes to mind. The government allowed serving alcoholic drinks during the New Year countdown but only open-air cafes and restaurants with good ventilation will be permitted to do this until 1 am on 1 January 2022. This rule is nationwide.
Read this
04.12.2023
Chengdu in photo set
Searching where to eat - restaurants and cafe on Chengdu map
Cuisine and restaurants in the neighbours of Chengdu
Travel notes on best cuisine and restaurants of Chengdu (China) on OrangeSmile.com. Famous recipes and traditional dishes and courses in Chengdu restaurants. Where to eat - our recommendations on popular places in Chengdu, where you can taste delicious meal and also spend a good time with your friends.