Family trip to Chengdu with children. Ideas on where to go with your child
Chengdu will appeal to active children who are accustomed to entertainment on all kinds of attractions. Also, the city will appeal to children who prefer to admire the natural beauty or get acquainted with the history of a place in museums. There is also a Water Park in the city. It is located in the huge New Century Global Center shopping center. You can buy a ticket on the spot or in advance via the Internet. But keep in mind that even if you only want to look after the child but not to swim, you still have to put on a swimsuit. You will not be allowed in casual clothes in the Park.
Travelers who prefer spending much time in the open air and hiking will definitely like Chengdu. The Vantszyanlou Park located on the bank of Jingjiang river will suit perfectly for admiring …
Open
After purchasing a ticket, you will wear a bracelet on your hand. Its cost is 100 Yuan. This money is a kind of deposit. If you do not want to eat at a local restaurant or buy some necessary things for swimming, then the money will be returned to you at the exit. And the bracelet will be removed. Take care not to lose it. Otherwise, you will have to prove that the loss was accidental when you return the funds. It is worth watching the device, especially if the child goes to the pool with artificial waves. It's easiest to lose the bracelet there. It is better to visit the Park on a weekday. There are few visitors here at this time.
Paradise Island Ocean Park is open until six in the evening. There are also quite steep slides here. Children less than 140 centimeters tall will not be allowed here. There are also small descents for kids. There is a local Disneyland in Chengdu. It is called Happy Valley Chengdu. It is designed more for locals. So don't be surprised that almost none of the staff speaks English. The Park will appeal to both children and adults. There is everything for a comfortable stay here. These are extreme roller coasters, carousels for kids, water slides, and performances of dance groups. Special attention should be paid to the surroundings, copying the most famous sights of Chengdu and its district. The child will definitely not be bored in Happy Valley Chengdu. Copyright www.orangesmile.com
In Chengdu, there are wonderful hotels for all tastes. Tourists who want to feel an atmosphere of national culture will definitely love the hotel Old Chengdu Club. It is just a couple of …
Open
It is better to come with teenagers to Guosetianxiang Theme Park. It will be nice if you take with you Chinese acquaintances if you do not speak Chinese. The fact is that almost no one speaks English here. Park is quite interesting. There are not a lot of entertainments for kids here. But teenagers, especially fans of extreme rides, will be delighted with base jumping and local slides. Children under three can share a ticket with a parent and ride some attractions together. There are a lot of people in the Park on Friday nights and weekends.
Chengdu Eastern Memory is another place where you need to go with a teenager. It is an interactive museum dedicated to the life and customs of the inhabitants of the industrial areas of the city in the past. However, kids will also be happy to look at the real train of the past years, fighter, carousels, popular half a century ago or parts from life-size machines. But the graffiti styles of Chinese youth, recordings of songs by local rock bands and an exhibition of painted guitars will be interesting only to a teenager. Chengdu Eastern Memory is a great opportunity to plunge into the very recent past of the working areas of Chengdu. But it will not be interesting for all the children here.
Chengdu is a huge city. There are almost a hundred shopping centers and thousands of all kinds of stalls, shops and supermarkets here. You can buy anything you want here. It can be furniture …
Open
It will be interesting to absolutely everyone in the Chengdu Panda Base. It is the largest center for breeding and research of these animals in the world. This place is one of the most popular in all of Chengdu. There's also another research center in the suburbs. It is located in Dujiangyan. This place is less famous. It occupies a smaller area. But if the child likes pandas, then it is worth also going there. It is better to arrive at both centers by the opening. Pandas are fed at this time. They chew bamboo and actively pose for visitors. Most animals will sleep during the day. However, small red pandas are on view throughout the day. You can take a photo with a Panda in an embrace for 2000 Yuan.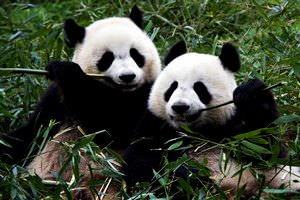 It is worth a walk with your child on Kuanzhai Ancient Street of Qing Dynasty. It is not only a very beautiful place that is filled with the atmosphere of Ancient China but also an opportunity to get acquainted with traditional Chinese culture performed by local dancers, musicians, and actors. What child will remain indifferent at the sight of an Eastern Princess in bright clothes, a medieval townsman or a formidable warrior with dadao? In addition, there are special children's entertainments like small gongs here.
Chengdu is the largest city in Sichuan province. Additionally, the city is one of the most ancient cities in the world. Chengdu was first mentioned in the 6th century B.C and had been a …
Open
It is worth visiting with a schoolboy number Chengdu Opera. It is not an Opera in the traditional sense, but more a national theatre. You can enjoy the performance of shadows, the dance of a beautiful doll, the number of "warriors", quick honed movements changing their masks and costumes. Despite the bright attire and liveliness of the action, small children will not understand part of the play. It is worth to walk with the whole family through the incredibly beautiful reserve Jiuzhaigou. Tourist routes in Huanglong Park are no also interesting.

This guide to family holidays in Chengdu is protected by the copyright law. You can re-publish this content with mandatory attribution: direct and active hyperlink to
www.orangesmile.com
.
City tours, excursions and tickets in Chengdu and surroundings
Reference information
Amusement parks near Chengdu
♥ Amusement park 'Chengdu Happy Valley' Chengdu, 6.9 km from the center.
On the map
Photo
♥ Amusement park 'Chengdu Floraland Water Park' Chengdu, 23.7 km from the center.
On the map
Photo
Zoos and gardens in/near Chengdu
♥ Zoo 'Chengdu Zoo' , 6.2 km from the center.
On the map
Photo
♥ Zoo 'Bifengxia Wild Animal Park' , 123.8 km from the center.
On the map
Photo
Car rental on OrangeSmile.com

Hilton builds third luxury hotel in Kyoto
The Hilton Kyoto hotel will be attractive to a wide range of guests. Leisure travelers will appreciate the close proximity to famous attractions such as Heian and Yasaka Temples, the Kyoto Imperial Palace, and the scenic Gion Historical District. In a few minutes, guests can reach the metro stations, the path to the sights of interest will not take much time.
Read this
09.06.2023
Photogallery of best places of Chengdu
Children attractions (aquaparks, zoos, amusement parks) on the map of Chengdu
Interesting places to visit with children around Chengdu
Guide to sightseeing and entertainment for children in Chengdu - parks, attractions, museums, zoos, water-parks. All fascinating and educational sites of Chengdu, which are must visit and see for your child. Find out the best discovery routes and places for kids (local theaters, exhibitions and museums), where you can spend quality time together. Chengdu for families with children.