City break in Ajman. Active leisure ideas for Ajman - attractions, recreation and nightlife
Tourists can enjoy interesting activities in Ajman. Beach recreation should be an essential part of a vacation here. Ajman beaches are comfortable and have a well-developed infrastructure. All local beaches are suitable for vacationers with children. You can make a voyage or go fishing, try various water sports, or simply take a stroll along the coast and admire the beautiful scenery.
The city of Ajman is located approximately 10 kilometers from Sharjah. This is quite a calm and "modest" settlement. It is often considered the poorest region in the UAE. The …
Open
If you want to enjoy entertainment in the traditional Arabian style, don't forget to visit Ajman Stud. This horse stable stud farm is located not far from the capital. The farm was established under the patronage of noble Arabian sheikhs. Ajman Stud breeds some of the finest Arabian horses in the world that won in many prestigious international exhibitions and contests. The farm has become open for excursions recently. Visitors can see how horses are being taken care of and trained. Ajman Stud frequently hosts interesting horse shows. Ajman Equestrian Club is a no less interesting destination. This club is open in the city. You will have an opportunity to take several horseback riding lessons. If you are already an experienced equestrian, do not miss a chance to make an unforgettable horseback riding journey to the desert.
Camel riding is one more original local entertainment. Tourists can ride a camel in the desert at any time. This activity is popular with not only tourists but also local people. Al Tallah Camel Racecourse, one of the most famous camel racing tracks, is located in the emirate. For many years, the racing track has been hosting competitions in the ancient Bedouin sport. If you have an opportunity to attend a camel racing competition, do not miss this chance. Copyright www.orangesmile.com
Ajman is one of the most attractive destinations for vacationers with children in the United Arab Emirates because of numerous entertainment centers and opportunities for family recreation. …
Open
Ajman is a typical destination for travelers who are fans of wellness tourism. Vacationers can successfully combine their favorite activities with visits to thermal centers. There are several unique springs in the territory of the emirate. Modern spa centers and thalassotherapy centers use water from these springs and are open for both adults and children. Local wellness centers have pools with thermal water, hydromassage baths, and offer various cosmetic treatments.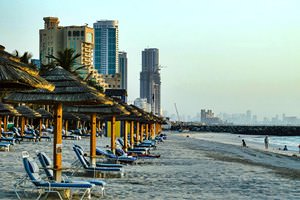 Famous for its mountain views and rejuvenating freshness, Masfout is the exclave of Ajman. Despite multiple changes, the area has retained its original beauty. Visitors can enjoy fresh air and admire exotic plants in the local park that is one of the largest and most beautiful in the region. Lush vegetation covers the territory of the park. Visitors can see different types of palm trees, flowers, and decorative shrubs here. The area attracts tourists with its unusual rock formations that look like naturally made sculptures. Masfout has several interesting trails, some of which can be explored on foot and some trails require an offroader.
Ajman has enough attractions to plan an interesting excursion program. Ajman Fort is the main historic landmark of the emirate. It was built in the 18th century as the emir's …
Open
If you do not want to make long-distance rides from the city of Ajman, head to the local waterfront. It might be not very comfortable to stroll here in the midst of a hot day but the area is simply spectacular in the morning and evening. Beautiful palm trees grow along the waterfront, as well as some interesting decorative plants. Many tourists come here to admire symbolic monuments and historical buildings. The waterfront has many recreation spots with benches, playgrounds for children, and quality restaurants and cafes.
New parks and recreation centers open in Ajman every year. Various park areas, large shopping malls and hotels with modern infrastructure are very important for the emirate as Ajman tries to develop as a tourist destination. If the choice of available activities still looks limited for you, you can always visit the nearby emirates of Sharjah and Dubai. It takes less than one hour to get to many entertainment parks and original museums.
Colorful markets and malls in Ajman are great destinations for shopping in this emirate. Foreign tourists usually want to purchase locally produced goods. Only some people arrive here to …
Open
Are you used to finishing your day with nighttime entertainment? In this case, stay at one of the large and modern hotels in Ajman during your vacation here. These hotels usually have nightclubs and bars. There are no bars in the city outside hotels, and so restaurants are the only available variant for a night out. Some of them stay open until late at night. Local restaurants organize entertainment programs with local musicians and dancers. Many local people come to restaurants to not only dine but also to see their friends and smoke hookah. For tourists, visiting Ajman restaurants in the authentic Arabic style can be even more amusing than relaxing at typical nightclubs in hotels. If you plan to dedicate much time to active recreation, it is better to refrain from visiting Ajman in mid-summer.

This guide on active recreation and leisure in Ajman is protected by the copyright law. You can re-publish this content with mandatory attribution: direct and active hyperlink to
www.orangesmile.com
.
City tours, excursions and tickets in Ajman and surroundings
Reference information
Amusement parks near Ajman
♥ Amusement park 'Antics Land' Sharjah, 13.3 km from the center.
On the map
Photo
♥ Amusement park 'Adventureland' Sharjah, 18.6 km from the center.
On the map
Photo
♥ Amusement park 'Dreamland Aqua Park' Umm Al Quwain, 25.1 km from the center.
On the map
Photo
♥ Amusement park 'Wonderland' Dubai, 26.7 km from the center.
On the map
Photo
♥ Amusement park 'Leisureland' Dubai, 27.5 km from the center.
On the map
Photo
Water attractions around Ajman
♥ Water park 'Al Montazah Water Park' Emirate of Sharjah, 15.2 km from the center.
On the map
Photo
♥ Water park 'Dreamland Aqua Park' Emirate of Umm al-Quwain, 25.1 km from the center.
On the map
Photo
♥ Water park 'Wild Wadi Water Park' Jumeirah, Emirate of Dubai, 44.1 km from the center.
On the map
Photo
♥ Water park 'RAK Iceland Water Park' Emirate of Ras al-Khaimah, 46.3 km from the center.
On the map
Photo
♥ Water park 'Aquaventure Waterpark' Emirate of Dubai, 49.6 km from the center.
On the map
Photo
Car rental on OrangeSmile.com

Thailand Relaxes Its COVID-19 Policy
New Year events in Thailand are likely to bring more people this year because everyone is tired of lockdowns and craving normal life. Many tourists, who book hotels in Pattaya, Krabi, or Phuket for the holiday season, also want to participate. As champagne has become an essential drink for New Year celebrations, the question regarding alcohol consumption comes to mind. The government allowed serving alcoholic drinks during the New Year countdown but only open-air cafes and restaurants with good ventilation will be permitted to do this until 1 am on 1 January 2022. This rule is nationwide.
Read this
31.05.2023
Photogallery of picturesque Ajman
Search for active leisure and attraction spots on Ajman map
City break ideas for neighbours of Ajman
Guide to your best city break in Ajman - popular places for recreation and leisure. Things to do during the day in Ajman - attractions, parks, beaches, aquaparks, racing tracks, biking trails or waterski. Recommendations (with addresses, phone numbers and links) where to spend your time in the evening (bars, discos, clubs, etc.). We share some good ideas and the question 'What to do in Ajman?' disappears immediately.