Shopping in Ajman - authentic goods, best outlets, malls and boutiques
Colorful markets and malls in Ajman are great destinations for shopping in this emirate. Foreign tourists usually want to purchase locally produced goods. Only some people arrive here to shop for designer outfits. As a rule, tourists are interested in artworks by local craftsmen and jewelers, traditional spices, Arabic sweets, and high-quality natural cosmetics and perfumes.
The city of Ajman is located approximately 10 kilometers from Sharjah. This is quite a calm and "modest" settlement. It is often considered the poorest region in the UAE. The …
Open
Attractive handmade carpets with traditional Arabic ornaments and gold jewelry and accessories are among the most expensive souvenirs. Jewelry is significantly cheaper in local shops compared to other countries of the world but the quality remains high. It is better to refrain from buying jewelry at markets and from street vendors. They might sell cheap gilded jewelry made in Africa but promote it as premium quality gold jewelry. If you are not an experienced jeweler, it is better to avoid shopping in such places.
Traditional clothes that can be decorated with handmade embroidery are also among unusual souvenirs that tourists can bring from Ajman. These items are quite expensive, traditional female headscarves and headwear pieces are more affordable. In a plethora of inexpensive souvenirs, tourists should pay their attention to wonderful handmade ceramics, quality natural fiber clothes, hookahs and all kinds of accessories for them. You can easily find souvenirs for your family members, for example, beautifully decorated gift sets with spices and Arabic sweets as they are sold virtually everywhere. Copyright www.orangesmile.com
Ajman is one of the most attractive destinations for vacationers with children in the United Arab Emirates because of numerous entertainment centers and opportunities for family recreation. …
Open
There are several large shopping malls in the capital, and Ajman City Centre is one of the most famous. It has shops of both regional and famous international manufacturers. Prices for similar goods are cheaper in this shopping mall compared to malls in Dubai and Sharjah. It is interesting to shop for new attractive outfits and beach accessories here. The shopping center has salons with Arabic perfumes based on natural essential oils, as well as stalls with inexpensive and interesting souvenirs. Visit this shopping mall with children because there are many playgrounds with interesting activities and, of course, toy shops.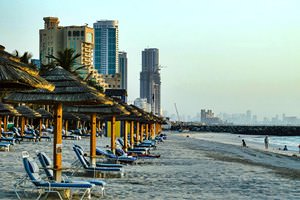 China Mall is another modern shopping mall that looks more like a large indoor market with approximately one thousand pavilions. It is hard to imagine a category of goods that are not available in China Mall. Tourists particularly enjoy visiting shops with clothes and shoes, swimming costumes, jewelry, and souvenirs. Pay your attention to stalls with jewelry because you can buy attractive gold and silver items in Arabic style.
Ajman has enough attractions to plan an interesting excursion program. Ajman Fort is the main historic landmark of the emirate. It was built in the 18th century as the emir's …
Open
Hamed bin Abdul Aziz Street is recognized as the most attractive shopping street in the city. This promenade is a relatively new project in Ajman. Hamed bin Abdul Aziz Street is a chain of shops and restaurants. One of the most popular city markets is located here. It offers a fantastic choice of fruit and sweets, as well as inexpensive souvenirs. The street is famous for its various specialty shops with a stock of interesting items.
For example, there is a shop that offers attractive accessories for brewing and serving coffee. Men can purchase luxurious decorative weapons, and women pay more attention to jewelry with semiprecious stones which is not only attractive and but also affordable. Don't forget to take a look at various items made from malachite. Local craftsmen use this material to make jewelry, gorgeous boxes, and other accessories.
Tourists can enjoy interesting activities in Ajman. Beach recreation should be an essential part of a vacation here. Ajman beaches are comfortable and have a well-developed infrastructure. …
Open
Day to Day is a popular shop in Ajman that is definitely worth visiting. It offers a broad range of souvenirs and practical accessories. Many customers come to Day to Day to buy inexpensive clothes from India. Small copies of the most famous attractions in the UAE are the all-time popular souvenirs, as well as finely made playing cards, magnets, and fashion jewelry. Dream Sea, another popular shop, is located within walking distance of the previous shop. This is a wonderful destination for fans of practical souvenirs. Dream Sea always has a big stock of beach bags and other irreplaceable accessories. Affordable prices are one more advantage of this shop.
Ajman also has the so-called Gold Souk but it is strikingly different from other gold markets that tourists can visit in other cities of the UAE. This is a small quarter with the most famous jewelry shops in the region. Visitors can buy fine gold jewelry made by the prominent local masters here. The prices are more affordable than in many other countries.

This guide to shopping in Ajman is protected by the copyright law. You can re-publish this content with mandatory attribution: direct and active hyperlink to
www.orangesmile.com
.
City tours, excursions and tickets in Ajman and surroundings
Car rental on OrangeSmile.com

Hilton builds third luxury hotel in Kyoto
It will welcome its first guests in 2024. 313 rooms of various categories will be available, the interior of rooms and hotel spaces will become one of the main features of the high-class hotel. When decorating the rooms, it is planned to use local textiles, which are famous for their high quality and are considered to be one of the best in the world.
Read this
09.12.2023
Photogallery of Ajman best places
Search for shopping areas, streets, boutiques and supermarkeets on Ajman map
Shopping advices for the whole region around Ajman
Shopping advices for Ajman. The best spots for buying designer clothes and local delicacies from United Arab Emirates - shops, galleries, boutiques and outlets. We provide you with the shopping streets map, so you can plan your efficient shopping routes, while hunting for authentic souvenirs, goods, drinks, shoes and clothes in Ajman.