Family trip to Ajman with children. Ideas on where to go with your child
Ajman is one of the most attractive destinations for vacationers with children in the United Arab Emirates because of numerous entertainment centers and opportunities for family recreation. If you want to spend quality time outdoors, head to the Ajman waterfront. There are multiple playgrounds for children with slides, merry-go-rounds, assault courses, and other amusements. You can sit nearby on a comfortable bench and enjoy the seaside view while your kid is having fun.
Colorful markets and malls in Ajman are great destinations for shopping in this emirate. Foreign tourists usually want to purchase locally produced goods. Only some people arrive here to …
Open
China Mall is not only a popular shopping mall in Ajman. It has an adjacent colorful playground for children. Local shopping malls are generally suitable for family recreation. Almost each of them offers amusements and interesting activities for children, as well as attractive cafes and confectioneries.
City Centre Ajman has the best selection of playgrounds for children. In this mall, you will find a spacious recreation area with rides, slides, and merry-go-rounds. There is a ball pit for small children filled with colorful soft balls. Dozens of arcade machines, which let players win candies and toys, attract older children and many adults. Copyright www.orangesmile.com
The city of Ajman is located approximately 10 kilometers from Sharjah. This is quite a calm and "modest" settlement. It is often considered the poorest region in the UAE. The …
Open
Tourists with school-age children will find it interesting to visit Aqua Bounce Ajman. This water park is open at the seaside not far from the waterfront. The sea is calm here, so it is safe to use colorful inflatable slides that attract not only children but also adults. Having put on special safety vests, visitors can try to pass assault courses, dive from inflatable towers, and enjoy other activities. There are no high waves at this part of the coast, so parents can let their children play.
There is a nice amusement park in Ajman, it is called Jungle Bungle. It offers more than ten different rides, including safe rides for small children and rides for adults in search of something thrilling. There is a rollercoaster in the park, as well as playgrounds with trampolines and ball pits. All rides have attractive illumination that turns on in the evening. Jungle Bungle is not big but this is a cozy and pleasant park.
Ajman has enough attractions to plan an interesting excursion program. Ajman Fort is the main historic landmark of the emirate. It was built in the 18th century as the emir's …
Open
Beaches remain the main destination for vacationers with children in Ajman. Virtually all beaches are suitable for families. Many beaches come with playgrounds for children. The beaches are sandy, so there is no risk of injuries and this is another advantage for family tourists. If you don't like leisure sunbathing, take your children to a sea excursion or go fishing. Local beaches usually offer a range of incredible activities, from boat rides along the coast to extreme flights on paragliders above the water.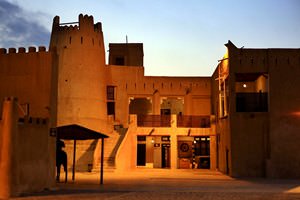 On a hot day, it is particularly pleasant to visit air-conditioned malls. Widely recognized as one of the best shopping malls in the emirate, Safeer Mall is suitable for families. It features a large play center for children of different ages. Small children can play in safe inflatable castles with slides or jump on trampolines that all kids like so much. Older children usually prefer to try arcade machines and simulators. Finally, there are indoor sports grounds in this mall.
Tourists can enjoy interesting activities in Ajman. Beach recreation should be an essential part of a vacation here. Ajman beaches are comfortable and have a well-developed infrastructure. …
Open
If you like spending your free time with children in a park, visit Ajman Ladies Park. This is one of the most picturesque parks in the city. As there are many big trees and tall palm trees in Ajman Ladies Park, the area remains pleasantly cool even on hot days. Comfortable paths for walking with benches on the sides and spacious green lawns create a cozy atmosphere. There is a playground surrounded by a picnic area in the center of Ajman Ladies Park. If you visit Ajman during the cooler months, you can spend the entire day in this park.
Without a doubt, there are not many amusement parks in Ajman compared to nearby Sharjah and Dubai. However, local parks are not as crowded as in the nearby large cities. You will not need to wait in long lines to try some ride or amusement. Ajman is a perfect destination if you are interested in a calm and trouble-free vacation. The city is suitable for tourists even with small children. The choice of interesting activities for kids is delightful, and local beaches are not as crowded as in the nearby big cities. High temperature, which is typical for summer, can be the only hindrance on your way to your favorite amusements. If you do not want to spend all your free time with children at the beach, it is better to refrain from visiting Ajman during the hot season. Finally, it is worth mentioning that almost all entertainment centers and amusement parks offer big discounts for children.

This guide to family holidays in Ajman is protected by the copyright law. You can re-publish this content with mandatory attribution: direct and active hyperlink to
www.orangesmile.com
.
City tours, excursions and tickets in Ajman and surroundings
Car rental on OrangeSmile.com

Saudi Arabia to Open 38 Hotels in Diriyah
Diriyah is one of the first mega projects in Saudi Arabia. Hotels and other infrastructure will start opening next year, and all works are expected to end in 2026. The first 18 restaurants in Bujairi Terrace will start operating already in early 2022.
Read this
06.06.2023
Photogallery of best places of Ajman
Children attractions (aquaparks, zoos, amusement parks) on the map of Ajman
Interesting places to visit with children around Ajman
Guide to sightseeing and entertainment for children in Ajman - parks, attractions, museums, zoos, water-parks. All fascinating and educational sites of Ajman, which are must visit and see for your child. Find out the best discovery routes and places for kids (local theaters, exhibitions and museums), where you can spend quality time together. Ajman for families with children.