The City of David is the historic district of Jerusalem, located near the Temple Mount. According to the legend, this is where King David built his first palace, around which the city was formed later. Today, visitors can see the ruins of old buildings, as well as the surviving fragments of city walls that surrounded the settlement back in the Bronze Age.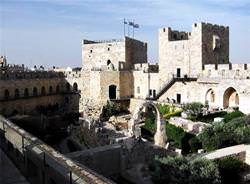 The archaeological research at the site of the historic district began in the first half of the 19th century. After decades of work, researchers had discovered many unique artifacts. In the 19th century, fragments of the Siloam church, and later ancient tombs that date back to 2-3 century BC were found. Today, visitors can see the historic district with ruins of ancient palaces, admire cleaned wells and fragments of fortifications. Museums of Jerusalem store clay tablets discovered during excavations.
The City of David is remarkable for its unique engineering constructions. That's an ancient tunnel of Hezekiah that has been dug almost 3 000 years ago. During tours around the historic district, travelers armed with flashlights walk through the tunnel. Despite the fact that excavations in the historic district have been going on for almost 200 years, much of the artifacts are still hidden under a layer of earth. The City of David is very popular among travelers. Every day, it is visited by hundreds of people. There are comfortable hiking trails and viewing platforms, from which you can see ancient sights in all its glory and make spectacular photos.
Next - Wailing Wall
Babylon Ruins, Iraq
Wailing Wall, Israel
Back to the start "The Surviving Artifacts of Jewish Civilization"
Useful staff nearby
Car rental office: 'Sixt car rental' is located in 1.09 km (
on the map
).
Parking: 'Jerusalem' in 0.31 km
Police station: 'Jerusalem' in 0.39 km
Cafe/restaurant: 'Montefiore bekotel' in 0.3 km
Railway station: 'Jerusalem Malha Railway Station' in 5.32 km