Metro map of Tunis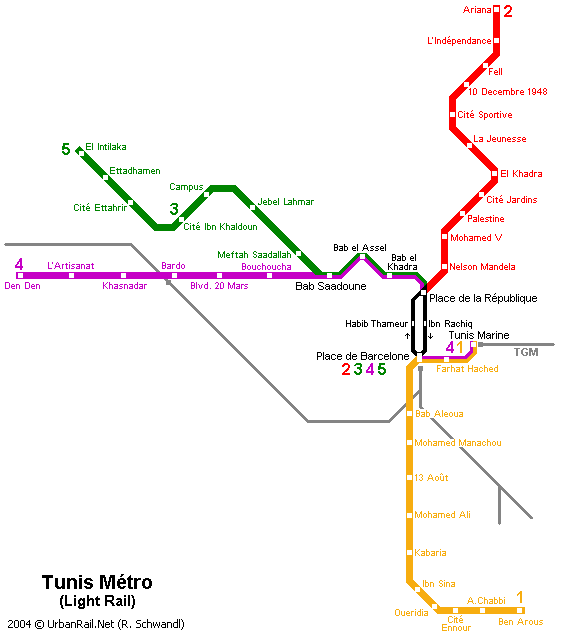 The actual dimensions of the Tunis map are 563 X 634 pixels, file size (in bytes) - 14494. You can open, download and print this detailed map of Tunis by clicking on the map itself or via this link:
Open the map
.
City tours, excursions and tickets in Tunis and surroundings
Travelling inside Tunisia - transportation means
Tunisia's next international airport is Habib Bourguiba's air harbor. Not long ago, this airport enjoyed full operations. It however now accepts only foreign charter flights. It is most convenient to fly to this airport if you plan to rest in Monastir, in Mahdia, or in Sousse. The airport of Djerba-Zarzis is considered the most southern of all the international air Harbors of Tunisia. Despite having only a fairly modest infrastructure, all that is necessary for offering passengers a good service has been made available within its territory. There is a small waiting room, decent cafes and bars, a small Duty Free shop, several shops with local products, as well as an ATM, a currency exchange office, and the branch of an international bank. …
Open

Car rental on OrangeSmile.com

Hilton builds third luxury hotel in Kyoto
The Hilton Kyoto hotel will be attractive to a wide range of guests. Leisure travelers will appreciate the close proximity to famous attractions such as Heian and Yasaka Temples, the Kyoto Imperial Palace, and the scenic Gion Historical District. In a few minutes, guests can reach the metro stations, the path to the sights of interest will not take much time.
Read this
05.06.2023
Metro, airports, railway and bus stations on Tunis map
Tunis in photostream
Our travel guides to Tunis
Many art connoisseurs call Bardo Museum the real treasure. This facility is opened at Dar Hussein Palace. The collection of Roman mosaics, which is exhibited in the museum, is the largest one in the world. Doug is the most notable settlement in terms of archeology. Here have been found the ruins of the Capitol and the Forum, which construction lasted in 2 - 3 centuries. Finally, don't forget to visit El Djem …
Open
One of the most beautiful streets of the New City - Habib Bourguiba Avenue - originates nearby. It is surrounded by slender rows of palm trees and is full of excellent monuments of architecture of the colonial times. It is here that you'll find prestigious hotels. A spectacular Art Nouveau building is occupied by the Hotel du Lac. For lovers of picturesque corners we can recommend Belvedere Park, one of the most …
Open
Metro maps of cities around Tunis