Colors of Sharjah - traditions, festivals, mentality and lifestyle
Sharjah is called 'the smiling emirate' for a reason; its main distinguishing feature is friendly and welcoming atmosphere, so every traveler will feel himself a welcome guest. Before the trip, tourists are sure to get acquainted with basic rules that will allow understanding the local culture better and to avoid awkward situations.
The three pillars, on which Sharjah stands, are typical for the Emirates. These are oil and gas production, tourism and trading. This bustling eastern town amazes Europeans with its …
Open
Those who expect to walk a lot around the city have to pay special attention to the outfit. Clothing should be of pastel tones and high-necked; outfit should be moderate even in the hot day. Bathing suits, shorts and short skirts are appropriate only on the beach; to walk around the city it's better to buy loose and comfortable clothes made of cotton.
A number of special rules apply in the holy month of Ramadan; at this time, local residents observe a strict fast. It is forbidden to eat during the period from sunrise to sunset and alcoholic beverages are absolutely eliminated. Despite the fact that religious restrictions don't apply to foreign visitors, the behavior must still be appropriate. During the day, you can only eat in restaurants or at the hotel; you shouldn't appear on the streets with food. Even ordinary chewing gum can cause a large penalty; it is also forbidden to walk with bottles of soft drinks. Copyright www.orangesmile.com
It is simply impossible to imagine vacations in Sharjah without a visit to one of the local restaurants; national food strikes with abundance of original and incredibly tasty dishes. …
Open
You have to be quiet in public places; the vivid display of emotions and feelings is not accepted. Local people have great respect to foreign visitors who are interested in the local culture. They are always happy to tell about local customs and are renowned for their hospitality. If local has invited you to come for a cup of coffee, don't refuse in any case, as it can cause serious offense.
It's necessary to thank for the hospitality and entertainment; if the host was the owner of one of the local stores, you definitely have to buy something from him. Sharjah features specific local markets that can be safely called the most colorful cultural sites. During the holy month of Ramadan the shopping festival takes place in the emirate; it always attracts a huge number of foreign visitors.

This guide to traditions and festivals in Sharjah is protected by the copyright law. You can re-publish this content with mandatory attribution: direct and active hyperlink to
www.orangesmile.com
.
City tours, excursions and tickets in Sharjah and surroundings
Unique landmarks in Sharjah and around
Sharjah Museum of Islamic Civilization
From the series
"Top Surviving Artifacts of Muslim Civilization"
Check on the map:
Distance from Sharjah center - 0.5 km.
One of the most visited points of interest of Sharjah is the Museum of Islamic Civilization. It is situated in the Al-Majjarah area and has an incredibly beautiful building with a dome. Paying a little sum of money, the visitors can see a number of unique artifacts. They are placed in two large halls and four galleries. Among historical artifacts and art objects, you can see interesting expositions, devoted to the history of physics', math's and astronomy's development. …
Read further

Jumeirah Mosque
From the series
"Top Largest and Famous Mosques Worldwide"
Check on the map:
Distance from Sharjah center - 19.2 km.
Jumeirah Mosque is a mosque in Dubai City. It was built in 1979 by order of Sheikh Rashid bin Saeed Al Maktoum. Notwithstanding that the mosque was built thirty years ago, today it looks quite modern and fresh. All because there were used modern technologies and high-quality materials. The mosque is a luxurious monument made in the best Muslim traditions. The main building material is the rosy sandstone. …
Read further

Rose Rayhaan by Rotana
From the series
"The World's Tallest Hotels"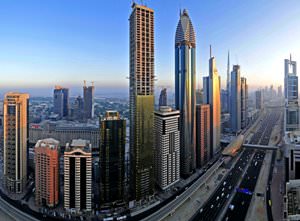 Check on the map:
Distance from Sharjah center - 20.3 km.
Dubai is a real world leader in the number of hotels skyscrapers. It is here, in the popular resort town of the United Arab Emirates that the hotel Rose Rayhaan by Rotana is located. A skyscraper with a beautiful name Rose Tower has become the property's location. The height of the 72-storey skyscraper is 333 meters, its construction began in 2004. The original plans were for the tower to reach 380 meters, but the design was later modified to reduce the height of the tower. …
Read further

Colors of Sharjah in photos
Search for popular touristic sites on Sharjah map
Traditions and festivals in cities around Sharjah
Cityguide on traditions, mentality and lifestyle of people in Sharjah. Learn the best periods to visit Sharjah to discover its soul - authentic festivals, events and celebrations. We will also reveal the interesting habits, attitude towards the world and to tourists in Sharjah.