Cuisine of Guatemala City for gourmets. Places for dinner - best restaurants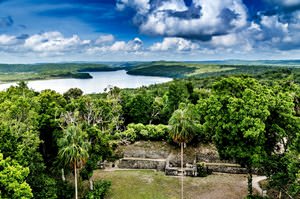 The local cuisine is an original mix of Mexican, Chinese, and Indian culinary traditions. In every national restaurant, guests will be offered a lot of interesting meat dishes typically garnished with rice, beans, and maize. Even the simplest treats may seem unusual to foreign tourists since they are often richly seasoned with all kinds of spices and herbs. Skillful chefs use corn and black beans to prepare really incredible dishes: pates, flat cakes, and soups. Even in fashionable gastronomical establishments, guests will be offered to order ordinary corn porridge and unleavened tortillas in addition to their favorite meat dishes.
Connoisseurs of meat delicacies must try "Escabeche" - super tender chicken meat cooked in a pot with herbs. A special treat is "Fajitas" that can be cooked from poultry meat or fish fillet. Slices of meat and fish are pre-fried and then baked in clay pots with vegetables. Gourmets will certainly like "Tamale" prepared according to local chefs' own original recipes. It is a mixture of vegetables, meat or fish slices baked in banana leaves. Before serving, the dish is spectacularly decorated with fruits and vegetables to become a real decoration of the festive table. Copyright www.orangesmile.com
Among the hotels you will come across in Guatemala, the first-class Mercure Hotel Guatemala Casa Veranda deserves priority. It features a special design and has spacious rooms with parquet …
Open
Travelers who aren't going to visit expensive restaurants will be pleased with the abundance of cozy cafes and eateries where you can try a lot of equally interesting dishes. In each and every restaurant, guests will be offered to try several types of quesadillas - corn or wheat tortillas prepared with a wide variety of fillings - meat, seafood, fruits, and vegetables. National dishes will be a real godsend for supporters of a healthy diet since they are not only tasty but also very healthy.
In Guatemala, there are many restaurants that offer different cuisines of the world. For example, Hibiscus restaurant specializes in Mediterranean cuisine. It is distinguished by a modern and eye-catching design. The restaurant's hall is skillfully decorated with wood that creates a charming and welcoming atmosphere. This restaurant offers delicious fresh vegetable salads, nutritious meat dishes, and gorgeous fruit desserts. Besides that, guests are welcome to try rare seafood and popular food from other cuisines of the world, for example, sushi.
Guatemala is not lacking luxury hotels. For this reason and more, discerning travelers will surely enjoy the five-star Hotel Clarion Suites Guatemala. Its most luxurious room is a suite of …
Open
All fans of Italian food will find it very interesting to visit Picasso Stone restaurant that remains one of the leading dining establishments in this area. It offers all kinds of pasta, original soups with seafood, and rare sea delicacies. It is also important to mention that all food looks incredibly appealing at Picasso Stone. To make any meal even more pleasant, visitors are welcome to order the best Italian wine. When it is dessert time, consider ordering delicious tiramisu and other popular desserts of distant Italy.
Rincon Del Steak is a typical restaurant specializing in the regional cuisine. All kinds of meat dishes make up the basis of the restaurant's menu. Visitors are welcome to order fine steaks, the sizes of which will certainly please even very hungry guests. Many meat and fish dishes are cooked on a grill. Fans of seafood will also have an opportunity to try amazing spicy shrimps cooked in accordance with the signature recipe. Vegetarian guests will also like this restaurant as it offers a range of grilled vegetables and original fruit desserts.
The first-class Hotel San Carlos is inviting guests to get acquainted with the beautiful traditions of past years. It occupies an incredibly beautiful historic building with a tiled roof. …
Open
Flor de Lis restaurant specializes in Latin American cuisine. Virtually every meal there is a true masterpiece of gastronomic art. Even appetizers look fabulous and eye-catching. The serving method of certain main dishes can amaze even experienced foodies. There are not many restaurants in the world that serve ice cream and other desserts on true granite boards.
Finally, when it comes to describing restaurants specializing in French cuisine, Jean Francois deserves to be mentioned first. It is open in a picturesque garden. In this restaurant, visitors are welcome to try fabulous meat with potatoes and mushrooms, fine soups with seafood, and delicious fresh vegetable salads with authentic French cheese. The restaurant has its own wine cellar, so everyone will find a suitable drink to complement their meal.

This guide to cuisine and restauraunt in Guatemala City is protected by the copyright law. You can re-publish this content with mandatory attribution: direct and active hyperlink to
www.orangesmile.com
.
City tours, excursions and tickets in Guatemala City and surroundings
Guatemala City in photo set
Searching where to eat - restaurants and cafe on Guatemala City map
Cuisine and restaurants in the neighbours of Guatemala City
Travel notes on best cuisine and restaurants of Guatemala City (Guatemala) on OrangeSmile.com. Famous recipes and traditional dishes and courses in Guatemala City restaurants. Where to eat - our recommendations on popular places in Guatemala City, where you can taste delicious meal and also spend a good time with your friends.