Detailed hi-res maps of Djerba Island for download or print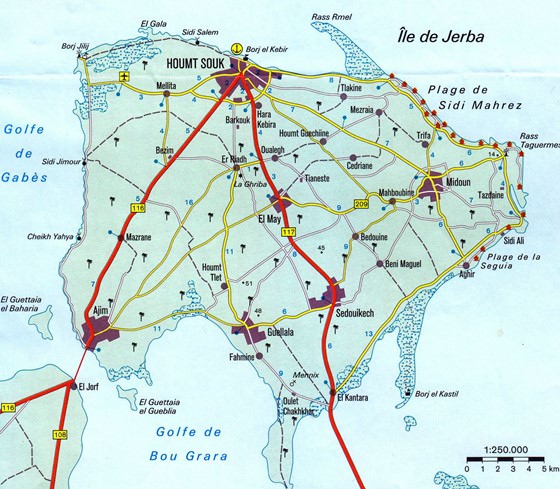 The actual dimensions of the Djerba Island map are 1710 X 1492 pixels, file size (in bytes) - 639221. You can open this downloadable and printable map of Djerba Island by clicking on the map itself or via this link:
Open the map
.
City tours, excursions and tickets in Djerba Island and surroundings
Moving around in Tunisia - transportation
The condition of roads in the country is also good, with the best asphalt pavement found in the northern part of the country. Naturally, cars are a fairly common mode of transport among the local population, even though the driving culture in Tunisia is very low and also, every now and again, emergency situations arise on the road. Road signs and markings correspond to international standards. Vehicles used in the country are right-hand driven. Almost the entire territory of Tunisia is accessible by a railway. There are daily train runs between the major cities. Trains do not always meet the high standards of comfort, but most of them are clean and equipped with air conditioning. …
Open

Economy roadmap of Tunisia
The field of mechanical engineering in Tunisia is also developed at sufficiently high level. For the most part it comprises of car assembly factory that collect trucks and motor cars of famous Italian and French brands. It is necessary to pay attention to the chemical industry as well. In Tunisia, huge volumes of sulfuric and phosphoric acid are produced. They are afterwards exported, thereby bringing a fairly large profit to the country. Agriculture in Tunisia has attracted high capital investment from the state. Land reform carried out several years ago yielded the expected benefits and now the land is used with maximum efficiency. …
Open

Car rental on OrangeSmile.com

New Elite Scotch Club Opens in the Balmoral Hotel in Edinburgh
The new elite club promises that each visit will be a memorable one. A team of whisky experts and ambassadors will prepare something new every time club members come to enjoy the finest whisky. The amber drink carefully selected by The Macallan is served in Lalique glasses. This French crystal maker is famous for its flawless quality. Whisky Ambassadors can also make cocktails with the Macallan Malt Scotch Whisky.
Read this
24.09.2021
Search for services, infrastructure and sights on map of Djerba Island
Photogallery of Djerba Island sightseeing
Our guide chapters over Djerba Island
Detailed maps of neighbouring cities to Djerba Island