Travel tips for Cyprus - what to prepare in advance and what to obey
1. To avoid controversy, one should not discuss religious beliefs with Cypriots. People in Cyprus are proud of their faith, be it Islam or Christianity, and religion is a sensitive subject for them. Criticism of beliefs is unacceptable unless a tourist aims to make as many Cypriot enemies as possible. If the interlocutor brings up this subject first, it's better to stay neutral. The same can be said about topics affecting Turkey and the Turkish government.
2. Residents of Cyprus are always very hospitable and friendly, so there is a big chance that new friends will be happy to invite tourists to home. Those invited to the Cypriot house should necessarily bring a treat, usually pastries, as well as a bouquet of flowers, which can be anything other than white lilies. Lilies are used exclusively at funerals, so getting them as a gift will be unpleasant even to a not superstitious person.
3. Receiving a wrapped gift, Cypriots usually do not open it immediately. Do not regard this as disrespect, lack of interest or neglect - these are the rules of etiquette in Cyprus. In turn, a tourist who received a gift from Cypriots should not immediately open it, so as not to seem greedy and impatient.
The beauty of nature of the small island of Cyprus makes the hearts of travelers beat faster. Here they can find waterfalls in the mountains and sandy …
Read further
4. Guests cannot sit at the table until the host invites them. Guests wait for the host to start eating, and only then they begin their meal.
5. If you are invited to somebody's home, you can dress informally but not too showy. Positive comments about the house, garden, furnishings and so on are allowed and welcome, but it's better to refrain from criticism.
6. Getting acquainted with Cypriots, one should shake hands with a smile, without looking away so as not to seem reserved or insincere person. It is important for women to keep in mind that some Muslim men can resolutely refuse to shake their hands.
7. Before leaving, one should say goodbye to each friend separately. Copyright www.orangesmile.com
8. Such clothes and shoes as shorts, swimming trunks, swimsuits, and flip-flops are considered only suitable for the beach in Cyprus. Outside the beach area, one needs to dress more decently, for example, wear regular jeans and a T-shirt, lightweight shoes.
9. It is important to avoid commenting on wives, mothers, sisters, daughters, grandmothers and other female members of the Cypriot family, even if it is a compliment. Cypriots for whom the family circle is in the first place protect women in their families and will in no way tolerate any discussion of their appearance, behavior, skills, and so on.
10. Tourists who decide to visit a mosque should not forget to take off their shoes before entering. Distracting worshipers is unacceptable. It is also forbidden to pass in front of the worshipers.
11. Residents of Cyprus attach great importance to a hierarchy. Age and position in society play an important role, older people should be treated with respect, the same applies to those who are just a step higher in social status. In a mixed group, old people get more attention, presented to others first, served them above all others, and offered the best places.
The majority (80%) of the population of Cyprus are Greek Cypriots, most of whom are Orthodox Christians. The other ethnic group of the Republic is the …
Read further
12. When you need to rent a car, be sure to visit the agency personally and choose a car there but not to order it in advance by phone - you will definitely find several cheaper options on site.
13. Cypriots do not like to lose the argument, even if they know that the truth is not on their side. The more people are eyewitnesses to the dispute, the less likely that the interlocutor admits he is wrong. In order to save relationships or simply not to get into trouble, it's better to shunt the conversation on another topic or just finish it and leave.
14. During Ramadan, it is impolite to drink, eat, smoke, and even chew gum in the daytime in public places, because for Muslims it is forbidden. A tourist who ignores this rule will be perceived as a person who does not respect other people's traditions or intentionally tries to offend them.
15. In restaurants, the bill is usually paid by the inviter. However, when a Cypriot is going to pay, a good idea would be to offer to pay the whole bill or just split it. In most cases, the proposal will be rejected, but this gesture of courtesy will not be forgotten.

This collection of travel tips for Cyprus is protected by the copyright law. You can re-use the content, but only under the condition of placement of an active link to
www.orangesmile.com
.
Fantastic City Tours and Excursions in Cyprus
Country maps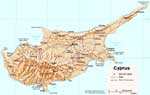 Map of cities

Dubai Reaches a 1 Year Milestone Since It Has Reopened to Foreign Guests
According to the report, more than 3.7 million overnight travelers arrived in Dubai during the period from July 2020 to May 2021. This once again proves an important role of Dubai in global tourism. More than 1.7 million visitors out of 3.7 million arrived between July and December 2020, and the remaining 2 million guests visited the city during the first five months of 2021. This proves that tourism rebounds despite the troubles caused by the pandemic. The diversity of source markets is another reason for such a high number of guests during the COVID-19 era. This is a fundamental strength of Dubai. Many destinations that rely primarily on visitors from certain countries faced a drastic decline in the number of tourists.
Read this
28.07.2021
Photogallery of sightseeing Cyprus
Advices for popular cities of Cyprus
Trip preparations to popular regions of Cyprus