Nature of Cyprus - national parks and reserves for active recreation
The beauty of nature of the small island of Cyprus makes the hearts of travelers beat faster. Here they can find waterfalls in the mountains and sandy beaches, pebbled seashore and dense forests, dunes and parks, lakes and rivers, lagoons and gorges. Many plants and animals of Cyprus are not found anywhere else in the world. This island is a perfect destination to relax in nature. Cape Greco National Forest Park in Ayia Napa is good for leisurely walks and cycling. The bravest jump from high cliffs into the emerald-clear water hiding caves. In the park, you can sit on one of the benches, visit a beach or a small chapel.
The Republic of Cyprus, attracting tourists with its clean beach sand and warm climate is famous for its cuisine, which has mixed and improved the …
Read further
In Troodos Geopark, tourists will be greeted by beautiful cedars and babbling meandering rivers flowing down the mountains. The fresh air, rich flora and fauna, and beautiful mountains will remain forever in the memory of guests of this amazing place. This is where endemic and rare species of plants such as Chionodoxa luciliae and Troodian onosma grow and animals such as the Cypriot mice, goshawk hawks, black vultures, lake frogs, many species of bats and butterflies live. You can spend a whole day in the Geopark and not be tired. This is a unique opportunity to see rare animals with your own eyes, so it's better to refrain from loud talking in order not to scare away the park's inhabitants.
Lara Bay Turtle Conservation Station in Paphos is a gorgeous beach where green turtles live under the supervision of professionals. Here you can swim and sunbathe, as well as watch the slow reptiles. Those hungry for breathtaking views and silence should head to the Akamas Peninsula in the west of Cyprus. This untouched, incredibly quiet and beautiful place with wide valleys, the famous Blue Lagoon, deep gorges, and soft beach sands is home to many rare animal species, including chameleons and moufflons. Copyright www.orangesmile.com
The majority (80%) of the population of Cyprus are Greek Cypriots, most of whom are Orthodox Christians. The other ethnic group of the Republic is the …
Read further
Oroklini Salt Lake in Larnaca is the best place to go for all those who dream of seeing pink flamingos in their natural habitat. In winter, the lake is wide and calm, and in summer it dries up, and the ground is covered with salt. Apart from flamingos, almost two hundred species of migratory birds gather on the lake. Birds can be watched from specially equipped viewing platforms. Another salt lake, Akrotiri, is located in Limassol and also dries up in the summer season. It is the largest lake on the island, and here you can also watch pink flamingos and other birds.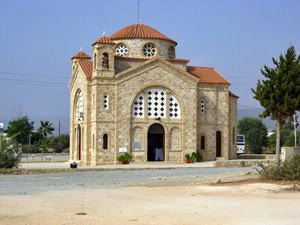 Pomos Harbour in Paphos is attractive with its warm cliffside beaches, peace and silence. The traditionally Greek village of Pomos is located on the cliffs. Silent open spaces and pleasant solitude can be also enjoyed among gray sands of Limassol dunes. Turtles like to lay eggs in this untouched area. The white sand gleaming in the sun on Nissi Beach in Ayia Napa is so dazzling that its visitors will have to wear sunglasses. In winter, at low tide, you can walk to tiny Nissi Island along a path that appears here, and in the summertime, it is good to splash in the crystal-clear water.
Magnificent Cyprus opens its arms to all wishing to discover this region rich in antiquities. Castles, churches, monasteries, archaeological sites, …
Read further
The noise of the water pacifies many people, so they should definitely explore waterfalls of Cyprus. The best time to visit the famous Adonis Baths Water Falls in Paphos is on a hot day when the cool waters of the lake are ideal for swimming. At other times it can be quite cold here, but this place can nevertheless be called amazing in any weather. You can also take a mud bath in the "Baths". But no matter how beautiful these places may seem, in Platres, there are the island's highest waterfalls - 15 meters of cold water striking with its indomitable power fall down the mountains.
High white cliffs in Limassol known as "The White Rocks" attract cave explorers. In Kouklia, you will find a popular natural landmark, "Petra tou Romiou", or "The Rock of Aphrodite" - a group of small rocks standing in the sea close to the shore. According to legend, Aphrodite was born in this very place. Many locals believe that the one who swims around these rocks gets natural beauty that will not fade until death. The landmark is also popular as a place for making spectacular photos.

This article about nature and national parks of Cyprus is protected by the copyright law. You can re-use the content, but only under the condition of placement of an active link to
www.orangesmile.com
.
Fantastic City Tours and Excursions in Cyprus
Photogallery of Cyprus
Cultural sights in regions of Cyprus
Cyprus: Map of sightseeing in regions