In Beijing, you can visit one of the most amazing and colorful water parks with the unusual name Happy Magic Water Cube. It is set in the unusual building, the walls of which simulate a smooth surface coated with water droplets. This original structure was built in 2008 specifically for the opening of the Olympic Games. Then, it housed the Olympic swimming pool; the building was used for swimming competitions. After the event, facilities were converted into the water park that is famous throughout the world for its futuristic design and numerous rides.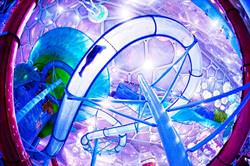 It is important to note that the building of the aquapark is a true marvel of the modern engineering. It can collect rainwater, cool, and heat itself. The place is equipped with special security features for flood and fire. Once inside the water park for the first time, many of the guests spend a few hours to explore its incredible design, and only then go to their favorite rides. A huge jellyfish on the ceiling, a giant drop of water, and the surface with ice crystals are incredible decorations complemented by the spectacular artistic illumination.
The choice of entertainment options in the water park is more than decent. There are slides and huge swimming pools, as well as extreme rides designed for thrill-seekers. Beijing National Aquatics Center is the greenest water park in the world. The entire surface of the building is covered with solar panels. This energy is used to heat the water in swimming pools. By nightfall, the building shines with a spectacular illumination.
Next - Schlitterbahn Water Park
Tropical Islands Resort, Germany
Schlitterbahn Water Park, United States
Back to the start "The Greatest and Fanciest Water Parks"
Useful staff nearby
ATM bankomat: 'China Construction Bank ATM' located in 0.13 km (
check the route on the map
).
Car rental office: 'Elephant Castle Car Service' is located in 1.07 km (
on the map
).
Fuel station: 'Filling Station' in 0.65 km
Supermarket: 'Shiji Hualian Shopping Centre' in 0.41 km
Parking: 'Olympic Park Parking Lot' in 0.06 km
Police station: 'Anxiangli Community Police Affairs Office' in 0.64 km
Cafe/restaurant: '正一味' in 0.08 km
Railway station: '大屯西站' in 0.88 km