Shopping in Lublin - authentic goods, best outlets, malls and boutiques
Lublin has great shopping centers, and Lublin Plaza is ready to offer its customers more than 100 stores of various specializations. It is sure to please those who prefer fashionable modern clothes. This mall is perfect not only for shopping but also for entertainment. It houses clothing stores of popular European brands, several large shoe stores and sportswear pavilions. Fans of gastronomic shopping will appreciate local grocery stores where they can buy popular local produce.
Many historical and architectural sights have been preserved in Lublin. One of the main symbols of the city is the Archikatedra św. Jana Chrzciciela i św. Jana Ewangelisty. Since its …
Open
The most beautiful shopping center in town is Tarasy Zamkowe. It is notable for its outdoor rooftop terrace offering wonderful views of the city. The walls of this shopping center hide over 150 stores, it is especially popular among ladies due to the presence of large cosmetics and perfume stores. The shopping center will be interesting for travelers with kids, as it has some good stores selling children's clothes and toys.
Although Orkana Gallery is far from being the biggest in town, it is still popular among both locals and foreign visitors. You can find goods of all possible kinds in its 50 stores. Modern clothes and shoes, stylish accessories and perfumes, household goods and souvenirs - this is just a partial list of all the goods presented here. Near the shopping gallery is the popular supermarket Tesco. Copyright www.orangesmile.com
The main entertainment for visitors to Lublin is walking in picturesque parks and gardens. Besides, several interesting entertainment centers are open in the city. One of the most beautiful …
Open
Olimp is one of the largest malls not only in the city but in the country. It has more than 200 stores, as well as over 25 cafes and restaurants of various types. The shopping complex occupies five huge buildings where customers can find fashion stores of all popular European brands. In search of new outfits, you can check Reserved and Medicine stores, and visitors with children will be more interested in Cocodrillo children's clothing store. The mall houses the famous gastronomic store Alma where you can buy rare delicacies.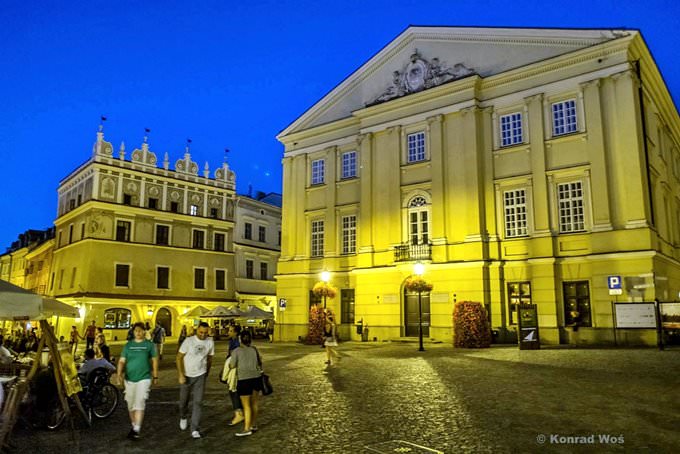 A beautiful modern building, which is decorated with spectacular neon illumination as nightfall comes, is currently occupied by Atrium Felicity. This shopping gallery also has pavilions with clothing and shoes, health and beauty products, and a large Saturn home appliances store. After wandering around shops, visitors to the mall can relax in a modern movie theater or one of the numerous cafes.
1. The city has a railway station where high-speed trains bound for neighboring countries every day. Lublin also has regular bus connections with many states. 2. The main types of public …
Open
Some Lublin supermarkets will also be of interest to travelers, and Tesco is particularly noteworthy. This one offers its customers a huge selection of fresh products at affordable prices, and many come here specifically to buy fresh pastries. This supermarket is combined with a bistro of the same name where you can try inexpensive specialties, as well as order takeaways.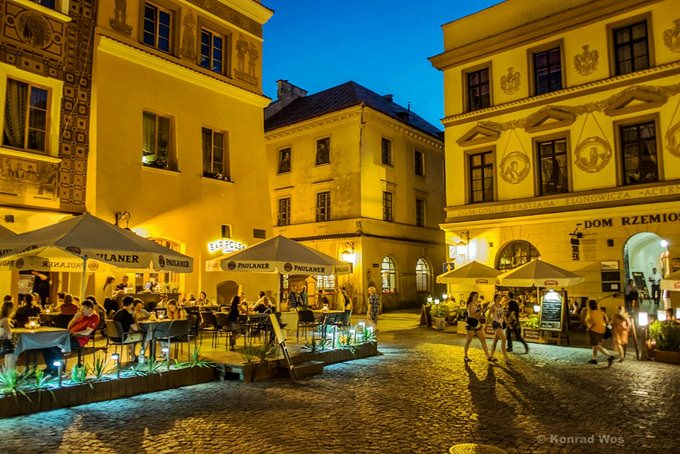 Fans of noisy markets must visit Lubelski Rynek Hurtowy, a wholesale market located a short distance from the city center. The market is striking in its scale, dozens of its grocery rows present all the popular products of local producers. They sell excellent farm sausages and cheese, seasonal fruits and vegetables, and in summer, you can buy chic flower bouquets at the most affordable prices in town. Besides food, they sell clothes and shoes, interesting home decorations and souvenir products. Budget tourists will like it for sure.
Lublin is one of the biggest cities in the east-central part of Poland. The city was founded by settlers on the Czwartek hill in the VI century. Already in the X century Lublin was a …
Open
An excellent shopping destination for the whole family is Rampers store on Inżynierska Street. It features a wide range of goods, here you can buy high-quality children's toys for about 5 euros and luxurious bedding sets for 15 euros. Men will be interested in a sports department with high-quality and inexpensive accessories. If desired, customers can even buy a bicycle, which will cost them just about 50 euros. A special section is reserved for souvenirs. Here you can find unusual interior decorations and traditional souvenirs at affordable prices.
This guide to shopping in Lublin is protected by the copyright law. You can re-publish this content with mandatory attribution: direct and active hyperlink to
www.orangesmile.com
.
City tours, excursions and tickets in Lublin and surroundings
Reference information
Designer outlets in Lublin and nearby
♥ Outlet 'Factory Ursus' pl. Czerwca 1976 r. 6, Warsaw, 02-495, Poland, 156.3 km from Lublin.
On the map
♥ Outlet 'Factory Annopol' Annopol 2 Warsaw 03-236 Poland, 157.7 km from Lublin.
On the map
Car rental on OrangeSmile.com
Photogallery of Lublin best places
Search for shopping areas, streets, boutiques and supermarkeets on Lublin map
Shopping advices for the whole region around Lublin
Shopping advices for Lublin. The best spots for buying designer clothes and local delicacies from Poland - shops, galleries, boutiques and outlets. We provide you with the shopping streets map, so you can plan your efficient shopping routes, while hunting for authentic souvenirs, goods, drinks, shoes and clothes in Lublin.