Cuisine of Doha for gourmets. Places for dinner - best restaurants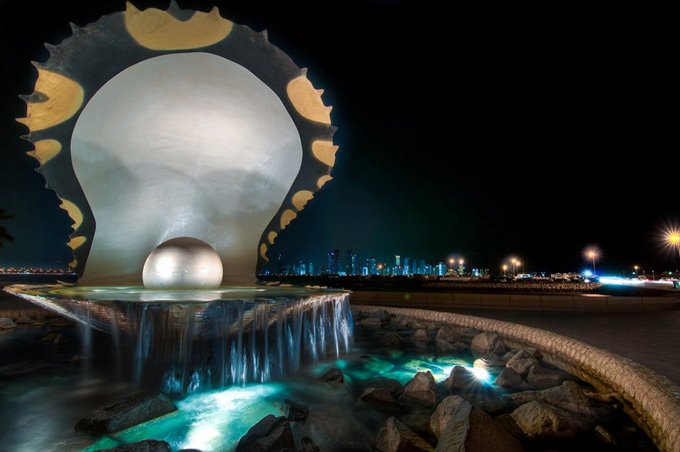 It's really difficult to find a restaurant of national cuisine in Doha. The reason for this is in the fact that local culinary traditions have been almost completely replaced the culinary traditions of the neighboring countries. That's why the modern kitchen in Doha is a unique blend of Indian, Pakistani and Arab cuisines. Travelers who decide to make a safari to the desert during their rest should certainly not forget to visit a Bedouin camp. In these camps visitors can try meat dishes cook in accordance with ancient recipes.
Beach rest remains the main entertainment for travelers. The coast has everything for comfortable and interesting pastime. Doha beaches are ideal for various outdoor activities and for …
Open
Camel milk and dates are mandatory components of numerous old Qatari delicacies, so these dishes may seem a little exotic for foreign travelers. Despite the fact that Qatar has no shortage of seafood, fish dishes are not very popular among local people. Tourists are recommended to visit one of specialized fish restaurants, the dishes in will certainly surprise guests with their originality.
Al Mahara is known as one of the city's best restaurants specializing in fish dishes. Al Bandar Fish Market restaurant serves not only delicious seafood, but also popular dishes of Middle Eastern cuisine. Reasonable prices will become a nice addition to meal. The cost of signature dishes in such institutions does not exceed 25 euros. Fans of gourmet dishes are recommended to visit Market by Jean-Georges restaurant, where guests are able to try most popular international dishes. The restaurant accepts visitors until late in the evening. Guests of this place are traditionally entertained by interesting performances. Copyright www.orangesmile.com
1. Taxi is known as the most common form of public transport. The fares in the local taxi are rather modest. The cost of a ride depends on the time of a day, night taxi service will cost …
Open
Fans of Italian cuisine will not find a better place than la Dolce Vita restaurant. This is a cozy and quiet place where visitors can enjoy a pleasant evening and taste all of their favorite dishes in their "eastern version". In addition to any order guests will be asked to choose wine. A collection of drinks in la Dolce Vita is as flawless as its menu. Spice Market restaurant is one more attractive institution specializing in Asian cuisine. In the morning this place is always full of visitors who come there to drink coffee and eat fresh pastries, and in the evening the restaurant is a popular place of rest for large companies. Thai Snack and Massage is a perfect choice for family rest. This is one of the best budget institutions of the city. During the daytime guests are offered to order from a special budget lunch menu. Visitors are also welcome to order takeaway food.
This guide to cuisine and restauraunt in Doha is protected by the copyright law. You can re-publish this content with mandatory attribution: direct and active hyperlink to
www.orangesmile.com
.
Where to go for dinner in Doha: recommended cafe and restaurants
Chingari
Where: Ramada Hotel, Doha; Telephone: +974 441 7417;
Al Hamra
Where: Al Rayyan Road, Al Rayyan Complex, Doha; Telephone: +974 443 3297/436 1300/436 1331;
Al Kariss
Where: Souq Al Waqif, Doha; Telephone: +974 437 5660;
Beijing Chinese Restaurant
Where: Salwa Road, opposite The Centre, Doha; Telephone: +974 435 8688;
Sakura
Where: Ramada Hotel, Doha; Telephone: +974 441 7417;
Al Sayyad
Where: The Diplomatic Club, Doha; Telephone: +974 484 7444;
Tajine Restaurant
Where: Bin Mahmoud on The Centre roundabout, Doha; Telephone: +974 444 4171;
Balhambar
Where: Al Corniche Street, Doha; Telephone: +974 4834423;
Al Mounir Restaurant
Where: Al Mirqab Al Jadeed Street, Doha; Telephone: +974 441 7131;
Al-shami Restaurant
Where: Suhaim bin Hamad Street, Doha; Telephone: +974 443 3666;
Maharaja Restaurant
Where: Qatar Palace Hotel, Al Asmakh Street, Doha; Telephone: +974 442 1642;
Al Sultan Restaurant
Where: Al Mirqab Al Jadeed Street Al Matar Street, Doha; Telephone: +974 441 4067 +974 441 1865;
City tours, excursions and tickets in Doha and surroundings
Unique sights around Doha
Floating House Giancarlo Zema
From the series
"Fancy houses and hotels located on water or under water"
Check on the map:
Distance from Doha center - 2.8 km.
It is likely that very soon there will not be enough land for all people on the ground. The futuristic houses on water will be an alternative to them, which, in terms of comfort, will not be inferior to ordinary ones. The area of the house, which in its form really resembles a nest, is 100 square meters. Among the distinctive features of its construction is a roof area of 60 square meters, which is almost entirely occupied by solar panels. …
Read further
Car rental on OrangeSmile.com
Doha in photo set
Searching where to eat - restaurants and cafe on Doha map
Cuisine and restaurants in the neighbours of Doha
Travel notes on best cuisine and restaurants of Doha (Qatar) on OrangeSmile.com. Famous recipes and traditional dishes and courses in Doha restaurants. Where to eat - our recommendations on popular places in Doha, where you can taste delicious meal and also spend a good time with your friends.