Cuisine of Manama for gourmets. Places for dinner - best restaurants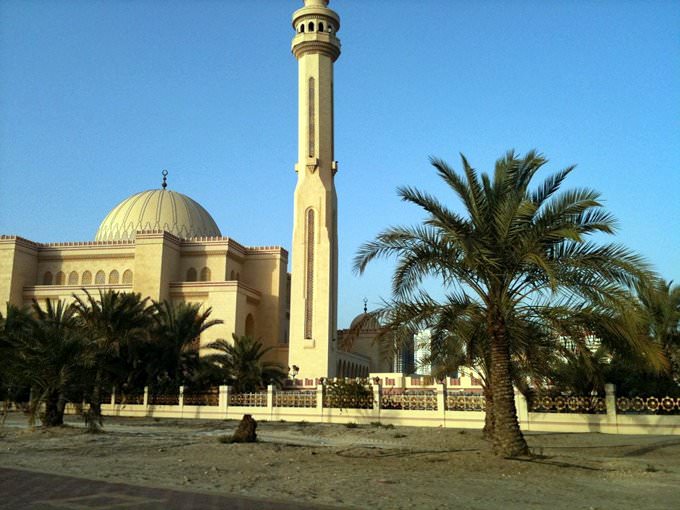 The national cuisine of Bahrain is truly distinctive and versatile. In addition to the traditional Arabic dishes, many of which are true delicacies, guests will be surely offered to try dishes from Pakistani, Indian and even Thai cuisine. Seafood is usually considered the basis of the local cuisine. The local food industry provides richest choice of various ingredients for the local restaurants. Meat dishes are no less popular, but the local restaurants are definitely not distinguished by the largest selection of fruits and vegetables in their menus. In the restaurants dedicated to the national cuisine travelers usually prefer to order traditional dishes, such as couscous and kebabs. Fans of meat dishes won't simply be able to resist the delicious aroma of shawarma. Stewed meat with rice is also a popular dish. You may also be pleased from trying such delicious meals as meat and poultry cooked on an open fire.
Bahrain is a wonderful country notable for its numerous historical, religious and natural attractions. In order to see all the important places, you will need to spend here more than one …
Open
Besides several types of kebab, the restaurants of Bahrain offer their visitors to order the dish called "dajdaj" (chicken meat stewed in tomato sauce) or "yahni" (meat with vegetables), as well as homemade meatballs made of lamb. Fish is also usually cooked on an open fire or grill. It is often stuffed with rice and mixed vegetables. The local dishes are surely notable and unique thanks to the widest choice of spices, which have already become the so called "signature feature" of the oriental cuisine. Rice, fresh vegetables and salads are the most popular choice of side dishes to meat and fish.
Bahrain is famous for its excellent dates, which are surely used by the local chefs, who prepare a lot of interesting dishes using this ingredient. The sweet fruit can be used as a complement to fish and meat dishes. Dates are added to rice and are the main ingredient for various desserts. Speaking of sweets, we should definitely not to forget to mention the dish called "muhammara" that will certainly not leave any sweet tooth traveller indifferent. Muhammara is cooked from special dark rice, which is mixed with dates and sugar. Fans of pastries and sweets will certainly get a great opportunity to enjoy amazingly delicious halva and baklava, as well as candied fruits and various puddings. Copyright www.orangesmile.com
When it comes to describing the entertainments, which are offered in Bahrain, the first thing, which is definitely worth mentioning, is numerous colorful markets and shops. Bab Al Bahrain …
Open
Coffee and tea remain the most popular traditional local drinks. A simple cup of tea is a whole ritual in the country. You will be amazed, but in Bahrain it is impossible to find a single machine that sells instant coffee. In the country this drink is treated with great respect, and so it is carefully prepared in accordance with all ancient traditions of the past. When it comes to alcoholic beverages, beer remains the undisputed leader. You may also be offered to try the local anise vodka, which is named "arrack". The locals have quite restrained approach to alcohol, so you can hardly find a large choice of drinks in the local cafes and restaurants.
This guide to cuisine and restauraunt in Manama is protected by the copyright law. You can re-publish this content with mandatory attribution: direct and active hyperlink to
www.orangesmile.com
.
Unique sights around Manama
United Tower
From the series
"Twisted spiral buildings and towers that are real"
Check on the map:
Distance from Manama center - 1.5 km.
Besides the luxury hotel, which occupies 14 floors of the skyscraper, within the walls of the building there are offices of various companies. For travellers, one of the best ways to assess the features of a skyscraper from the inside will be accommodation in one of the elegant rooms of the Wyndham Hotel Group. All its rooms are equipped with panoramic windows, with a chic city view. On the last floors of the hotel there are attractive restaurants and bars, which will also be a great place to relax and admire the surrounding landscapes. …
Read further
Car rental on OrangeSmile.com
Manama in photo set
Searching where to eat - restaurants and cafe on Manama map
Cuisine and restaurants in the neighbours of Manama
Travel notes on best cuisine and restaurants of Manama (Bahrain ) on OrangeSmile.com. Famous recipes and traditional dishes and courses in Manama restaurants. Where to eat - our recommendations on popular places in Manama, where you can taste delicious meal and also spend a good time with your friends.