Year: 1886. Height: 93 meters.
The Statue of Liberty is one of the prominent landmarks that most people often associate with the United States. This sculpture is one of the most recognizable in the world. That's a symbol of freedom and democracy. The unusual history of the monument is also known to many travelers. Citizens of France have given this statue to United States. Such a gift was made for the celebration of the centennial of the American Revolution.
The statue is located in the Hudson River estuary, on the island of Liberty. The overall height including the pedestal is 93 meters. Liberty Island is incredibly popular as a tourist destination. Visitors can enjoy the great statue not only visually, but also examine it from the inside. To climb to the observation deck, which is located on top of the pedestal, it is necessary to overcome 192 steps. One going up to the crown of the statue has to go through 365 steps.
Viewing platforms offer a great view of New York Harbor. Tourists will have an opportunity to visit the museum located inside the statue. An exposition is placed in the walls of the pedestal. The exhibition is devoted to the history of the monument and tells about all its symbolic elements. Today, copies of one of the great statues of the world can be seen in many different cities and museums, but many people still go for a long journey just to admire the original structure. Opening of the monument took place in 1886. Today, the Statue of Liberty is daily visited by thousands of people from all over the world. That's one of the most popular attractions in the world.
Next - Leshan Giant Buddha
Monument to Peter I, Russia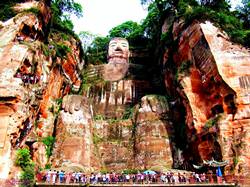 Leshan Giant Buddha, China
Back to the start "The Most Grandiose Statues and Monuments"
Useful staff nearby
ATM bankomat: 'Sovereign Bank' located in 1.66 km (
check the route on the map
).
Car rental office: 'Budget Rent A Car' is located in 3.57 km (
on the map
).
Fuel station: 'Valero' in 3.08 km
Supermarket: 'Sonex Food Products' in 1.53 km
Parking: 'Liberty State Park Overflow Parking Lot' in 2.18 km
Apotheek: 'Downtown Pharmacy' in 2.75 km
Police station: 'Alcohol Tob Firearms Expl Bur' in 2.42 km
Cafe/restaurant: 'Liberty Island Crown Café' in 0.16 km
Railway station: 'NYC MTA' in 3.17 km