City break in Kota Kinabalu. Active leisure ideas for Kota Kinabalu - attractions, recreation and nightlife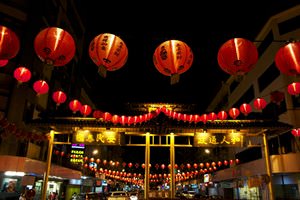 Magnificent beaches and modern diving centers, an abundance of beautiful places for walks and colorful markets, attractive restaurants and nightclubs - there is no lack of places to relax for visitors to Kota Kinabalu. Among the main distinctive features of the city are original nature reserves, a visit to which would be interesting to absolutely everyone.
The main attraction of Kota Kinabalu is the beautiful Mosque Sabah. The incredibly harmonious large-scale architectural complex is located in the very heart of the city. The mosque can …
Open
Shangri-La's Orangutan Care Project is the habitat of hundreds of orangutans, a full-fledged care for whom is provided by a group of qualified specialists. Animals live in an environment close to natural. They are provided by vast park area, well-equipped and very picturesque. Visitors to the reserve can get to know these amazing animals better, feed them and make great memorable photos.
One of the most attractive destinations among young people is Sabah Indoor Climbing Centre housed in a popular shopping mall. It would be interesting to spend time here for people of different ages, as the sports center creates excellent conditions for intense workouts. Fans of elite sports are strongly recommended to explore Sutera Harbour Golf Club located in an incredibly beautiful area near the coast. Surrounded by slender palm trees, golf courses look very attractive. In the immediate vicinity of the sports center, there is a huge selection of beautiful places for walking. Copyright www.orangesmile.com
Kota Kinabalu is an ideal place for a beach holiday. Travelers vacationing here can enjoy amazing beaches with snow-white sand and sky-blue water. The most popular and beautiful beach is …
Open
Mount Kinabalu Golf Club
is no less attractive. Among its distinctive features are a cozy restaurant and a seating area surrounded by exotic plants. Nature enthusiasts and travelers vacationing with children are always welcome at Green Connection
Aquarium. its inhabitants include hundreds of exotic fish and huge sea turtles, and aquarium visitors have the opportunity to observe the process of their feeding. Here you can see predatory inhabitants - stingrays and sharks, as well as a small terrarium with snakes. After visiting the aquarium, everyone can stroll through a picturesque park and visit a local souvenir shop offering quite interesting handmade products. The interesting aquarium is beautifully decorated, it remains among the most visited sites of Kota Kinabalu.
Kota Kinabalu City Bird Sanctuary
would be of equal interest to both professional ornithologists and ordinary tourists. As you can guess by the name, its main inhabitants are birds, the observation of which is a surprisingly interesting and exciting activity. Returning to classical urban entertainment, we should note a large selection of interesting markets and shops.
Kota Kinabalu is ready to offer a wide choice of good hotels. Fans of staying at the highest level should pay attention to The Magellan Sutera Hotel. It is one of the most prestigious in the …
Open
An independent local attraction is Night Market
where you can always buy fresh vegetables and fruits, as well as exotic seafood and other national delicacies. In the market there are several open-air cafes; popular traditional dishes are prepared directly on the street amidst colorful shopping arcades. On Sundays, you can also make a visit to an interesting flea market on Gaya Street
, whose visitors can buy a lot of interesting souvenirs, antiques, and works of art. Pets, as well as exotic plants and fish, are also sold here, so a walk around the market would turn into a great activity for the whole family M-Cubed Karaoke Bar and Shenanigan's Fun Pub with its lively atmosphere stand out among other nightlife facilities.

This guide on active recreation and leisure in Kota Kinabalu is protected by the copyright law. You can re-publish this content with mandatory attribution: direct and active hyperlink to
www.orangesmile.com
.
City tours, excursions and tickets in Kota Kinabalu and surroundings
Reference information
National and city parks around Kota Kinabalu
♥ State Park 'Tunku Abdul Rahman' , 9.6 km from the center.
On the map
Photo
♥ State Park 'Pulau Tiga' , 56.3 km from the center.
On the map
Photo
♥ National Park 'Taman Negara Banjaran Crocker' , 63.8 km from the center.
On the map
Photo
♥ World Heritage Site 'Kinabalu Park' , 66 km from the center.
On the map
Photo
Amusement parks near Kota Kinabalu
♥ Amusement park 'Water World Theme Park' Sabah, 3.3 km from the center.
On the map
Photo
♥ Amusement park 'Jerudong Park' Bandar Seri Begawan, 181 km from the center.
On the map
Photo
Water attractions around Kota Kinabalu
♥ Water park 'Jerudong Park Playground' Bandar Seri Begawan, 181 km from the center.
On the map
Photo
Sites around Kota Kinabalu from our surveys on extreme Earth places
Sultan Ali Sayfuddin Mosque
From the series
"Top Largest and Famous Mosques Worldwide"
Check on the map:
Distance from Kota Kinabalu center - 175.8 km.
The author of this religious building wanted to surround the mosque with a number of fruit trees, wonderful flowers and exotic plants that would symbolize the paradise. The inner decoration adores with its luxury. The marble for walls and floor was brought from Italy, delicate chandeliers and stained glasses were made by the best British masters. The visitors can see there some great carpets that were made by professionals from Belgium and Saudi Arabia. …
Read further

Attractions and entertainment in Malaysia

Tourists can truly relax with live music and a glass of wine at the Alexis Bistro Ampang every Friday and Saturday night. It is famous as one of the best jazz clubs in the city. Alexis represents an excellent line-up of local and international artists. The line-up changes every week. You should try cold craft beer at the local bar. Parties start on Taps at 9 pm from Thursday to Saturday. No additional payment is required. …
Open

Photogallery of picturesque Kota Kinabalu
Search for active leisure and attraction spots on Kota Kinabalu map
City break ideas for neighbours of Kota Kinabalu
Guide to your best city break in Kota Kinabalu - popular places for recreation and leisure. Things to do during the day in Kota Kinabalu - attractions, parks, beaches, aquaparks, racing tracks, biking trails or waterski. Recommendations (with addresses, phone numbers and links) where to spend your time in the evening (bars, discos, clubs, etc.). We share some good ideas and the question 'What to do in Kota Kinabalu?' disappears immediately.