Culture of Harbour Island. Places to visit - old town, temples, theaters, museums and palaces
This small island – it's just about 5 km² - was settled approximately in the 5th century A.D. There were only wild animals before people had come. The Lucayan people – who originally come from the Greater Antilles – were the first to inhabit the island. They were determined to conquer every new territory they would stumble upon. And Harbour Island wasn't an exception, so those discoverers came here by their weak kayaks. So, the Lucayan people had quite the same level of culture and social development as their primitive ancestors. Even though they had been living on the island for nearly ten centuries, there are almost no material reminders of their staying here presently.
Harbour Island is pretty small. There are no huge entertainment centres, theme parks or any other kinds of entertainment for kids only. However, due to the fact that more and more tourists …
Open
Actually, it was Europeans who contributed to getting rid of any evidence of the Lucayan people's life on Harbour Island. Christopher Columbus chose the whole archipelago as a stopping point in the times of his famous voyage and put it on the map. Spaniards explored the land but they didn't settle here. On the contrary, they considered the Lucayan people as a valuable resource and just in 30 years all the island's indigenous people were pushed to work on mines as slaves. For the next one hundred years again only animals and birds had been inhabiting Harbour Island. Spaniards didn't build anything here. The ones who were excited about the no man's land were the Caribbean privateers. Just like all the other islands of the Bahamas, Harbour Island was a stopping point or pirates hunting for more galleons.
If you like scuba diving, then you have a great opportunity to see a dozen of Spanish, English, and French sunken ships which are buried in the island's area forever. Treasure hunters believe that there are pirate treasures hidden in the local caves and grottos. However, none of it was found yet. Copyright www.orangesmile.com
Harbour Island's cuisine combines diverse cooking traditions of African countries and Caribbean countries as well as of Great Britain, France, and the USA. If you're not excited …
Open
The local buildings relates to the period of English settlements. Magnificent colonial Dunmore Town appeared in those times as well. The town's name is a tribute to John Murray, Earl of Dunmore – one of the Bahamas' governors. He influenced greatly on the development of Harbour and, what is more, the island was his summer residence. The building of the governor's Apostolic survived up to the present days and you could even see it with your own eyes. It's a somewhat ascetic villa – especially in contrast to the modern mansions of celebrities. Nevertheless, the building illustrates the way how the richest and the most influential colonists used to live a few centuries ago.
It's also worth having a walk around Dunmore Town. It's a very nice town with typical colonial architecture. The historical centre hasn't changed at all so you can enjoy seeing rich men's villas and the local embankment on which the first migrants walked. If you're not fond of walking on your foot, then you can rent a golf cart. Streets here are rather narrow, that is why it's really uncomfortable riding by car.
The descendants of European and American colonists and African, slaves who were brought here and forced to work on the plantations, live presently in peace and harmony. Today European, …
Open
Another peculiar sight is the old prison where robbers, debtors, killers, and pirates-thugs were imprisoned in the 18th century. The prison is in quite a good condition even now. The same could be said about the local shipyard which was built at the same time as the prison. Sugar mill – its mechanism's still functioning – of the 19th century is also worth seeing. This construction is a kind of tribute to those times when people of the 19th century used to earn a living by grinding of sugar cane. Also, don't forget to visit the «A and A Hidden Treasures» shop which is dedicated to the traditional crafts of islanders. You can not only buy something you'd like here but also listen to a lecture about making and historical application of this or that thing.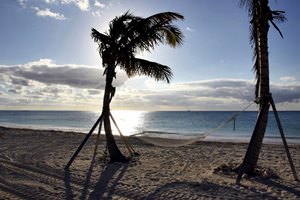 If you're keen on modern art, then you'd definitely like the gallery on Princes Street. There are dozens of paintings depicting there, both by local and foreign artists who've been to the island.
When talking about Harbour Island, the first thing that would come to mind is that real gem of beach vacation; a place which every self-respecting tourist definitely must visit. It's …
Open
Moreover, you can go to Eleuthera by a ferryboat. The island is famous not only for its magnificent landscapes but for Preacher's Cave as well. At the beginning of the 18th century a vessel with European migrants was wrecked near the island's coast. Those who survived decided to settle down in a cave. A missionary took over. He worshiped right in the grotto, too.

This guide to cultural sights Harbour Island is protected by the copyright law. You can re-publish this content with mandatory attribution: direct and active hyperlink to
www.orangesmile.com
.
Iconic cultural sights of Bahamas
Nassau is the location of the National Art Gallery of the Bahamas. This gallery is open in a villa that dates back to the end of the 19th century. It is an excellent place to get acquainted with the works of modern Bahamian artists. Visitors can see numerous installations, paintings, sculptures, and photographs that uncover modern lifestyle and cast the light upon such important problems as environmental problems, national identity, and many others. The Heritage Museum of the Bahamas in the capital offers a large collection created by Hamilton White, famous British antiques collector. The exhibition features artifacts starting from the pirate times and up to the beginning of the 20th century. Documents, clothing, weapons, tools of different epochs, the history of the slavery trade, and the road to freedom – numerous artifacts available in the museum tell visitors the history of the islands. The museum's shop sells tea and chocolate. …
Open

Car rental on OrangeSmile.com

Expo 2020 in Dubai Was Visited by More Than 7 Million Visitors
If you haven't visited this event yet, there is still time to book a hotel in Dubai because Expo 2020 Dubai runs until 31 March 2022. People who are unable to visit the emirate can make a virtual tour on the Expo 2020 website. By the way, the virtual visitation has already reached 31.6 million by the end of December.
Read this
02.06.2023
Photogallery of cultural heritage of Harbour Island
Landmarks of culture on Harbour Island map: art-galleries, monuments, palaces, etc
Excursions over cultural sights of neighbours of Harbour Island
Culture guide to Harbour Island. Which fascinating sights to visit once you are in Harbour Island: temples, churches, museums, theaters and castles. Recommendations (with addresses, phone numbers and links) on the places 'must visit' in Harbour Island. Plan your own city excursion by using this page info!