The Egyptian pyramids are known and recognizable all over the world. Not all but know that the unique pyramids can also be found in China. It must be noted that the mysterious oriental country with the unique culture remained almost completely closed until the beginning of the 20th century. Of the first people who have informed the world of the unique buildings were the travelers Oskar Meman and Fred Schröder, who visited China in 1912. Later American aircraft James Gausmann told the Chinese pyramids. Among the mountain peaks on the small plateau he saw the snowy pyramid, which could not be compared with any other architectural building in the world.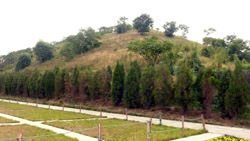 The modern scientists know the location of more than a hundred ancient Chinese pyramids. They are the grave mounds and were erected for the distinguished persons and the rulers in the 5th century BC. The construction of the pyramids lasted for centuries. Some discovered cemeteries date from the 8th century - their age is a little less than 1 000 years. The legend about the mysterious white pyramid that the American aviator discovered in 1945 remains unconfirmed.
In fact, the Chinese pyramids have little in common with the pyramids that can be seen in Egypt. They recall the huge burial mounds of the regular pyramid shape and are covered with the grass and bushes. The modern archaeologists have confirmed that the burial mounds were not formed by the natural forces. Man has made them from the simplest materials, as well as stones, clay, and earth. Even though the whole world today is aware of the existence of the mysterious Chinese pyramids, no major campaign has yet been carried out for their research.
Next - Piramides de Guimar
Piramide di Caio Cestio, Italy
Piramides de Guimar, Spain
Back to the start "Top Survived Pyramids from Previous Civilizations"
Useful staff nearby
Parking: 'Baihua Linju Parking Lot' in 0.32 km
Cafe/restaurant: 'Shengxiangge Niuyangrou Diced Pancake In Beef' in 0.34 km
Nearest airports:
» Xianyang Airport XIY - in 19 km