Among the numerous festivals and symbolic national holidays a special place belongs to gastronomic festivals. One of the most unusual and interesting among them is the Festival of herring which is held annually in Helsinki. For residents of Finland herring is not just one of the favourite delicacies, but a real national symbol. The Herring Festival is usually celebrated in early October.
The Market Square becomes the centre of events during the fair. It transforms into a lovely set of counters and pavilions. Helsinki's Herring Festival is not only about tasting and trading herrings, there is also plenty of entertainment. Every day locals and visitors enjoy delicious treats, the market is packed with herring prepared in a variety of ways. Every trading kiosk offers its guests exclusive treats the secrets of preparation of which are kept in secret.
The large-scale celebration was preceded by the annual fair which took place in Helsinki from the middle of the 18th century and traditionally coincided with the completion of fishing. At modern fairs you can buy a lot of other interesting products such as knitted clothes made of natural wool, original artisan crafts and beautiful crockery. Traditionally, the Herring Festival is accompanied by interesting culinary competitions, master classes and presentations. It is a very heart-warming and sincere holiday full of national hospitality.
Next - Semana Santa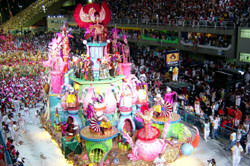 Rio carnaval, Brazil
Semana Santa, Spain
Back to the start "Most Enchanting and Vibrant Festivals"
Useful staff nearby
ATM bankomat: 'Otto' located in 0.19 km (
check the route on the map
).
Car rental office: 'Europcar Autovuokraamo Helsinki Eliel' is located in 0.12 km (
on the map
).
Fuel station: 'Shell Helsinki Kruununhaka' in 1.12 km
Supermarket: 'Alepa' in 0.15 km
Parking: 'Laatuparkki Oy' in 0.3 km
Apotheek: 'Yliopiston Apteekki' in 0.43 km
Police station: 'Suojelupoliisi' in 1.27 km
Cafe/restaurant: 'Sport Pub Chelsea' in 0.14 km
Railway station: 'Helsingin päärautatieasema' in 0.17 km