In Ashgabat you can see a wonderful Artogrulgazy Mosque. It is the largest mosque in the town. The religious building was made in the best national traditions within five years and was finished in 1998. The prime minister of Turkey Suleyman Demirel ordered to build there a mosque. Today locals have a number of beliefs about the mosque.
During the building as a per infortunium several workers died. That's why some locals believe that this mosque brings misfortune. The main part of pilgrims and tourists who gain to visit this mosque don't believe these prejudices. The Artogrulgazy Mosque resembles the Blue Mosque in Istambul. The mosque is situated on the territory of the historical Ashgabat district, near the religious building you can find a wonderful park.
Inexperienced travellers can meet difficulties with finding this mosque. It is surrounded by houses and you can see its high minarets that will bring you to the mosque. The nearby mosque's territory has a nice decoration. There you will see a lot of trees, staircases and even natural stone fountains. The building has a marvellous inner yard with a marble fountain and columns. This mosque is open for everybody. That's why if you are not Muslim you still can adore the wonderful inner decoration. Walls and ceilings are decorated with a delicate painting. The best time for visiting the mosque is a bright sunny day. This conditions will help you to see the whole beauty of the stained-glass windows.
Next - Badshahi Mosque
Mosque Taj-ul, India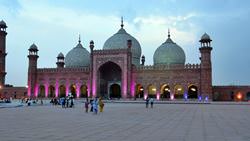 Badshahi Mosque, Pakistan
Back to the start "Top Largest and Famous Mosques Worldwide"