The legendary Train to the Clouds is a rail line Tren a las Nubes in Argentina. Nowadays, it's a sight of a global value. On the 217-km rail line there are 29 formidable bridges, 21 tunnels and a huge number of ascents and descents. Tourists have more than enough chances to feel an adrenaline rush, that's what has made this railroad so extremely popular.
Passenger trains depart from Salta to La Polvorilla concluding their journey at an altitude of 4000 metres above the sea level. Construction of the unique railway that passes through the mountain ranges and the deepest canyons, began in 1921. It took just under 30 years to build the railroad in that harsh terrain. The complete railway came into operation in 1948.
The line has a number of interesting features, such as zigzags and spirals. Such a structure allows the trains to avoid steep grades, but because of this decision some parts of the way does not seem safe at all. Originally built for the needs of the local population, it is now primarily of interests to tourists. A new train with 10 passenger carriages and enough room for 640 people operates regularly from 2008.
Next - Lynton & Lynmouth Cliff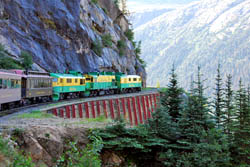 White Pass & Yukon Route, USA
Lynton & Lynmouth Cliff, United Kingdom
Back to the start "The Most Dangerous Railroads in the World"
Nearest airports:
» El Aybal Airport SLA - in 118 km