Culture of Bangkok. Places to visit - old town, temples, theaters, museums and palaces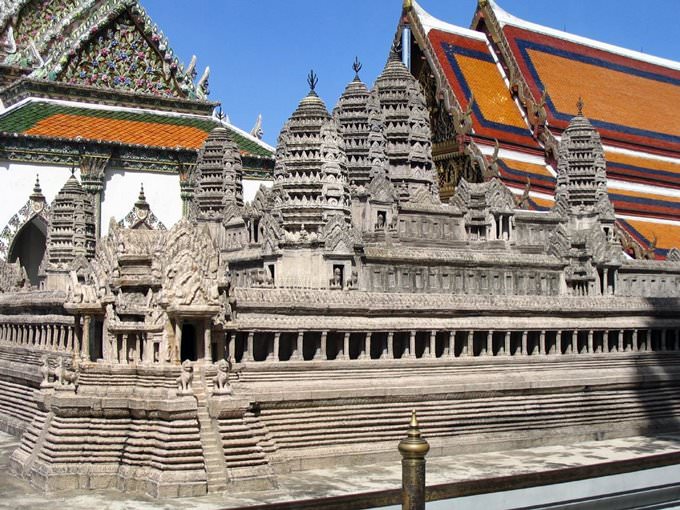 The majority of the attractions of the city have a religious significance. Beautiful temples and ancient monasteries keep a lot of secrets and beautiful legends, and their beautiful inner decoration does not cease to amaze visitors with luxury and elegance. Making a visit to National Museum is a great way to learn the culture and lifestyle of local residents. A part of its exhibition is located under the open sky. Among the artifacts, which are stored in the museum, you will see ancient musical instruments, costumes and jewelry, art objects, and even a collection of medieval carriages.
1. Local people are very intolerant to public expression of love, so do not even hold each other's hands while walking in the city - this will cause confusion and contempt. 2. …
Open
Among the architectural highlights of the city we should definitely mention Vimanmek Palace, which is the largest facility built of cane wood. In addition to the beautiful buildings on the territory of the palace complex you will also find a beautiful garden here. This is a great place for hiking. Nature lovers should definitely visit Dusit Zoo. If you enjoy unusual tours and can't wait to participate in one, you will surely find much interesting in the home of Jim Thompson. A famous American businessman lived in this house in the middle of last century. Today his house has been converted into a museum, where visitors can see a large collection of furniture and art objects. Many of the items were made more than one hundred years ago.
Lak Muang Monastery is one of the main religious attraction of this place. It was named in honor of the scared spirit, which, according to the Thai people, protects the city and its inhabitants from harm. The monastery regularly becomes the location for colorful religious festivals and ceremonies, which main goal is to make gifts to the spirit and gain its protection. Wat Arun Temple is a beautiful old building. The height of its main tower is 79 meters. It is surrounded by four lower towers – the whole architectural complex looks very impressive. The walls and towers of the temple are decorated with amazing mosaic, and the part of the facade is faced with ceramic tiles. You can rise to the top of the central tower using a steep spiral staircase. A large observation deck has been installed here especially for visitors. Copyright www.orangesmile.com
Baiyoke Sky Hotel Bangkok is the highest hotel in Thailand. It is located in a 309 metre tall tower with 88 stores. The hotel has become famous because of a 360 degree rotating observation …
Open
Perhaps, floating markets remain the most unusual attraction of Bangkok. The largest ones are located at Damnoen Saduak and Wat Sai channels. Apart from a huge selection of products, visitors are surely attracted by the unusual atmosphere.
In the section below, you can get one of our excursion tickets or city discovery tours over Bangkok and surroundings. Our website offers 10-30% lower ticket prices, when compared to the offline purchase on the spot.
City tours, excursions and tickets in Bangkok and surroundings
Plan your own excursion through Bangkok: churches, museums and castles
Grand Palace, Bangkok

» The palace consists of several buildings, occupying an area of 218 thousand m2 and is surrounded by four walls of 2 km long.
» The Grand Palace served as the residence of the Kings of Thailand. Its construction began during the reign of King Rama I in 1782.
» There are various government offices, temples and the Royal Library in the palace. In addition, many galleries of the palace are decorated with frescoes depicting the life of Rama I.
» The palace is almost always open to visitors. However, you can enter the territory of the palace complex only in long clothes.
» There is the lying Buddha at the palace. Statue of the lying Buddha is 15 meters in height and 46 meters in width. The statue is covered with golden sand.

Temple of the Emerald Buddha, Bangkok

» Dimensions of Buddha statues in the temple are quite small, only 66 cm high and 48 cm wide with a pedestal.
» Contrary to the name of the temple, the statue of the Buddha isn't made of emerald.
» Three times a year the King of Thailand, or the crown prince changes clothes on Buddha according to the season. Special summer and winter clothes decorated with precious stones and gold, as well as clothing for rainy weather were sewn for Buddha statues.
» Temple walls are painted with scenes from Buddha's life, beginning from his childhood and youth and ending with the Great reincarnation and Nirvana.

Temple of Dawn, Bangkok

» The height of the temple tower is variously estimated from 66.8 to 88 meters, and it's still the highest in Thailand.
» The tower of the temple remained the highest in Bangkok until the beginning of construction of skyscrapers.
» Currently, anyone can climb to the top of the temple tower and admire Bangkok from aerial view.
» The temple got its name in honor of the Indian god of dawn, Arun.

This guide to cultural sights Bangkok is protected by the copyright law. You can re-publish this content with mandatory attribution: direct and active hyperlink to
www.orangesmile.com
.
What to visit during two-day excursion in Bangkok
Grand Palace
Where: Na Phra Lan Road, Bangkok; Opening hours: 08.30 – 15.30; Tickets: Admission fee; More info: Dress code;
Wat Phra Kaew (Temple of the Emerald Buddha)
Where: Na Phra Lan Road, Bangkok; Opening hours: 08.30 – 12.00, 13.00 – 15.30; Tickets: Admission fee; More info: Situated on the grand palace grounds. dress code;
Wat Phra Chettuphon (Wat Pho)
Where: Sanam Chai Road and Maharaj Road, Bangkok; Opening hours: 08.00 – 17.00 daily; More info: Next to the grand palace. dress code;
Wat Arun (The Temple of Dawn)
Where: 34 Arun Amarin Road, Bangkok; More info: On the west side of the chao phraya river.;
Wat Saket and Phu Khao Thong (The Golden Mount)
Where: Ratchadamnoen Klong, Bangkok; Opening hours: 9.00 – 17.00; More info: Ratchadamnoen klong (canal) and boripihat road;
Siam Ocean World
Where: 991 Rama I Road, Bangkok; Telephone: +66 (0)2 687 2000; More info: Siam paragon, basement level, 991 rama i road;
Lumphini Park
Where: Rama IV Road, Bangkok; Opening hours: 04.30 (am) – 21.00; Metro: MRT (underground transit train); More info: Rama iv road, wangmai subdistrict, patumwan;
Abhisek Dusit Throne Hall
Where: Ratchawithi Road, Bangkok; Telephone: +66 (0) 2 628 6300; More info: Across from dusit zoo;
Jatujak Weekend Market (also: Chatuchak)
Where: Kamphaeng Phet 2 Road, Bangkok; Opening hours: Saturday and Sunday; Metro: MRT (underground transit train);
Sala Chalermkrung Theatre: Khon Masked Dance
Where: 66 Charoen Krung Road, Phra Nakhon, Bangkok; Telephone: +66 (0) 2 222 0434;
Damnoen Saduak Floating Market
Where: Samut Sangkhram Ratchaburi Province, Bangkok; Opening hours: 07.00 – 11.00 (am) daily;
Photogallery of cultural heritage of Bangkok
Landmarks of culture on Bangkok map: art-galleries, monuments, palaces, etc
Excursions over cultural sights of neighbours of Bangkok
Culture guide to Bangkok. Which fascinating sights to visit once you are in Bangkok: temples, museums, churches, museums, theaters and castles. Recommendations (with addresses, phone numbers and links) on the places 'must visit' in Bangkok. Plan your own city excursion by using this page info!