Preparing your trip to Bangkok: advices & hints - things to do and to obey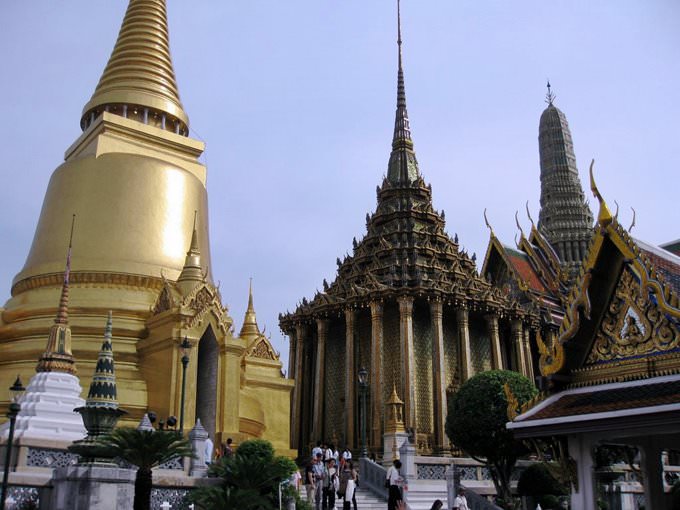 1.
Local people are very intolerant to public expression of love, so do not even hold each other's hands while walking in the city - this will cause confusion and contempt.
2. Bangkok, as well as any other Thai city, is a very religious place. That is why travelers should show great respect for local religious customs. Criticizing religion is strictly forbidden, as well as giving negative comments about the royal family.
3. Do not show your anger or speak in a raised voice in public places and on the streets of Bangkok. This will be considered a sign of bad taste and bad manners.
4. You should be more careful with your gestures as no careless touch or embrace are allowed.
5.
Select your clothes carefully. This is particularly true for women. Sloppy appearance will be regarded negatively. Sexy and very trendy clothes are better to leave at home, as you may be not allowed to enter local churches and public institutions. Copyright www.orangesmile.com
6. We do not recommend going on a trip on summer as your holiday can be disrupted by long tropical rains.
7. Don't forget to buy jewelry at local markets with great caution, because inexperienced travelers can easily get cheap imitations for very high price.
Bangkok is a city of amazing skyscrapers, giant shopping malls and exotic restaurants. Every traveller will find entertainment to fit his or her taste in Bangkok. Fans of exploring hidden or …
Open
8.
The city is best to travel by subway. A network of buses is also well developed here, but public transport can be crowded in the rush hour. Moreover, guests can spend too much time moving from one attraction to another.
9.
Products made of crocodile skin are one of the most popular souvenirs that travelers usually get as souvenirs. We suggest buying it in specialty stores, there's a chance you will buy a fake in markets and open trade outlets.
Preparing your trip to Bangkok: advices & hints - things to do and to obey You can re-publish this content with mandatory attribution: direct and active hyperlink to
www.orangesmile.com
.
What to visit being in Bangkok - unique sights
Fried Grasshoppers in Bangkok Restaurants
From the series
"The most disgusting dishes in the world"
Check on the map:
Distance from Bangkok center - 0 km.
Given the fact that the purchase of meat for many indigenous people is an accomplishment, a bag of fried grasshoppers is their only way to get a protein portion that is necessary for the health and keeping fit. Also, experts found out that grasshoppers are superior to many other common products in number of minerals and vitamins. So, it's safe to say that this exotic food is good for health. …
Read further
Siam Ocean World
From the series
"The coolest and largest oceanariums in the world"
Check on the map:
Distance from Bangkok center - 1 km.
The oceanarium features an impressive area, which is 10 000 square meters. The total volume of its tanks is 5 million liters. Guests of Siam Ocean World are offered to participate in various tours, from the classic to the most expensive and exclusive ones. Latest include special types of entertainment. Guests can ride a glass-bottomed boat in a largest aquarium and enjoy a popular spa treatment, fish-peeling. …
Read further
City tours, excursions and tickets in Bangkok and surroundings
Photos of Bangkok
Services search (pharmacy, police, parking, banks) on Bangkok map
Tips for the cities around Bangkok
Travelling to Bangkok - advices and tips. What should be provisioned in advance, the rules you might want to follow, and the things you better avoid doing in Bangkok. We help you to make your trip smooth and easy, with no unexpected surprises.